Today we will be discussing a very controversial topic: homework should be banned in schools. Of course, most students will quickly say that it should, without doubt, be banned. Most teachers, on the other hand, will surely jump to defend homework. Of course, there are also many students who see the pros of homework. There are also teachers who see the cons of homework. Any way you take it, homework is here to stay. However, there is nothing wrong in discussing its benefits and its adverse effects on students. So, let's take a look at the pros and cons of homework ban. Should homework really be outlawed? Would students really gain any real benefits from the absence of homework?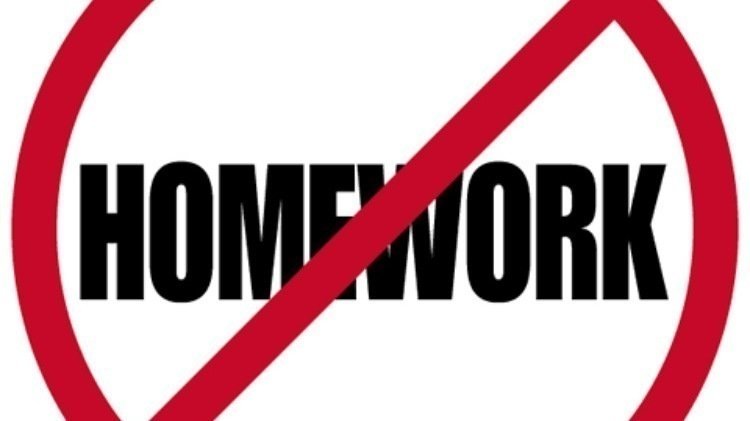 Homework Banned in Schools: Pros
While students will quickly start to support the idea that homework banned in schools is a very good thing. But homework is still there and for those of you who struggle with doing it, we've got an amazing homework solution service. And the reality is that the students have a lot of arguments. Here are just some of the most important arguments that support a nation-wide homework ban:
Students receive too much homework every semester and they are left with very little time for themselves. They are experiencing social problems because they are always struggling to get their school chores done and don't spend much time with their friends and their family. Of course, many students are forced to neglect the love of their life because they are constantly being pressed to do their homework on time.
Homework tends to stress students out. Many of these people don't really like some of the classes. After all, you can't love every class. Yet, they are forced to do their homework every week, even though they absolutely hate it.
A homework ban would see students work on their favorite topics. They would be able to choose their own assignments. Of course, teachers would still grade them, but students would get the chance to pick what they want to talk about and what they want to write on.
Many students don't have an easy life outside the classroom. It's very difficult for them to do their homework at home in many cases. Some students even have to work, at least part time, to support themselves throughout the school year.
Students spend an average of 6 hours at school daily. If you add homework, they are spending between 10 and 12 hours learning. This is more than what an employee would spend at work in most cases.
Perhaps one of the most important arguments that support a homework ban is the fact that various studies have shown that homework does not increase engagement or academic performance in most cases.
Now that we have seen the reasons why homework should be banned, let's take a look at reasons why homework shouldn't be banned.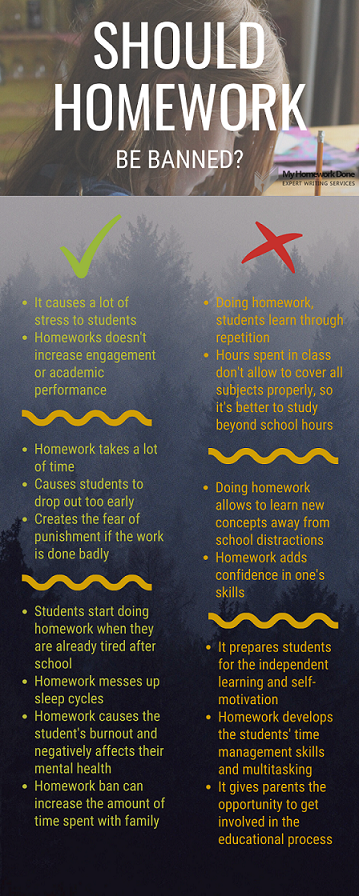 Should Homework Be Banned: Cons
Many people who argue that homework should be banned also agree that homework has its benefits. Here are some of the main pros of keeping homework in schools:
Without homework, many students would simply get home and play video games all day long. The absence of homework would not impact these students' social lives.
Homework forces students to read what was written during class. They learn through repetition and homework is the only incentive that would be able to stimulate them to reread those materials.
People who argue that homework should be banned agree that most students would not do anything for school if there weren't for homework. Few students would spend some of their time learning at home if not forced by school chores.
Through homework, students learn how to manage their time effectively and how to be disciplined and organized. Also, they learn how to compete for good grades.
Homework has existed for centuries and has proven itself to be a key element of education.
Of course, there are many other reasons why homework should not be banned in school. People always argue on this topic, so we will not force our opinion on anyone. We agree that every person has good arguments and that there is a gray line when it comes to homework.
Bottom Line: Homework Shouldn't Be Banned
So, should homework be banned? We believe that it should not. Banning it would not bring any real benefit to students. Yes, we do agree that teachers should try to assign less homework every week. They rarely think about their students and about their time. Also, teachers fail to take into consideration the amount of homework their pupils are getting from other classes. However, if we ban homework, would it solve other issues today's education has? There has to be a better solution to this problem and while we need to solve it, homework remains present. But don't get too upset just yet. The good news for students is that they can get some assistance online. An academic writing company, for example, could help a student with any kind of academic content, whether it's a calculus assignment or an informative essay writing. A professional writer is an ace at writing academic papers on any subject and topic you can imagine. So, instead of debating the "should homework be banned" topic, you should take action and either do homework yourself or get some quick help. Either way, for now homework isn't banned so you can either complain a lot, or dedicate some of your free time and get it done. We assume, the second option is the best one.
Stuck with your homework? Good news! Enter promo "homework20" and grab your unique writing assignment with 20% discount!