We've all been there: not doing our homework and then struggling to figure out a way to get away with it. The problem is that your teachers have seen it all probably. And in any case, you are better off doing your homework. However, there are times when you absolutely cannot do it. Why? Perhaps you don't know anything about the subject matter. Or perhaps you simple lacked the time to work on that school project. There are many reasons why college students miss deadlines with their homework. The problem is that if you don't come up with a good excuse (and we mean a REALLY good excuse), you will most probably get a low grade. And this is why so many students are wondering "what are some good excuses for not doing homework?" Fortunately, with a bit of imagination and with our help, you will surely be able to come up with a great excuse. As long as your teacher believes you, there is no reason why you would have to worry about a bad grade.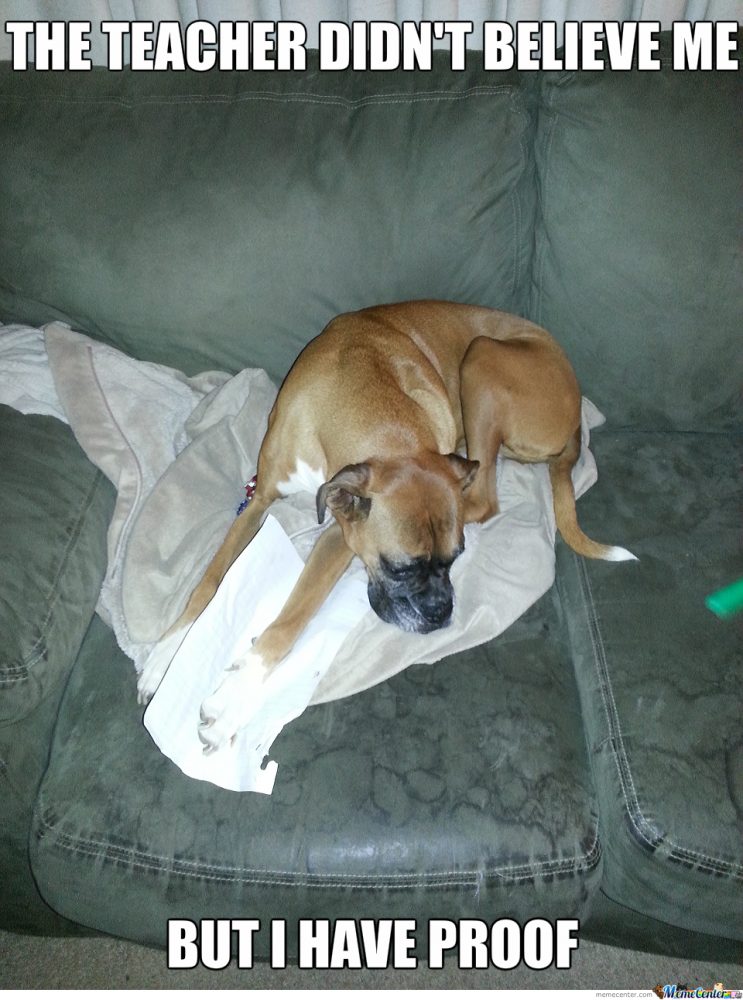 Having Problems With Homework?
Before we get to the list of excuses for not doing homework, let's take a look at some of the reasons why you are in this situation in the first place. The problem with homework is that you probably receive tons of it every semester. We agree that teachers rarely think about their students' free time. They really don't care that you have to write 10 other essays for 10 other classes. Every teacher will expect you to turn over the homework on the deadline, regardless of how many school chores you receive for the week. Another problem with homework (and the reason why so many students are looking for good excuses for not doing homework) is that you may not know how to do it. Perhaps you weren't paying attention in class, or perhaps you simply are not interested in the subject matter. Regardless, you definitely don't want a bad grade that will ruin your GPA once and for all. This is why you need the best excuses for not doing homework.
Top 10 Excuses for Not Doing Homework
It can be tricky to come up with the best excuses for not doing homework because teachers have heard most of them already. And teachers know how to spot a fake. To make sure these excuses for not doing homework work, you must be convincing. In other words, you need to believe that what you are saying is true. Also, analyze your teacher and figure out which excuse is perfect for him. Some teachers are more gullible than others, and that's a fact! Without further ado, here are the top 10 best excuses for not doing homework:
The number one excuse of all times is that your backpack has been stolen. On the bus or on the street – it doesn't really matter. Just make sure you are convincing and that you don't have your backpack with you!
If your parents are separated, you can say that you've forgotten your backpack at your dad's and that your mom doesn't let you go back and retrieve it. Most teachers will not only believe you, but also try to comfort you.
One of the good excuses for not doing homework is that you fell ill over the weekend. For it to work, you need to look like a person has been very ill very recently. Don't smile and don't burst with energy!
If you are a girl, you can try the "it's that time of the month" excuse. But these excuses for not doing homework funny work on male teachers only
Another plausible excuse is that your cat or your dog suddenly died or fell very sick. Every teacher knows how such a tragedy can affect a child emotionally.
You can try a funny one and tell your teacher that you couldn't do your homework because you believe your room is haunted. But make sure you are convincing when you say it!
You can, of course, blame your little brother, saying that he tore up your homework and that you didn't have time to write it again.
If you were absent the day your teacher assigned homework, you have a plausible excuse: you were not there!
One of the funniest excuses for not doing your homework is to tell your teacher that you tried and failed, so you simply gave up. It may sound funny, but most teachers really appreciate honesty!
If you had to do the homework on your computer, just say your computer's hard drive failed and that you've lost all those lovely family photos – and all the homework with them.
No matter how good these excuses for not doing homework are, remember that their success depends on your teacher and his mood. He may simply choose to not believe you and slap you with a bad grade. It happens – but we sincerely hope it doesn't!