Schoology is a web-based learning management system that allows teachers, students, and other school staff to network academically. The web system is designed to help assist with school activities online. With the schoolhouse, attendance can be collected, assignments given, and graded.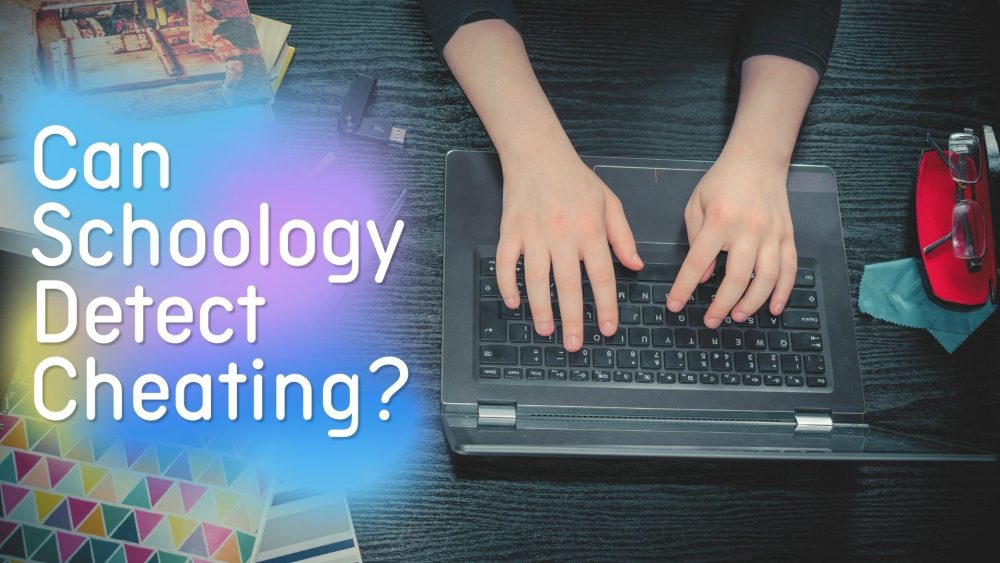 The system gives teachers high-level access to their student's academic activities, which means teachers can track students' performance using the built-in grade book on Schoology. For even better function, the system has a slot that allows instructors to dictate cheating activities of students.
This article explains what Schoology is, its use, and its primary yet necessary function for operation. The article will further outline some of the answers to common questions students or people within academia who use Schoology want to know about.
As a secured academic-based device, students definitely want to know their way around it and how to maneuver certain things. This article gives a detailed and precise analysis of Schoology and every other thing that comes in handy with it.
Can Schoology Detect Cheating?
Yes, Schoology can detect cheating through its plagiarism checker, but this is open to other factors.
The question always in school students' minds is navigating or hacking through some educational systems. Many students want to know if Schoology, just like other academic regulating systems, can detect cheating efficiently.
The clear answer to the question is that it depends on your instructor. If your instructor has cheating or plagiarism detection software installed into the system, the chances are that they will definitely fish out cheating. But in cases where this is not the case, teachers find it hard to keep tabs on the student's activity.
Does Schoology Check for Plagiarism?
The simple answer to this question is yes. Your Schoology system can check for plagiarism in the work you have submitted. Apparently, academic settings take plagiarism very seriously. It's a punishable crime, and in so doing, they make sure that measures are always put in place to regulate students' assignments, teaching them how to avoid plagiarism with the help of an efficient plagiarism tester.
On Schoology, there is an integrated Unplag plagiarism detection tool installed within the system. Teachers use this software to consistently fact-check and plagiarism check the academic works of their students.
Therefore, if you are a student whose school management makes use of Schoology, chances are you'll be faulted for plagiarism if your work is not authentically written.
Although records show that teachers are becoming more adept in checking for plagiarism or spotting a plagiarized essay, the chances are that yours could be dictated. So, the best tip to note is to avoid plagiarism while using Schoology, as the system is designed to make this checking process easy for teachers.
How to Cheat on Schoology Test
One of the Schoology answers students often need is the how to answer-solution. Many school students want to know helpful tips on how to cheat on Schoology and how to cheat on a Schoology test. While this is a challenging field to navigate considering the different dictator software the system operates with, it happens to be that there are still subtle ways students use to maneuver and cheat on Schoology tests.
This trick is generally the trick used for manipulating online proctor tests without the professor knowing. The most reliable scheme for school students looking for ways to cheat on Schoology could be running their webcams to show blurred images, thereby not allowing themselves to be dictated by the instructor.
Another hack often used by students is the cloning of two screens while writing an online exam where only one screen is visible to the examiner, and the other is entirely not known to them. Schoology keeps developing its software plugins for cheating-free tests and school performance; therefore, the chances for cheating on your Schoology test keep getting slimmer.
How to Hack Schoology Grades
Schoology has a built-in grade book that allows teachers and instructors to grade their students on every single course they take in school. And for the way Schoology is designed, giving access to both teachers and students alike, students can easily see their grades by logging on to Schoology.
Most students want to know if there are any ways they can hack through the Schoology to rectify their grades to their desired taste. Every student must understand that undergoing this process is a difficult one and will require the expert assistance of a professional hacker.
Before getting the assistance of a professional hacker, first know the status of the college's cyber-security, database protocol, and security review periods when trying to hack your grades.
If these processes and the security system are more substantial, the most reliable way is by employing the services of a hacker to access your school website and edit your transcript and make the new grade permanent. With the services of a knowledgeable hacker, it will leave no trace of hacking to the school management, and the good thing is you get to have the grade you desire.
Schoology Hacks for Students
Students are often after so many hacks to different things. Many students surf the internet in a quest for advice on how to manipulate one thing or another. Hacks to navigate school systems like Schoology happen to be one of the things they are in constant search of. There are so many hacks students can learn about Schoology. There is the Schoology test hack, how to get answers while writing your test or answering your quiz, including hacks on grades.
One thing every student looking to hack their Schoology needs to know is that it is a tedious process sometimes to achieve positive results on most of these hacks. The hacks require a certain level of alertness and smartness for them to function for any student effectively.
For the hack on tests or quiz, many students use three everyday hacks to cheat on Schoology.
The system cloning hack: Most students highlight this as the most reliable and easy-to-use hack without getting caught. In this particular hack, students use software to clone their computer, allowing their professor only to have access to the main computer while they use the clone version to make inquiries while writing the test.
A smartphone: Most students use their smartphone as their hack while on Schoology. This hack has its effects as you can be easily caught in most cases.
Blurry Webcam: since your professor can only monitor your activity through your webcam, most students tamper with their webcam to deny their professors access to what is happening around them.
How do You Cheat on Schoology Quiz
Despite the system's security level, there are still ways that students can cheat on Schoology quizzes. For your Schoology multiple-choice questions, you can cheat on your Schoology quiz. But, the process is often tedious as it only works for people who are smart enough.
The very first tip to it is still the trick you use while cheating on a test. You can clone your computer, allowing the cloned version to dictate the questions being read out to you while it searches for it immediately and provides you with the correct answer.
For a quiz that requires direct communication with your professor, using other tricks can seem faulty and leave you quickly dictated. So while there are limited ways to hack through your online Schoology quiz, you can achieve the desired result if you adequately equipped yourself before the examination.
It's worthy to note that all of these hacks are trial and error hacks as none of them are designed to work perfectly for everyone in every situation. A bulk of its success relies on individual capability.
How to Hack Schoology Online Proctor Exams
As an effectively designed school learning management system, Schoology embodies a high level of cyber security which makes it almost difficult for students to maneuver different aspects of it, from cheating on Schoology tests to cheating on Schoology quizzes to other factors and areas of the system like hacking grades.
If one school software has proven difficult for students to maneuver, Schoology happens to be one of them.
To hack on Schoology, the best thing is to be an intelligent person as this is a hack that has not been generally proven to work for everyone.
Hacking on Schoology presently requires a certain genius level to ensure that the manipulation will be made possible.
But, in any case, if previously prescribed hacks do not work, the chances are that the individual has to be forced to look into other cyber break hacks that will enable students to hack Schoology.
Generally, hacking Schoology requires useful and careful planning for a while if the desire is to be attained with good results.
Don't Want To Fail Your Classes?
Are you a college, university, or even a high school student preparing to take your test or write your exam or even a homework help and would require the assistance of trained professionals who will provide you with helpful information that can earn you top grades, there are so many available A+ experts in this field who are notable for discharging their duties and providing 100 percent result for their clients all at a low cost?