When two different platforms appear so similar they are often referred to as the same, there is a need to properly distinguish between them to avoid confusion. Safeassign and Turnitin are two different online plagiarism detection software that fall into such a category.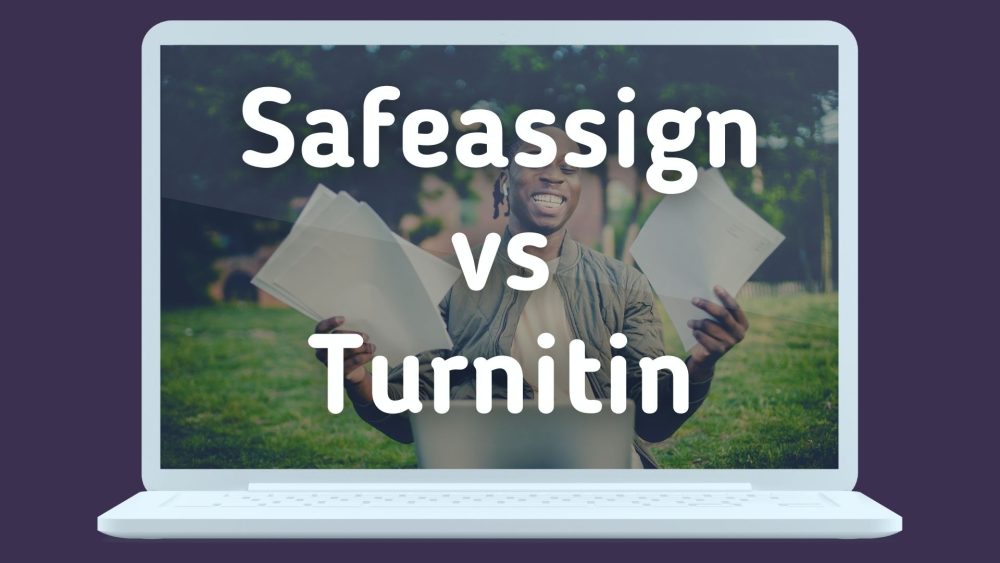 Plagiarism is an old source of countless troubles to writers all over the world. It involves copying another person's work or using someone else's work as yours, without giving them due credit. In other words, it is the process of passing another person's (written) work as your own.
This has led to the creation of various platforms to help detect cases of plagiarism, and flag them as copied or wrongly credited works.
What Is Safeassign?
Safeassign is online software that is specifically designed to detect and flag plagiarism.
It is so effective that it is applied in high schools, universities, and other learning institutions to make sure that students only turn in non-plagiarized works.
Currently, there is hardly any university where Safeassign is not used or referred to make sure that students don't choose the easy way out and cheat on their papers.
Safeassign Database
Safeassign has a series of sources and databases from which files are continuously compared to make sure that every work submitted is genuine and original. Some of Safeassign's sources for comparisons are as follows:
The internet: Every accessible document on the web is available for Safeassign to use in comparing its papers.
Institutional archives: Every institution that makes use of Safeassign as its plagiarism checker has to upload its files, which are stored in archives for future references. These archives contain every work uploaded by the students and the schools in general, and are a good source of comparison for future papers, especially for similarly written papers.
A global reference database: When students donate their papers to Safeassign to help improve its plagiarism detection, Safeassign classifies their institutions as blackboard clients. They help Safeassign better combat plagiarism in other students' papers.
The ProQuest ABI/Inform database: A regularly updated database with works from as early as the 1990s to the present time, equipped with millions of articles. If you have questions like how long does Safeassign keep papers, then this should give you a hint.
Although both of these tools are plagiarism checkers, each one is equipped with special features that distinguish it from the other. This guide will focus on bringing these differences to light. Some of these differences are outlined below.
Safeassign vs. Turnitin Comparison
Safeassign
Turnitin
Uses Blackboard, so institutions can gain access as a group.
Needs special registration before it can be accessed or used. That is, it can only be accessible through the website.
Students and other users can store their papers on Safeassign using the blackboard, so Safeassign has a special scope or registry of papers submitted in these blackboard classes, which serves as one of its databases.
Does not rely on blackboard classes, so it has a different range of sources to crosscheck papers with. Students not affiliated with blackboard classes can also access and use Turnitin.
Only accepts or supports papers to be uploaded directly as files, rather than cut or copy and paste.
Papers to be scanned are uploaded through a cut or copy and paste, rather than direct file upload.
Students can only turn in their papers once as their final assignment, except when the professor has enough room for two submissions (their draft and their final assignment).
The restrictions on the number of submissions is placed by the instructor or professor. They determine if the students should turn in their papers as their final assignment, or if they can turn in multiple drafts before turning in their papers as their final assignment.
Does not automatically upload or add submitted papers to its database unless the owner of the paper donates their work to the blackboard database.
Automatically uploads every paper turned in to its database, using them as future reference materials to better detect plagiarism.
90 to 95 percent accurate
90 to 97 percent accurate
Safeassign Blackboard
When papers are uploaded to Safeassign, the sources are given the option to partner with the platform by donating their works to be used as future references for plagiarism detection. These sources are then referred to as Safeassign blackboard clients. In other words, a college or university that allows Safeassign to use its works to find other plagiarized works in students' papers is Safeassign blackboard clients.
How Does Safeassign Work?
Have you ever asked yourself how long does it take Safeassign to check a paper? If you have, then you should know that so many other people have the same question and that you will find the answer here.
Ideally, a plagiarism checker should be able to find and report matches in the shortest time possible, and the same applies to Safeassign. On average, it takes roughly 15 to 30 minutes for Safeassign to carry out a thorough check and create a result based on its findings. However, the overall time it could take to generate results varies based on the specifications of the file or files to be checked.
For example, it only makes sense that for Safeassign to generate results on 12 files, the time would be considerably longer than if Safeassign just had to compare two papers and create originality results for them. This goes to say that the more the files, the longer it would take for Safeassign to prepare originality results on the files.
What Is Turnitin?
Turnitin is a plagiarism detection software that has a very broad range of sources for easy and effective plagiarism scanning.
Like Safeassign, it is highly effective in spotting plagiarism, so much so that it is used by students and other institutions to keep students in check and make sure their papers are original.
Turnitin Database
Turnitin has a list of databases or storages with which it crosschecks papers for matches. These databases are:
The web: Every paper that is accessible on the internet is readily available to Turnitin to use in checking other submitted works for plagiarism.
Partnerships: Just like the Safeassign blackboard, Turnitin has a series of partnership programs that allow its users to help develop its plagiarism detection. Here, the users offer or donate their works to be used as references to combat plagiarism in other papers.
Archives: Turnitin has storages and archives where older works are kept for future references. This makes sure that these older papers are not passed off as someone else's.
Student papers: When students turn in their papers, they are automatically stored in a database. This process makes it so that students do not just copy other students' works and pass them off as theirs.
Which Is The Best Research Paper Help?
College students are faced with the dilemma of churning out non-plagiarized research papers, while successfully juggling taking classes, and all the other activities that make up the college experience, all while trying to keep to a deadline. This has led to students trying to seek out easy and professional help with writing their papers.
These university students seek trusted platforms that can help them write quality research papers and other assignments while being affordable and keeping to set deadlines. At first glance, this goal might seem unachievable, but nowadays, countless professional ghostwriters are available specifically to help college students create quality papers at cheap rates, and give them the top grades they desire.
Based on what students need or require per time, they may choose Safeassign over Turnitin one time, and the reverse at a different time. Most of the time, however, students tend to go for Turnitin over Safeassign because it has some loopholes they can exploit to get easy grades.
Safeassign Says I Plagiarized But I Didn't: What To Do?
Sometimes, this is because your wording or phrasing matches those of previous similar papers, so your non plagiarized paper is flagged as unoriginal. In this case, you should carefully go over your work again, and thoroughly rephrase every phrase highlighted as unoriginal. With this, you can increase your originality percentage.
Does Safeassign Check Turnitin As A Reference?
No. Safeassign and Turnitin are two separate software and programs, each with its storage database. The only time Safeassign and Turnitin use the same source is when they check papers using the global reference database.
FAQs
1. Does Safeassign check previously submitted work?
Yes. Safeassign does not compare two papers that seem to be alike, it goes through all previously submitted works, and tries to find matches and similarities to the newly submitted work. Similarities are flagged as plagiarism, and results are shown based on the degree of matching.
Other than previously submitted works, Safeassign juxtaposes any write-up with its countless sources and references all over the internet.
2. What does Safeassign check for?
Safeassign is best known as a quality and trusted plagiarism detection tool. It is highly effective in spotting matches with similar writeups and reporting the sources of matched phrases or sentences.
Safeassign specifically checks every paper uploaded for phrases and sentences that match those of previously submitted works. If a phrase or a sentence was used in the same way in two different papers, then it will be flagged as plagiarized. Safeassign also looks for possible quotes and sentences that match previous papers, without the presence of proper citations: if you paraphrase a line from another person's paper without properly naming them or crediting them, Safeassign flags it as plagiarized
3. Which is better, Turnitin vs Safeassign?
Depending on what exactly it is you want, each software suits its users just fine. Each one has its features and guidelines that help it remain a constantly sought-after plagiarism checker, and these guidelines work differently for different people. Your preferences determine which is better for you.
4. Just how accurate is Safeassign?
Safeassign is prided on being one of the most accurate online plagiarism detection tools. With up to 95 percent accuracy, Safeassign can be trusted to give only the right results.
5. Does Turnitin detect paraphrasing?
Yes, though not as accurately as Safeassign. Turnitin will flag a sentence as paraphrased when you just swap out words with synonyms that closely resemble the original words. To escape this, make sure to properly and thoroughly rephrase every phrase as much as possible.
6. Can you submit a paper to Turnitin twice?
You can only submit a paper twice if it's submitted as a rough draft and then a final paper. Other than this, you cannot turn in a paper twice and expect it to not be flagged as plagiarized or copied.
7. Does Turnitin check pictures?
No, Turnitin is unable to check pictures. The Turnitin algorithm is designed in a way that allows it to recognize and only read text that can be highlighted, and so since the text or characters contained in an image cannot be highlighted, then Turnitin cannot read or check it.
While the Turnitin algorithm cannot check pictures now, know that the different file formats supported by Turnitin do not allow for pictures to be embedded.
The Turnitin vs Safeassign debate has gone on for ages, and while both have their striking similarities, each platform is an individual entity on its own, and with different sources and modes of operation. They sometimes overlap when the global reference database comes into play, or when papers are leaked, but other than that, they are completely different.