There are a series of exams for high school students before entry into colleges or universities. These are called standardized tests to assess student performance in school before admission. One of such exams is the AP test.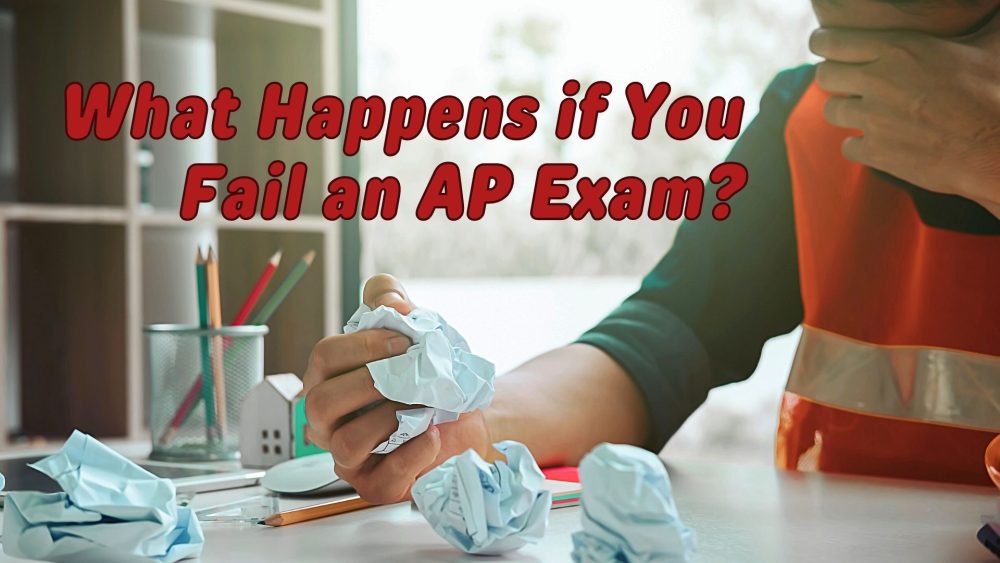 While you may want to do everything possible to excel in the exam, you should know what happens if you fail the AP exam. Before that, you should know what an AP class is, do AP class affects your grades, and many others.
All these questions are relevant. Should you also ask, "what happens if I fail my AP exam" or "I got a 2 on my AP exam, what next?" This article will offer answers to your questions to clear your confusion about AP tests.
What's an AP Class?
Known as Advanced Placement, it is a popular test for students starting their junior year. Over 60% of high schools in the U.S. and 15,000 globally offer these exams. It is a process of preparing high school students for college-level work as it is meant to show them how life at college is.
The College Board administers the curriculum of the board, and the curriculum encompasses primarily undergraduate courses. AP classes let you know what it feels like to be a college student. It also allows you complete college faster as you'll be given college credit if you pass the course. This means that you won't be required to take the course you passed as an AP student when you get to college.
Process of Taking an AP Exam
If your school offers the AP program, you can easily register for it during the class selection process. Note that this isn't a required course, but if you'd like to, you can offer the course. The AP-level courses are necessary as you'll learn and prepare rigorously before exams.
To register, you need to see your teacher or other professionals on the exam, especially your guidance counselor. You'll need to pass through the processes, pick your courses, and pay the school fee. Each exam is paid for differently, and you can choose as many courses as you're confident about.
What Happens If You Fail An AP Class?
You will not receive credit for the failed class, and your GPA may be lowered. If the AP class you failed was an elective course that isn't required for graduation, you could be okay without retaking the class in a subsequent year. While the low grade may affect your GPA, you wouldn't need to retake it.
If you've had a rough time affecting your preparations, you may not recover if you have a short time before exams.
However, if the class you fail is required for graduation, you'll need to retake the course. If your school has a grading policy that allows you to replace your failed grade, taking another exam is your best bet at getting a better grade on your transcript.
Thus, failing an AP class means your GPA will be reduced, and you'll not receive credit for the class. If it's an important course, you'll need to retake it. If not, you can go scot-free.
What Happens If You Fail AP Exam?
Nothing happens if you fail the AP exam, and this is because you can still go to college. The AP exams are not the only criteria to offer or reject students' admission. If you ask: do colleges care if you fail AP exam? The simple answer is a blunt No.
Failing AP exam doesn't hinder you from getting better grades in college. However, knowing that the course costs you money may want you to invest more time and energy. Your final AP class grades will affect your GPA, although exams wouldn't.
Study Ideas and Methods to Get a Perfect Score in AP
There are a few study ideas on how to achieve success on your AP exams. These are:
Study Early and Study Smart: If you have more time to prepare for your exam, you'll have a good chance of success. If your exam starts in a month and you start studying, it could be dangerous as you have other engaging activities.
Pay Attention in Classes: When you receive lectures, you should devote your time to them. When you're also done with classes, you should create a schedule to review what you've learned. This helps you create a coordinated time for a detailed review. Your brain could be sharpest in the afternoon, the evening, or the morning. Whatever time it is, find a study hour that you can stick to, to help you prepare well.
Take Breaks and Stay Hydrated: When studying, studying for a long stretch of hours without breaks could lead to brain fatigue. You'll feel weary and unwilling as your brain is seen to have taken a lot. You can feel energized when you take a break and also drink a lot of water. Drinking water makes you stay hydrated, and it avoids feeling drained inside out.
Verify all You Know: If you're studying something in history, you must ascertain if your facts are correct. If you're studying some elements in chemistry, you should verify that you get them right by checking online journals. Online journals also have some of the things you need to correct with your calculations and guesses.
Use AP test Questions to Practice: In your course material, previous questions could help you practice ahead of an exam. These are questions that tilt to what is often asked every year by the board. You may not see the board repeating questions, but you'll find them asking questions along the same theme and subject. Studying this will be a source of invaluable information to provide the knowledge you need.
Ask Questions When You're Confused: Your teacher is there to answer your question. If you're not getting their point, ask questions for clarification purposes. Asking questions also let you know more about what you didn't know. You may be compelled to find corroborating answers online which reinforce your understanding of the concept.
Find a Study Group: Aside from studying personally, having a study group can help you get better grades. This is because your study group is a group of like-minded people. You are there for a similar goal. This enables you to enhance your grades and reinforce focus. Completely isolating yourself while studying may also impede your ability to study for a long time. If you study with a group, you can interact, ask questions, and find answers easily.
What Happens if You Fail The AP Exam but Pass the Class?
Failing AP exam will not affect your grades. Passing an AP test or course lets you score significant credit before commencing your college degree.
It also enables you to save time and money as you wouldn't need to pay for introductory classes in college. Hence, skipping it for the advanced level.
AP classes also let you gain access to competitive colleges. However, the exam is a means to validate your academic capacity. The AP exam score will not affect your chances of earning college admission. Some colleges and universities may not know about it until you inform them. When they're aware you did it, you may be required to tender your results when you receive them.
Can You Take an AP Exam Without Taking the Class?
Yes. However, it is always recommended that you take the AP courses because it tells and teaches you exactly what you need to know for the exam.
You can be homeschooled. You can study on your own. But taking the courses lets you gather the skills and outline the content required to pass the exams.
You'll find the course content and required skills to pass on the earliest pages of the documents. Taking the class also lets you review free practice questions in preparation for the exams. This also enables you to see scoring guidelines as a test taker who'll need them.
What Happens if You Get a 1 on an AP Exam?
A 1 in AP exam means no recommendation. About 49% to 70% of students who take the AP exam earn a 1.
This is not just because there are many challenging courses; the college-level tutoring and curriculum may be too serious for the students.
However, colleges in the U.S., Canada, and other places do not accept 1 as a score because it's useless; there's no college credit for it. Even if you say, "I got a 2 on AP exam, what is its value?" It indicates that you were supposed to be recommended, nothing else. Because you have a low grade, you're considered "quite" qualified.
What is the Passing Score for AP Exams?
The passing score for AP exam is 5. It's the highest. Let's do a breakdown:
5 points mean extremely well qualified
4 point means well qualified
3 point means qualified
2 points represent possibly qualified and
1 point equals no recommendation
Do Colleges Care if You Fail AP Exam?
Most colleges don't care if you fail the AP exam. This is because colleges consider numerous factors, including the strength of your courses, before offering admission. They even consider how rigorous the syllabus is.
This consideration is dependent on the college you apply to. AP exam board also shows that over 75% of admission officers who responded to their survey noted that failing AP exams will not affect your admission chances.
Can You Retake AP Exams?
Yes. It is also a No depending on when you want to retake the exam. If you're hoping to retake the same year to failed AP exam, it's impossible.
AP exams occur once a year, except for late registrations. You can only retake the exam the subsequent year, and you can request that the authorities cancel the poor grades.
Do AP Exams Affect Your Grade?
No. You're alarmed when you ask what happens if you fail AP exams? Nothing happens because it has no impact on the GPA, although your final grades will impact your GPA in college.
However, there are different colleges with different score policies on AP exams. Some colleges will consider 4 a legitimate qualification into their school. Some schools consider 3 while others consider 5, nothing else.
Do You Have to Take AP For College?
According to research by The College Board, the board behind the activities of Advanced Placement, students who take AP classes do better in college. This means that taking the class gives you more chances to excel in college. After all, the curriculum is beyond high school courses.
The curriculum requires extra rigorous work, which enables a student to develop exceptional reading and writing skills. Coupled with this, such a student will enhance their motivation and improve personal discipline.
Can You Take an AP Test in College?
No. AP tests are college-level tests that are administered to high school students.
It is a test that enables high school students to start a competitive college or university life as a high score will earn them college credits.
What are the Hardest AP Tests?
There are over 38 study areas, including AP Research, AP Seminar, and many others. However, there are a few challenging courses:
United to States History
AP Biology
English Literature
Calculus BC
Physics C
Chemistry
Computer science
Environmental science
These are classes with bulky curriculum and serious tests, which could be considered strict tests for high schoolers. They also have difficult course materials. English Literature has a 49.7% pass rate, Environmental science has a 49.2% pass rate, while Human geography has 49.1%.
Universities That Allow AP Results
The AP scores are acknowledged in the United States, Canada, European countries, and other parts of the world. It is acknowledged in over 100 countries around the globe and there are different policies
Are Your AP Assignments Taking Too Long?
Having known these, you may need trustworthy homework helpers and professionals for some of your homework while preparing for the AP exam. Since your high school responsibilities are still there, you may also need test takers for some of your online tests.
Here is where we come in. We boast awesome experts who could help you get 100 percent or some of the top grades in your tests and exams. We offer writing assistance and professional help, which could improve your grades.