A common question that many learners ask is, "can teachers see your screen on Zoom?" Essentially, many students wonder how schools monitor their interactions with educators when attending online classes via Zoom. .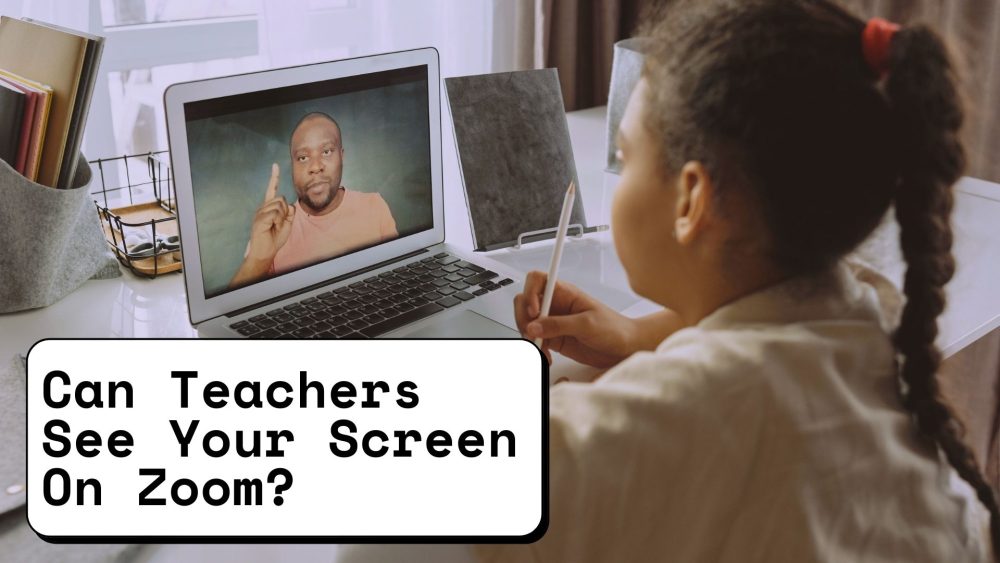 Some learners want to know whether a teacher can see their messages or their screens during online courses. Perhaps, that's because some learners lose attention and worry if the educator on the radar notices their absent-mindedness
When attending an online class or taking an exam via Zoom, the professor connects with students through this app, enabling them to see what happens in the background. That means the professor can see anything that the camera captures. However, there are things the professor can't view. But before learning more about Zoom and the ability of the teacher to see your screen, let's understand the basics of this application.
What is Zoom?
Zoom refers to a cloud-based video conferencing app or service that people use to meet virtually by audio-only, video, or both. At the same time, you can conduct live chats and record your sessions for later viewing.
Most Fortune 400 companies use Zoom, especially during the COVID-19 pandemic when most people were working remotely. Essentially, people use this service to set up virtual audio and video webinars, conferences, screen-sharing, live chats, and other forms of collaborative events.
Attending a Zoom meeting doesn't require an account. What's more, this application is compatible with iOS, Windows, Mac, Android, and Linux. Thus, anybody with a stable internet connection can access and use Zoom.
During the COVID-19 pandemic, many students and educators are getting crash courses as they adapt to online or distance learning. Many schools have embraced Zoom to enhance online, live teaching while encouraging learners' engagement. Essentially, Zoom has lifted meeting time restrictions by providing free accounts. That way, schools can improve concentration and collaboration between students and educators.
Using Zoom in a college or university can address educators' concerns while improving the learners' outcomes. Essentially, this service provides secure video conferencing for educators to project to several students.
With proper training and a camera, Zoom can enhance learning outcomes. Zoom helps engage staff, faculty, and students for collaboration, administration, and learning. What's more, this service supports hybrid and remote learning settings for higher learning institutions, primary and secondary schools.
Can Teachers See You on Zoom if Your Camera is off?
No. Your teachers can't see you if the camera is off. However, the instructor sees you the same way you see yourself when the camera is on. Ideally, you won't get the class participation grade if you don't turn the camera on.
If you turn the camera on during a meeting involving several participants, it displays them all, including yourself. By showing yourself, you see the way others see you. But if you hide, your video display won't appear on your screen. That way, you will have adequate space to see others.
If you want to run off the video, open the toolbar adjacent to the bottom-left corner of your call window and then click on the "Stop Video" button. Alternatively, click the Alt +V on your personal computer to turn off the webcam.
In simple terms, the professor won't see you unless you share a screen or run the program that can allow them to do so. That means you shouldn't worry that the educator could bust you because Zoom software won't let anybody see your computer screen without engaging them actively with the "Share My Screen" feature.
Can Zoom Host See Your Screen Without Permission?
No. Unless you actively share your screen, the host can't see it. This video conferencing tool has raised privacy concerns for an extended period. Although Zoom has taken several steps to boost privacy and security for the users, doubt continues to hang at the mind's recesses.
That's why some people ask, can Zoom admin see your screen? Apart from teachers, sometimes the boss is the Zoom admin and host. Therefore, many people wonder whether they can see their screens.
Luckily, the host or admin can't see your screen. What's more, nobody attending the meeting can view your screen if you don't share it. And sharing the screen is not something people do accidentally. Thus, you don't have to worry about it. Whether you use a premium or a free account, the host or admin won't see your screen.
If anybody attending a Zoom meeting sees your screen without permitting them, they will be violating your privacy. That means this won't happen unless the educator or the employer wants lawsuits.
How Does Zoom Attention Tracking Work?
Zoom has an Attention Tracking feature that a host can enable to see whether you're attentive to the screen-sharing presentation. However, this tool has limits because it works when you share your screen with the host. If you minimize the meeting window or keep it inactive on your computer screen for over 30 seconds, the software flags you with a grey icon towards the left side of your name in the list of participants.
As hinted, this feature is limited to mobile and desktop applications only. If you join a Zoom meeting on a website, this software won't track your attention. Additionally, the host can only track participants with Zoom version 4.0 or higher of mobile and desktop apps.
Nevertheless, this feature enables the host to know whether the participants are attentive during a presentation. But a participant can't know whether the host has enabled the attention tracking feature. And that's why some people argue that Zoom violates the user's privacy. By default, attention tracking software is off. It tracks also works only when a Zoom user shares the screen with the host. And this software tracks attention only, and it won't tell the host about the other applications the participant is using.
In simple terms, Zoom attention tracking is for people attending visual presentations. It lets the person making a presentation know who is watching and who has minimized their Zoom window to do other things.
Can You Know When the Host Enables the Zoom Attention Tracking Feature?
A significant issue for most people is the inability to know whether the host has disabled or enabled the attention tracking feature. Ideally, a person on a Zoom call can't know whether the host has enabled this feature or not. That means Zoom doesn't warn you that the host is tracking you. Thus, most people wish that Zoom would send a notification or allow you to see when the host enables the Attention Tracking feature.
How to Stop Teachers from Seeing Your Screen
Some professors tell their students, especially unsuspecting freshmen, that they can use Zoom to see their desktops or screens. Thus, they can see what a student has pulled up during an online class. Consequently, some learners are worried that professors could bust them. But that's not true because Zoom doesn't allow a teacher or anybody else to see your computer screen. And this can only happen if you use the "Share My Screen" feature.
However, please don't open up different threads when using a school or any device your school owns because it might have software that allows the teacher or professor to see everything you do. The same applies when using a device belonging to your employer.
Perhaps, the best tip on preventing the teacher from seeing when during a Zoom meeting is to ensure the device doesn't have software they can use to do that before using it. Also, treat everything you do on a school-owned device as if it's happening in a classroom. Thus, you avoid doing anything you can't do before the teacher while attending an online class via Zoom.
How to Know If a Teacher Is Watching Your Computer
Essentially, the educator can only use the Attention Tracking feature to watch your computer. That means they can only track your attention when sharing your computer screen. That means if Zoom isn't your computer's app in focus, the teacher will notice that you're not paying attention to the presentation because a clock indicator will appear next to your name.
Zoom users can disable this feature in the account settings. However, some administrators make this Zoom setting mandatory for every user by clicking the lock icon. If you feel creative or sneaky, you can use online hacks to ensure that your professor thinks you're attentive when you are not.
For instance, you can set up a camera stand in front of your computer with your image sitting at your desk. Also, you can play around with the custom backgrounds of your Zoom room to keep your vision in your frame. Nevertheless, use a cheat sheet that other learners have tried and proven effective.
Who Can See Private Messages On Zoom?
The meeting host or professor controls message sending during an online class or meeting on Zoom. Essentially, the administrator or host can determine whether to allow you to send messages or not. Also, they can disable the chat feature altogether.
However, the teacher or the administrator can't view private messages that other participants send during a Zoom meeting or class. They can view the messages you share in the chat area during an online forum or class.
The Zoom website states that the host can view the private messages that participants send. Everybody can read all public conversations. Thus, Zoom records even public in-meeting chats when recording a meeting to the cloud. The software records both public and private texts involving the individual recording them on a computer.
If you record a Zoom meeting, you won't receive a transcript of a private conversation from the chat you didn't participate in during the session or class. However, students shouldn't use this to share snarky things regarding other learners or the professor.
That's because you may send an inappropriate or wrong message to an incorrect person to end up in trouble. Also, if a person didn't attend a class and you want to share the recording with them, they will see all private messages, which can also get you into trouble. Therefore, don't share a Zoom recording if it has private messages you wouldn't want the other person to receive.
Tips for Relating Well With Students and Teachers on Zoom
Zoom provides something that feels like a physical classroom by enabling teachers to project to several learners at once. Instructors and students interact via Zoom like in a physical classroom. The only difference is that Zoom doesn't provide a physical presence. But understanding Zoom and how to relate with instructors and other students make this service more enjoyable.
To achieve this, minimize distracters to enhance your engagement with the instructor and other learners. Here's how you can reduce distractions during a Zoom class:
Find a quiet place for attending your Zoom classes
Avoid distracting movements
Don't use filters on the Zoom video feed
Don't use phones
Don't eat while following a Zoom class
Be adaptable, patient, and flexible
In addition to these tips, mite the microphone to prevent unnecessary background noise. Once you do this, don't forget to unmute the microphone anytime you decide to speak. Also, think before saying anything during a Zoom class. Essentially, don't say anything you wouldn't talk about in a conventional classroom. Use respectful and formal language when communicating with the educator or other learners.
Parting Shot
Many controversies undoubtedly surround Zoom. Some students worry that educators might see their screen when attending online classes via this application. Therefore, they want to know whether the host or professor can track and monitor them during a remote learning session. Opening another app for taking notes can prompt the educator to think you're not attentive if they use the attention tracking feature. However, Zoom removed this feature to deal with the controversies surrounding it. Thus, the instructor doesn't have a way to tell whether you've opened another window leaving the Zoom window inactive or dormant.
Hire the Best Assignment Writing Service
Perhaps, you didn't grasp everything the educator taught during a Zoom class. Maybe you're struggling to write your assignment fast, but you can't find adequate information sources. Regardless of your situation, our crew can help you complete the task and score the top grade in your class. We offer professional writing help to learners across academic levels. Our team comprises professional assignment experts with a proven track record of providing quality, fast, and reliable homework help. If stuck with a writing assignment, don't hesitate to seek our assistance. We guarantee you a cheap service that won't compromise your assignment quality. Contact us now!