Preparing for a test when you have a lot of other things to think about can be a serious challenge. In some cases, you might be faced with a test that you have no idea about.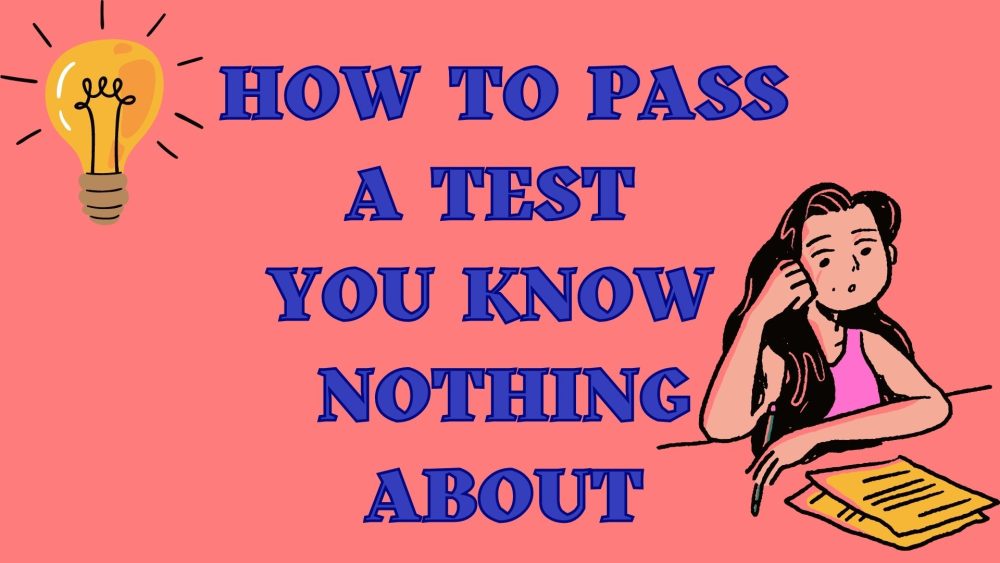 However, it is important to score a good grade to avoid being forced to repeat a course or crash out of your career. This post will bring out some useful tips on how to pass an exam you know nothing about.
How to Pass an Exam You Didn't Study For
If you have not studied for an exam, preparing for the study goal and relaxing can help you score good grades. But let's first go back to the beginning. What makes one unable to study for an exam or test? Here are possible reasons:
When you have to work and study at the same time. As a result, you are left with no time to prepare for the exam.
You had to attend an unforeseen event that left you with no time to study for the test.
There are too many assignments that you have to prepare for.
You were sick and could not study.
You forgot about the test and just remembered when it is only a short moment before starting.
No matter the reason that made it impossible for you to study for the test, passing is important to keep improving your grades. So, here are some useful tips on how to pass a final exam without studying.
Prepare Your Studying Goals
Before working out the right method to pass an exam you know nothing about, start by determining what is needed to achieve it. For example, what marks do you require on the exam? Then, focus on chapters that you think are more important or have been covered extensively by your teacher in detail.
Relax
Another core thing about passing that exam that you have not prepared for is ensuring you are completely relaxed and mentally prepared. It is not uncommon to get some students panicking immediately when they enter the exam room. This can worsen the situation, but how do you deal with it? Consider some strategies that can help you stay relaxed, such as yoga, to grab the focus back. Try to keep the strategy used for relaxing as short as possible.
Look for a Quiet Place to Do the Exam
When thinking of how to pass final exam which you have not prepared for, you should avoid all sorts of distractions. So, get yourself a quiet place, probably the furthest corner of your home study room or the corner of the bedroom. Check for anything that can cause disruptions, such as phone, social media, and television, and turn them on. Again, it will be a good idea to be in a spot with little or no traffic.
Put Greater Focus on the Chapters that You Understand Well
When students have only one or a few hours before the test, they start asking themselves one question, "How will I even handle the paper?" Here is the way to go about it. If time is running out, do not try to jump into a new chapter because it is going to get you more confused. Instead, put effort into the topics that you understand well. Related questions will be pretty easy to handle and take a shorter time.
Focus on the Basics of Each Chapter
This is perhaps the most important point when trying to pass a test you have no idea about. Particularly, it works very well when looking for ways of how to pass a math test by guessing. If you can refresh and absorb the basics fast, it is possible to get partial marks for questions that you will not be able to finish. If you are only targeting to hit the pass marks, consider picking the basics by following the summaries of every chapter. You can do this within a very short time and with little effort.
Guide to Prepare For an Exam in 1 Hour
If you have just arrived from a tour, forgot about the exam, or were away for some time, and it is now only an hour to the test, how do you study for it? It happens quite often, and you get yourself with only a few moments to study for the test. The good thing is that this short moment can be all that you need to pass that college or university exam. If you still doubt yourself after our expert guide, you can write to our helpers "do my homework for money" and be sure to get the best result. So, here is how to go about it:
Follow the Study Guide
If you only have a very short period, your study guide can be the bridge to top grades. In most universities and colleges, lecturers provide study guides for different subjects. They are also available in online libraries and bookstores near you. The guides can come in handy when you want to refresh or study the basic info within a very short moment. If you want to pack more details in your mind, consider using mnemonics tools, such as acronyms. You can even discuss it with your friends to make it easier to remember.
Use Your College Notes
When you need to study or revise at the last minute, your class notes should be your friend. These are notes of the subjects and concepts that are very important. Therefore, when you peruse through them, it will be like opening a detailed page that brings to life more content. By the time you sit for that exam in an hour, more details that you had captured in the notes or during studies will flow through the mind. When done well, this could help you easily get past the pass mark.
List of all Mnemonics
This exercise only requires a few minutes but might be all that you require to grab that top grade or edge past the pass mark. So, here is how to go about it.
In every chapter of the respective subject, identify the mnemonics and list them. This will help you to go through the chapters within a very short moment. Because you have just gone through the mnemonics, list them quickly on the exam paper because they will still be fresh in the mind. So, if you are looking for a good way on how to pass a test without studying or cheating, this option is an excellent one to consider.
Skip and Read
If you are a learner who prefers to use the textbook at the last minute, skipping and reading can be an awesome method. It involves reading the first and the last pages because that is where most exam questions are likely to come from. You can even check the questions at the end of the book and try solving them. The review questions are, in most cases, a reflection of the type of questions to anticipate in the exam or test.
Way to Get a 100 on Every Test
Well, let's put it this way: is it possible to hit 100 in every test you do? Absolutely! However, you will need to be as thorough as possible to read and remember all the concepts about the subjects you are studying. So, do not keep wondering how to ace the PSAT without studying or get the best grades, here are some strategies that you can apply.
The Assignments can Help You Prepare for the Test
Let's think deeper here. When you think about college study, what scenario comes into mind? For most students, it is the textbook for the respective subject. That is correct, but look beyond that, and you will discover that the book was done by an author but not the teacher. However, it is your teacher who sets the exams.

This means that it is possible to scan your lecturer's mind to have an overview of what is likely to be on the paper. Sure, it might not be 100% correct, but you are sure of hitting a top score. Using your assignments as insights gives you an idea of what your teacher is likely to focus on in tests. So, focus on the areas you have been tested on in assignments because they are likely to feature in the final exam.

It is advisable to avoid dashing back to the textbook to check for answers when doing assignments. Rather, put down what you know and continue with the assignment. This will help you learn every chapter more effectively and, ultimately, complete all test questions with ease to get 100%.

Be Attentive in Every Class
If you want to get top marks in your tests, one of the crucial ingredients is attending all classes. In every class, your lecturer goes through the details that can help you to answer the questions you have. Again, this is an opportunity to answer every question you might have in the respective topic. So, if you are good at retaining what your lecturer teaches, this is an excellent method of passing tests without studying.
Plan Your Study Time Well
You have a full year, perhaps more, before sitting for that exam. If you can dedicate some hours every day or week during the entire period, you will be adequately prepared to handle every question. It is a better option compared to trying to grasp everything within a short moment.
To make studying even more effective, you should consider listing definitions and formulas of the subjects requiring summarizing. Then, simply review them when the exam is near.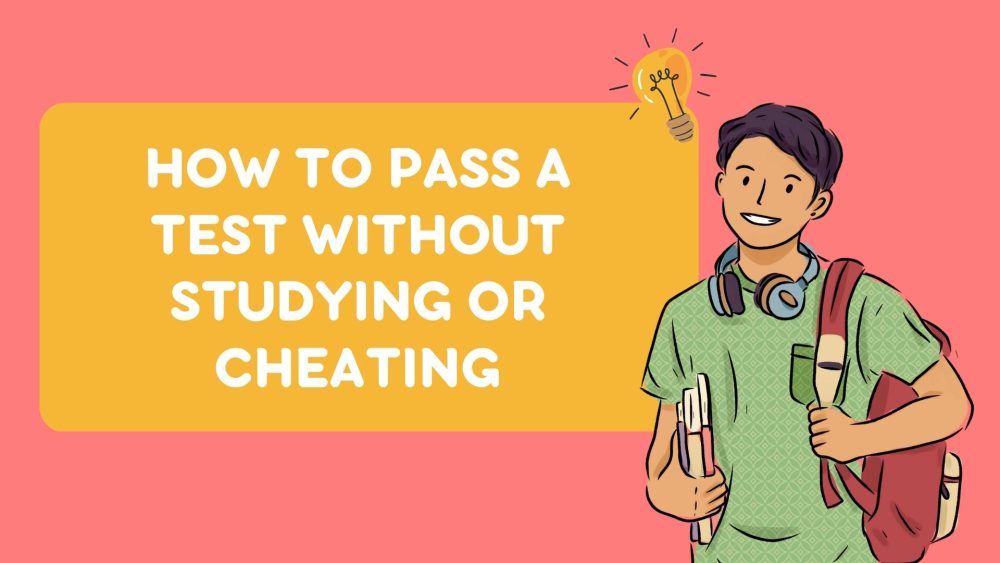 How to Pass a Test without Studying or Cheating
Can you pass a test without cheating or studying? The answer is yes. Here are some useful tips that you can use to get the best grades on your tests. We will look at them based on the types of questions:
Multiple Choice Questions
Here are some tips on how to pass a multiple choice math test without studying. The method also works in most subjects:

Rule out all choices that are clearly wrong. The effect of this is that you are left with fewer options that are correct.
Make a guess when you have no idea what the question is about. You might end up getting the answer right.
Thoroughly read through the questions and understand them well before attempting the questions.
For tests with mixed sort of questions, use the presented facts to try and pick the right answers.

Math Questions

Start with the questions that you know and then to those that you do not.
Do not leave blank spaces. Attempting even those you do not know can earn you partial marks.
Always check the work before submitting to identify and remove errors.

Short Answer Questions

Be clear and to the point.
Avoid long answers because they only take time but do not add marks.
Always stick to the recommended number of words.

Essays and Long Answers

When reading the test paper, put down facts and quotes needed when answering the questions.
Where the question prompt permits, make the post argumentative.
Ensure your thoughts and points are properly organized before setting off to write the paper.
Seek Homework Help from Experts
When doing exams and tests, the bottom line is staying calm and focused on the questions. Even when you have no idea, it is still possible to do well and get top marks. Now, we will tell you about another method: asking reliable writers to "take my test." This is not guesswork or assumption but comes with a guarantee for top grades because you only get high quality. So how does it work?
You only need to identify a good assignment help firm and tell the writers that you want to buy homework. At our service, our online writers are the best in the industry, and you can count on them for top-quality work. By ensuring that only trustworthy and reliable English native writers in your discipline handle your papers, you can rest assured of passing the exam with flying colors. Again, they research every custom paper and work on it from scratch to ensure it is plagiarism-free. Remember that our system is also secure, and you do not have to worry about getting discovered by your teacher. So, visit our site now and say, "I have a test tomorrow or in one hour and need urgent help."
FAQ
What is the easiest way to pass a test?
Regular study without distractions helps you ace tests. Fortunately, you can use your homework and quizzes to determine what your teacher considers necessary information and the likely questions. Create study aids to help you memorize what you studied and have a quick revision before the test.
How to pass a test when you didn't study?
Studying in advance helps you to pass tests. However, unique test-taking approaches will help you pass if you don't learn. First, carefully read and assimilate the instructions. Then, before you write any solutions, read all the questions. Finally, answer the simple questions and guess the solutions to the tough ones if wrong answers won't attract a penalty.
How do I prepare for a test the night before?
Last-minute study before a test can cause you to become stressed. Eating nutritious food and having enough sleep are better for feeling relaxed and focused on the test day. As you study, review the critical information. Write out the main ideas and formulas and read them aloud.