Have you ever held a book, say a novel or poetry book, which was so enthralling that you kept rereading it? At some point, we have all done it. Creative literature is done by selecting and arranging words and sentences to drive specific emotions from the reader. To hit these emotions and create the thrill you get in books that you cannot put away, writers use a number of literary devices. The two most common of these devices are verse and prose.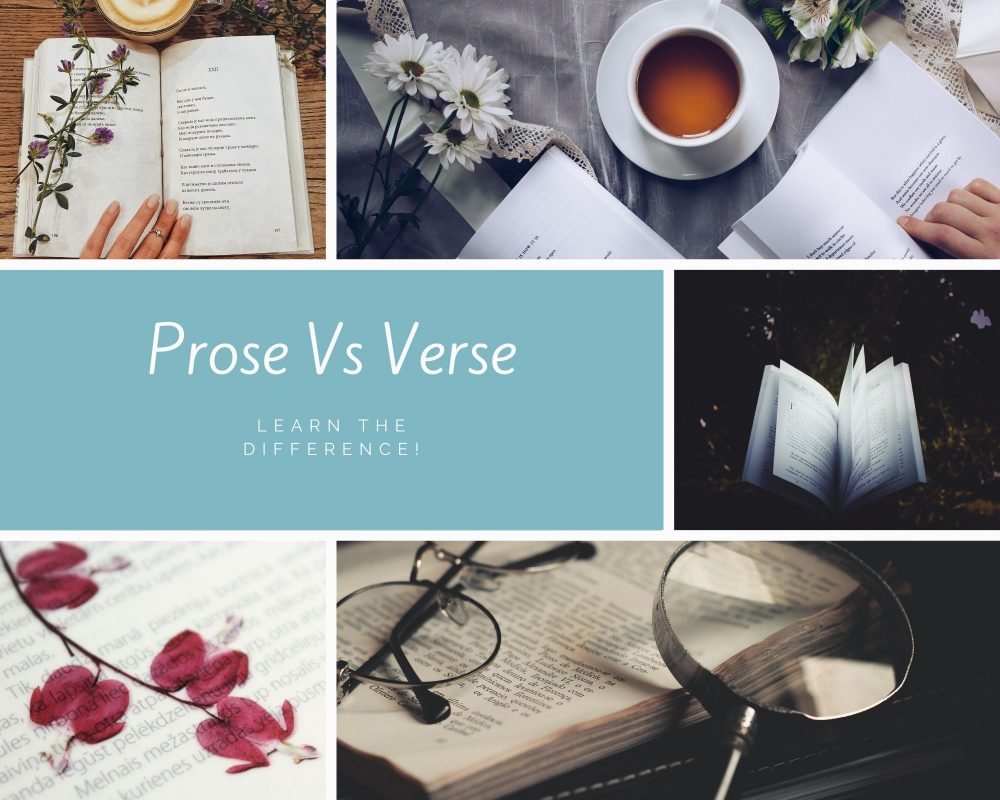 This post is a prose vs versus analysis paper that seeks to answer the question: "What is the difference between a verse and prose?"
Difference between Prose and Verse
What difference between prose and verse? To understand the key differences between prose and verse, let us go back to the beginning and look at their definitions.
Prose vs Verse: Prose Definition
Prose is a writing style which is not guided by a formal structure. We prefer to call it written or spoken language in its ordinary form.
Here, ideas are put together in sentences and then combined into paragraphs. See the example below:
"The state of the union address" is a prose speech read by the sitting US president of the US early every year.
"I've been to the Mountaintop" is a prose speech delivered by Martin Luther King Jr. in 1968 to workers who were protesting low pay and poor working conditions.
Prose vs Verse: Verse Definition
A verse, unlike prose, is a type of literature that follows a specific style so that it creates a sort of rhyme. The writing is carefully arranged using metrical rhythm so that it creates rhyme. In a verse, the ideas are combined into lines, and lines are then grouped together to form stanzas.
Verses are mainly applied in poetry and can take several forms:
Metered verse: This poetic device is used for delivering a linguistic sound pattern for verse. When applied in poetry, metered verses provide melodious and rhythmical sounds.
Free verses: These are new types of poetry that do not utilize consistent rhyme or meter. Although they are inclined towards natural speech, they still hold unto poetic conventions. See the example of a free verse by Carl Sandburg in the poem below:
"The fog comes
on little cat feet.
It sits looking
over harbor and city
on silent haunches
and then moves on."
What is the Difference between Poetry and Prose?
Now that we have looked at the prose and verse definition, let us move further and compare with poetry. In most forms of writing, the primary goal is relaying a message to the reader in a manner that evokes emotions. But the style of communication keeps changing from time to time. Some writers opt to use poetry, while others opt for prose. So what is the primary difference between poetry and prose?
Some Poetry vs Prose Differences
Prose
Poetry
Common daily writing such as newspaper articles and blog posts
Pretty straightforward
Ideas are expressed in paragraphs
Does not use line breaks
Mainly used for describing a specific thing especially in an artistic method
Not direct. Instead, it involves expressing emotions using rhythmic writing
Ideas arranged in stanzas
Lines are used to emphasize the idea a writer is putting across
Prose vs Blank Verse: Definition and Examples
What is a blank verse? It is a literary device defined as an un-rhyming verse done in iambic pentameter. In prose and poetry, a blank verse should have a consistent meter containing ten syllables per parameter (line). Note that unstressed syllables have to be followed by the stressed ones. Also, five must be stressed but not rhyming.
The first person to use blank verse was Henry Howard when he translated the Aeneid around 1555. This form of literary writing is also common in bulk of Polish, Russian, and Swedish literature. Some of the common works of literature that use blank verse include Hamlet by William Shakespeare and Paradise Lost by John Milton.
Poetry vs Prose: Examples in the Literature Works of Prominent Writers
Paradise Lost by John Milton
Of Mans First Disobedience, and the Fruit
Of that Forbidden Tree, whose mortal tast
Brought Death into the World, and all our woe,
With loss of Eden, till one greater Man
Restore us, and regain the blissful Seat,
Sing Heav'nly Muse, that on the secret top
Of Oreb, or of Sinai, didst inspire …
Tintern Abbey by William Wordsworth
Five years have past; five summers, with the length
Of five long winters! and again I hear
These waters, rolling from their mountain-springs
With a soft inland murmur.—Once again
Do I behold these steep and lofty cliffs,
That on a wild secluded scene impress
Thoughts of more deep seclusion; and connect
The landscape with the quiet of the sky…
Use Writing Assistance for A-rated Literary Analysis
Most literature teachers often ask students in college to work on literary analysis, and you need to understand different literary devices. The task requires clear understanding of things such as prose vs free verse, and verse vs prose. In addition to understanding in what way is poetry different from prose, you also need to be able to write flawlessly. This is not a simple task, and most students find it a huge challenge. But do not get stuck because help is only a click away.
Writing assistance is offered by experts in literature who understand everything, from prose versus verse, and will craft A-rated papers for you. With a professional on your side, no literary analysis is too hard!