As you already know, a farewell speech marks a significant departure. Students usually write one when one of their teachers leaves the school. Other times, people write a farewell speech when one of their coworkers or managers leaves the company. Regardless of the occasion, the speech needs to be excellent. It is very important for the speech to sound great and impress because it is usually read during a ceremony or at least in front of a large audience. If you need to write such a speech, you need to make sure it is your best work yet.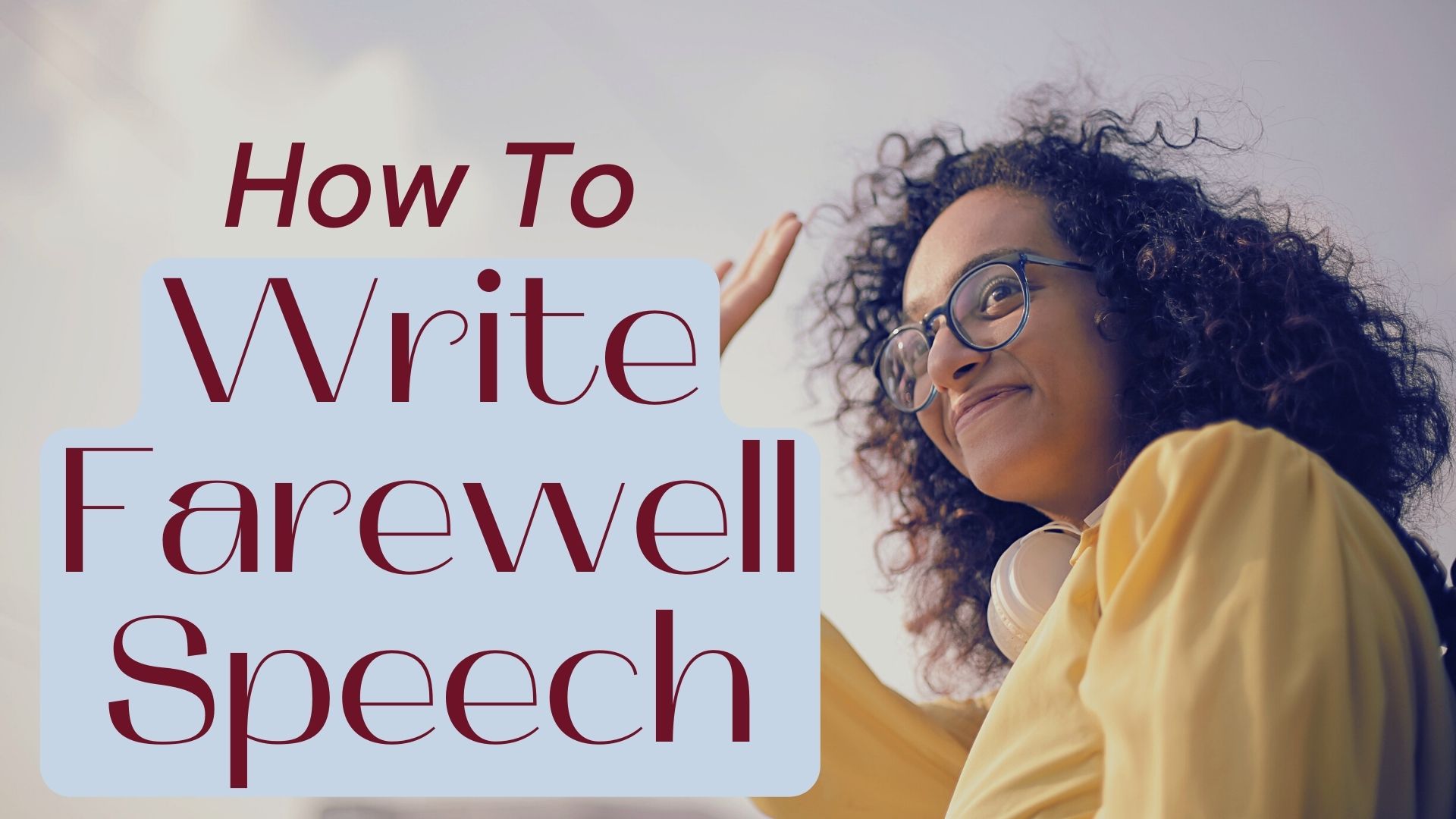 But what if you haven't written such a speech before? What if you didn't write any kind of speech before? Well, writing a farewell speech is not difficult to learn at all. You need to keep in mind the characteristics of such a speech, get some great ideas for the content, and write it logically. A few tips and tricks will also help you write the best speech possible.
Important Characteristics Of A Best Farewell Speech
A good goodbye speech has several characteristics. If you analyze a few farewell speech examples, you will notice that all of them have the following common traits:
Brevity – the writing is to the point and very concise. There is no padding and no beating the bush. The person is saying what he or she has to say in a clear and concise manner.
Sincerity – the ideas being covered in the speech are genuine. The speech is sincere and the person writing it does not lie. The fact that the speech does not cover negative things is not a lie – just politeness.
Positivity – the ideas are positive and acknowledge what the person receiving the speech achieved in his or her career. All successful projects and endeavors are presented in a positive light, but without exaggeration. Also, positive hopes for the future are usually expressed towards the end of the speech.
As you already assume, your speech must contain these three characteristics found in most, if not all farewell speech examples one can find. Keep these characteristics in mind while writing the speech and you should be just fine.
Some Ideas For Writing A Farewell Speech
You probably don't need any help finding out a few topics to talk about in your speech. The ideas depend on who the speech is intended for. If you are writing a farewell speech at workplace, you could consider talking about what your coworker or manager has achieved during his time at the company, how he helped the company and the other staff, why he was a great choice for his position, how his insight helped others complete their projects successfully, and how you hope the person will have a bright future at the next workplace.
Students writing a speech for one of their teachers should focus on how much that person helped them learn new things, how he was always kind and caring, how he inspired them to do more with their time, and even how he resonated with his pupils. There are plenty of ideas, so pick the best ones that you know will make the person receiving the speech feel special. However, avoid any negatives!
How To Write A Farewell Speech
To get a feel of how a goodbye speech looks like, you could always read a farewell speech sample on the Internet. There are plenty to choose from; some are great, while some are not so great. However, don't just copy someone else's ideas. Write your own speech from scratch; the person you will be delivering it to certainly deserves a bit of your time.
Before you start, do some brainstorming. Find all the positive things you have to say about the person and write them down. These ideas will be the outline of your speech. Depending on how much time you have when delivering the speech, you can pick anywhere from 3 to 6 main points of discussion.
Start to expand on each idea and write an entire paragraph. Again, make sure you avoid negatives! Present examples if necessary; there is nothing wrong with that. After you have all the paragraphs, use transitions to go from one idea to the next smoothly.
Write a short ending that summarizes all the important points and where you wish the person receiving the speech good luck (or talk about his bright future).
Write a short introduction to grab the attention of our readers. No need for grand words, so a joke is completely appropriate here. To get some ideas about the introduction and the ending, you can read a good sample farewell speech online.
Tips And Tricks For An Exceptional Farewell Speech
Now, here's some helpful tips to keep in mind for your farewell speech:
Don't be afraid to tell stories in your speech. People love stories, especially good ones.
Talk about how the departure of the person receiving the speech impacts you and your coworkers or fellow students.
It is a nice gesture to present a gift to the person who is leaving. Include a couple of sentences in the ending of our speech for the gift you are about to present.
Make sure your ideas are organized logically and that you transition smoothly from one to the next.
Make sure you time the speech to ensure it is not too long or too short.
Give the speech to a colleague or fellow student to read. Or, better yet, read it to them. See what they say and follow their advice and feedback.
Order it from professionals at My Homework Done.
Although you can learn a lot from a goodbye speech sample, it is usually not enough to write your own speech the right way. The steps outlined above are simple, yet effective. The tips will help you make the speech more interesting and engaging. Don't be afraid to write the speech in a friendly tone and never talk about negatives (remember the three characteristics of a perfect goodbye speech). Another great tips is to think about what the person you will be delivering the speech for would have to say about themselves. Think about what that person takes pride in and include it in your speech. Good luck!
Get Help With Your Farewell Speech
If you are having issues with your farewell speech even after reading this article, you can always get outside assistance. That is not something you should avoid, but instead take advantage of, as you will have time to concentrate on tasks you want, as well as get results you might not be able to get by yourself. Our writers are some of the best experts in the business and they will provide you with some top tier speech writing. Our paid homework help service is applicable to all levels and types of assignments, speeches included. You will get creative, unique results that will guarantee you getting the best reaction from your audiences, be it in high school, college or university.