Most students have a hard time when it comes to choosing the best research topics for their thesis or dissertation. As a student, you will discover that this is the first but most important step in your research work. Everything you do for your project revolves around the topic you choose irrespective of your area of study. Social work is just one among several disciplines that students are expected to work on a project.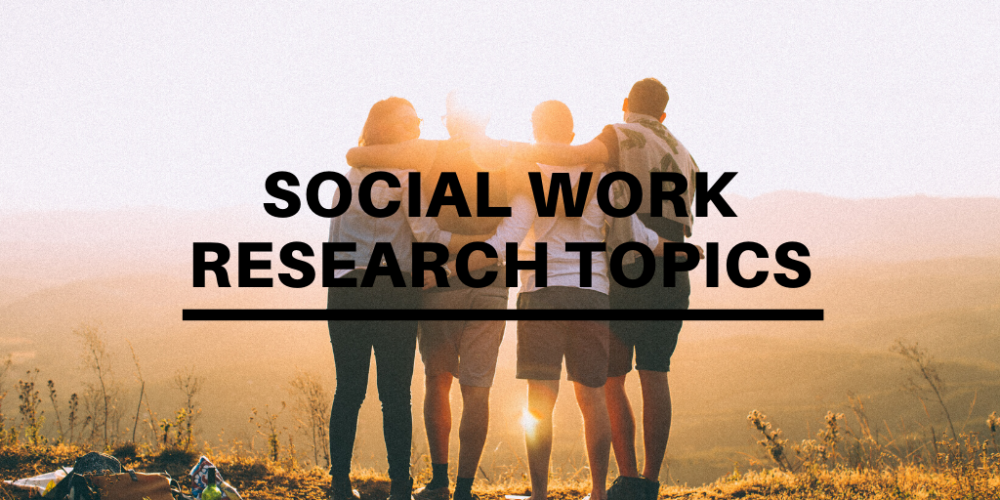 Social Work is an essential component in our day to day life. Therefore, there is need for students and social work practitioners to undertake a lot of research in this area of study. Researchers have done a lot in this discipline but we still have a great unexploited potential in the field. There is no need to overdo the previous researches when we still have a lot of research topics on social work that require learners to work on. You can always get excellent social work research topics irrespective of your level of study.
Where to Find the Best Social Work Project Ideas
There are several places that you can find top social work research topics for college students. First, you can talk to your professors to see what they have to say with regard to the areas that have been under exploited. They are better placed to advice you on some of the areas that have been overdone. You don't want to handle a topic that everyone out there has been doing. You can also go through the previous researches to find some of the amazing social work research topics. Most authors will always provide recommendations for more research at the end of their report. Such recommendations often give new researchers an excellent platform for finding interesting social work topics. Some of these research project ideas are also readily available online. For instance, below are some topics that can form a stable foundation for your market research.
Interesting Research Topics in Social Work
The Effects of Multi-Agency Working of Protecting Children's Rights

Should Therapists Ask Victims of Child Sexual Abuse About What They Think on the Topic of Sex with Children

Can Social Work Help Kids Who Have Gone Through Trauma?

The Causes and Prevention of Youth Recidivism

The Role of School Social Workers to Teachers

The Influence of Adolescence Physical Changes on the Psyche of Children

Abuse Survival and Reintegration Back to the Society

The Role of Social Work in Helping students to Build Their Value Systems and Goals

An Exploration of Perceptions and Attitudes Between Polish Community and Healthcare Practitioners

Coping with Intrinsic Cultural Perspectives: Transitioning to Social Work

The Process of Holding Back: A Practical Application of User Service Empowerment

The Role of a Social Worker in End of Life Decisions

Social Working with Children with Specific Needs or disabilities

A Model for Life-Long Learning on Evidence-Based Practice

The Impact of the Media: Lessons You Can Get

A Study on Women Who Have Sexually Addictive Spouses

Can Social Work Prevent Sexual Harassment and School Bullying?

The Reflection Act: A Social Work Learning Model of Self Indulgence

A Review of Mentoring as an Essential Component of Social Work Training

The Challenges of Inter-Professional practice in Modern Day Social Work

Effects of Bullying to Pre-School students

The Relationship of HIV Positive Individuals

How Far Should You Take Client Satisfaction in Social Work

The Role of Social Workers in Preventing Teenage pregnancies

Psychological Intervention for Emotionally Disabled Children
Top Research Topics in Social Work
The Policies of Coalition Government Regarding Social Work

Healthcare Experiences for People Who are Diagnosed with Fibromyalgia

The Effects of Parent Drug Use to Their Children

The Role of Psychopathology in Drug Abuse Among Teenagers

The Role of Culture-Bases Activism in Modern-Day Native Americans

Social Work Interventions on Safeguarding Vulnerable Adults

Transiting from the previous Employment to Social Work: A change of the Career

Personal Safety Requirement for Social Workers

The Historical Development of Social Work

The Benefits of Social Work to Schools

Living with Compulsive-Obsessive Disorder

The Challenges That Social Workers in Learning Institutions Face

Teaching Tolerance: The Responsibility of Teachers or Social Workers?

The Role of Social Workers in the Adaptation and Socialization of Formerly Homeless Children

Can Social Workers Deal with Prejudice in Learning Institutions?

How Social Workers Help in Preventing School Dropout

Women and Alcohol

High Risk Drinking and Sexual Minority Women

Crime While Transiting to Adulthood

Women Leaders in the Community

Anxiety and Depression During Pregnancy

Emerging Drug Use Disparities the Youth

Health and Education Among Racial Groups

The Impact of Media on Pre-School Behavior

The Risk of HIV Among Women
Things to Consider When Looking for Social Work Research Topics
One thing you need to understand is that choosing the right research topic is the most important step in writing your dissertation, thesis, or research report. The kind of topic you choose will determine the level of success you will get. There is no need to choose a topic that will make your academic life so complicated. You need to invest a lot of time, resources, and energy in choosing appropriate social work topics for research papers.
The truth of the matter is that choosing research topics in social work is not as simple as you may think. There are some tips you need to put into consideration so as to choose a relevant topic. First, make sure you choose a topic that will be interesting to both you and the reader. Most professors want their students to deliver interesting social work topics before they can go through their work. The good thing with an interesting research topic is that it will grow your interest throughout the research process. You need a subject that will keep you motivated and create in you the desire to move to the next level. Interesting research topics makes the assignment to look more impressive and professional. Therefore, don't select a topic that has the potential of developing boredom along the way. It will also create a desire in your supervisor to go through the project.
Feel Free To Ask For Help!
An excellent social work research project requires the student to go through previous studies on the subject. Ask yourself whether you will get sufficient information for your literature review. You need to go through what has already been done so as to establish the gap in the existing body of knowledge. It is the only way you will be able to contribute to the field of academia. You can find most of these research materials online while others are readily available in your local library. Do some research and make sure that you will get enough supporting evidence in as much as your research topic is concerned. The other thing you need to understand is that the best social work topics for research papers should neither be too narrow nor too broad. You cannot comprehensively handle a market research topic that is too broad. On the other hand, a very narrow market research topic will limit your research. Also, the best research topics in social work should be compelling, feasible, clear, and researchable. Be keen while choosing a research topic as it will influence your level of success. For more info, be sure to visit My Homework Done.
Stuck with your homework? Good news! Enter promo "homework20" and grab your unique social work writing assignment with 20% discount!