What is a science fair project? Science fair projects are done by curious students who are looking for answers to their questions. There are various types of science project ideas including an experiment, a presentation, research or simply a showcase of scientific items or instruments. Depending on their particular interests, students will conduct some investigation and present the results of their investigation through the science fair.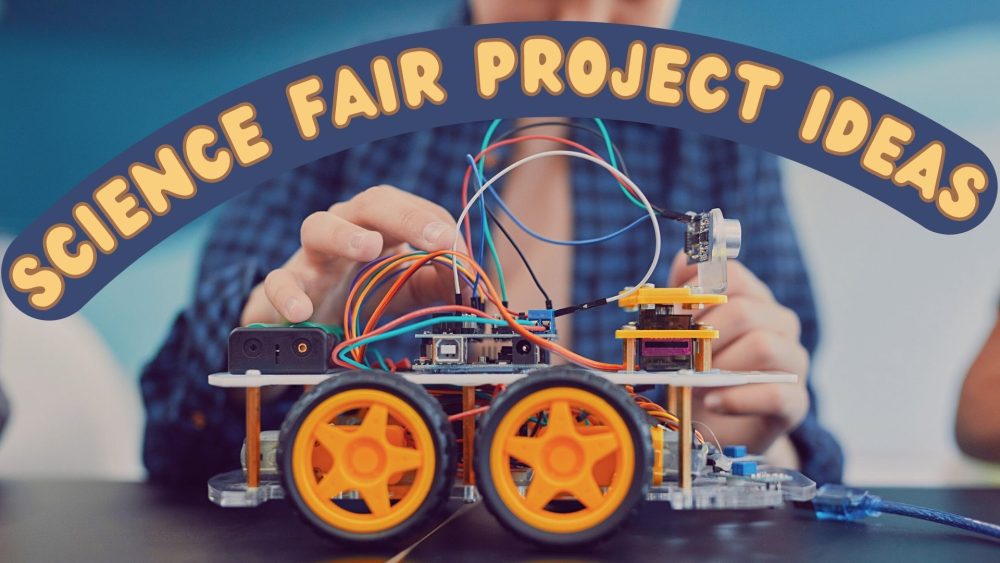 With the development of science fair project ideas, students will learn to appreciate the efforts of scientists as well as to give importance to their discoveries. Each science project will probably consist of the exhibit materials, the unit where these materials will be displayed as well as the written report of the results of your study.
How To Do A Science Fair Project
So, how can you start a science fair project? Here, we will teach you how you can come up with an idea for an excellent science fair project and how you are going to accomplish it. The first thing that you need to do is to observe the world around you. Be curious and learn how to ask questions about the things that surround you.
Formulate an idea and do your research. Take a look at the things around you and observe them. Focus on the things that interest you and ask some questions. Perhaps you might want to look for ways on how to improve them.
Generate a verifiable question. After having an idea, the next step is to formulate a question. Make sure that your question must be something that can be verified.
Conduct an experiment. To get the answers that you need you must experiment. Be sure that it is carefully planned so that it can succeed. Perform your experiment in several trials and monitor all the results. Alter one variable and repeat the process. Make sure that every trial is done in the same way.
Evaluate the outcomes. After completing your experiment, the next step is to assess its results. You might observe that there are trends in the outcomes. So, based on these results, you can quickly make your conclusion.
Share the results of your experiment. To do this, you have to make a poster for your science project board. It should showcase the question that you are attempting to answer, the methods that you use, and the results that you obtained from your experiment. Science fair project boards must look attractive and all the information must be clear.
How to Present Your Science Fair Project
After knowing how to make science project, the next thing that you need to consider is your presentation. Keep in mind that this is also an important part of your project. Here is the step-by-step process for your presentation. Be sure to explain clearly every science project step from the beginning up to the end.
First of all, you need to introduce yourself.
Provide the name of your project. For instance, "My science project is about creating a rainbow of flames."
Let them know the purpose of your project and why you became interested in it.
Enumerate all the procedures and explain each of them.
Present your results and explain it.
Tell them about the conclusions that you obtained after experimenting.
Ask the judges if they have any questions. If there are certain questions that you can't answer, then don't be afraid to say that you are sorry that you do not know the answer.
Finally, express your gratitude to the judges.
Elementary School Science Project
These projects are a fun way of helping your kids learn. Choose a simple science project and let them explore new things.
Egg Drop Science Project – This is a challenging project that your kids will truly love. Create a system which can prevent the egg from falling. You can even use your household items in making this project. Try it now!
Slime Science Fair Project – There are various types of slime that you can choose from. Whether you want a liquid-like slime, a fluffy slime, a rubbery slime, a slime that glows in the dark, the choice is yours. You can try experimenting with different slime recipes so you can create the best slime.
Volcano Science Project – This is a classic science project for kids that only takes approximately 30 minutes to complete. In this experiment, kids can gain more knowledge about chemical reactions. They will know what will happen when a volcano erupts. Of course, it is not real, but it looks amazing! Ask experts in chemistry for help, if you have some doubts.
Gummy Bear Science Project – A simple yet fun experiment for kids who are below 12 years old. It is a fact that sugary candies will get dissolved in water. But not gummy bears. It's because gummy bears are made from gelatin. This is an interesting science fair project where kids can learn more about osmosis. Try this experiment so your kids can learn how osmosis works.
Popcorn Science Fair Project – A science fair project experiment can be fun and interesting most especially for the kids. In this project, you will learn how to pop the best popcorn.
6th Grade Science Fair Project Ideas
Science projects and experiments at school can inspire the students to learn and explore. If you are looking for a winning science fair project to impress your friends, then you can try any of these.
Iron in Cereals – Iron is an essential element for keeping our bodies healthy. Most breakfast cereals claim that they contain it. Well, there's only one way to find out. You have to prove it by using a magnet.
Create Naked Eggs – Have you seen a naked egg? If your kids have not seen one, then they will surely love this experiment! This is a great way of helping them understand more about acid-base reactions. To make a naked egg, you have to dissolve the eggshells with vinegar.
Skittles Science Fair Project – The main objective of this experiment is to determine which solution dissolves fastest. All you have to do is form the Skittles in a circle and pour the solution in the middle and discover what will happen next.
Science Fair Project Ideas For 7th Grade
Generally, seventh grade is the best time for science fairs since this is the time when they can produce great ideas. At the same time, they will be able to use the scientific method of finding the answers to their questions. Although they still need guidance from their parents and teachers, yet the actual experiment must be done by the students. They must keep track of the data and evaluate the results.
Here are some science fair project ideas that are ideal for the 7th-grade level.
Houseplants for Purifying Air – Make a research and find out which plants are effective in detoxifying the air inside your home or office. You can even expand your experiment by identifying which plants are more affordable and useful. In your science fair project layout, create a chart and classify each plant whether they are toxic, requires bright light, very affordable, etc.
Copper Plated Coins – Copper plating your coins can be done easily using your household items. You can also create your copper plating design to make your coins look unique! In this experiment, students will learn more about electrolysis which is the process of dissolving bits of metal by using acidic liquids such as vinegar.
Splitting Chemical Elements of Water – The goal of this experiment is to let the students discover that water is a chemical. It is made up of two chemical elements which are hydrogen and oxygen. That is why the chemical formula for water is H2O. By using pencils, a glass of water, and electricity, you will see how the water is split into two parts.
Science Fair Project Ideas For 8th Grade
When students reach the 8th grade, they are now well prepared to perform advanced experiments. The schools science project for the 8th graders may still require some supervision from the teachers and parents.
Rainbow of Flames – Creating a rainbow of colored flames can be done easily by using household chemicals. For your fuel, you can either use rubbing alcohol, lighter alcohol or a hand sanitizer that contains alcohol. Do this experiment on a fire-proof surface and be sure to separate the colored powders.
Fly a Rocket – You can launch a rocket into the air using a film canister and an Alka-Seltzer. Be sure to wear protective safety glasses before doing this experiment. It is very easy to do, just divide the Alka-Seltzer into four equal parts and place one part in a film canister filled with water. Stand back and see it fly into the air.
Solar Powered Radio – This is very useful for people who are residing in remote places where there is no electricity. Also, if you are going on a mountain trip or spending your holiday on a beach where there are no electrical outlets. The best alternative is to use a solar panel. Small radios which use batteries can be transformed into a solar radio. To complete this project, you need to be very good at physics.
Below is an extended list of more interesting and awesome science fair project ideas. Science can also be about creativity, so don't limit yourself and don't let thoughts of "I don't want to do my science homework" get in the way!
Interesting Science Fair Project Ideas
Winning science project ideas not only presents a solution to a particular problem but are also fun and captivating. Here are some examples of such:
Innovative solutions to the plastic waste menace
How to prevent iron sheets near factories from rusting
Organic food that will reduce body calories
Developing soundproof technologies for schools near roads
How to create bubble gums that produce the largest bubbles
The relationship between salt and rusting of metals
Understanding how the color of clothes affects one's body temperature
Great Ideas For Science Fair Projects
Having innovative and creative class projects for science fairs will give you an upper hand. Look at some of the impressive but easy science fair project ideas:
How to grow floors inside the house without sunlight
The role of music on the behavior of animals
Creative ways of harnessing wind energy with a turbine
The role of heat in melting ice
What makes mangoes ripe on the trees?
What is the effect of leaves falling during summer?
How to extract juice from the sap of a mango tree
Easy Science Fair Projects
You can have a complex science experiment, but with a specific topic, everyone will be able to understand. Try out these sample ideas:
How to keep a balloon inflated for a long time
How to transform a drink into a semi-solid juice ball
How to develop a simple electric motor using available materials
Experiment with the possibility of turning milk into plastic
How orange juice differs from sports drinks
Examining the effect of color on the taste of apple juice
The role of salt in making an egg to float
Successful Science Experiment Ideas
When you have a working project at hand, a great topic will go a long way in ensuring that you convince the adjudicators:
Examine why some objects float while others sink in the sea
Filtration techniques that produce the best drinking water
How to use a potato to make a light bulb turn on
Why a bath bomb becomes fizzy when it comes into contact with water
What makes paper planes fly so high?
What makes clothes dry faster on a windy day?
How to create optical illusions using mirrors
Best Science Fair Projects For Top Grades
With these informative science fair project ideas, you can make an appealing paper that would attract tip-top grades painstakingly:
How is it possible to grow plants without soil?
Using a circuit to detect ripe fruits and vegetables
How to grow rock candy from a sugar-water solution
How to make organic soap from readily available plants
What happens when you make a solution of baking soda and vinegar?
How to make your slime instead of buying
Why do leaves turn brown when they are cut from their branches?
Fun STEM Fair Project Ideas
Explaining a technical concept with an exciting topic makes it lighter for the reader and is a recipe for top-notch scores:
Why do sailboats stay upright even with heavy objects on board?
Discuss the role of fins on a submarine
What is the technology behind a helicopter liftoff?
Does the size of parachutes matter when it comes to their speed?
The relationship between background noise and concentration
Effects of different types of food on heart rate
What conditions best foster the survival of aquatic plants?
Good Projects For Science Fair
Here are good writing prompts for your next science fair, whether you are a beginner or a professional in the field:
Why do some battery brands last longer than others?
What is the relationship between fluoride and brown teeth?
Does the intensity of light affect the growth of a plant?
The role of salt on the boiling point of water
How different soils react to organic and inorganic fertilizers
Discuss why plants can grow in pots
Effects of music on plant growth
Hot Science Fair Ideas High School
High school students will scoop top grades with these practical and captivating science fair project ideas:
How to grow bacteria at home
Why does an object get warm when held for long?
How to cut down echo in a theatre hall
Why do sandwiches go stale when placed in hot conditions
How caffeine affects our focus and speed
Effect of air pressure on creating bubbles
Discuss the effect of helium on one's voice
Simple Science Fair Projects
For those who are just beginning a career in science, here are some basic writing ideas to start your journey:
How to cook your marshmallows in the sun
How charcoal helps in liquid water purification
Easy ways of studying insect behavior
How does Brownian motion occur?
Catalysts and chemical reactions
Discuss color associations
Experimenting with saltwater versus distilled water
Incredible Science Fair Project Idea For High School
You can use these samples to test your understanding of various science concepts in high school:
How to extract DNA from an onion
Determining the level of Vitamin C in orange juice
Making cents out of batteries
The working of disinfectants
Desalinating water using solar power
Making a permanent magnet
Making bubbles from solutions
Scientific Method Project Ideas
These writing ideas use practical science experiments to develop a concept. Have a look:
Measuring glucose in food
Color and light absorption
Effects of instant cold packs
Understanding the Stroop Effect
Paper chromatography
Magnetism and temperature
Testing biomass energy
Unique Science Fair Ideas
Use these latest science fair prompts to impress your professor and make a name for yourself:
The science of titration
Cooling a soda
Making yogurt spheres
Soil moisture sensors
Light intensity and distance
Drug and genetics
Gravity in the solar system
Top High School Science Fair Ideas
You can become the next Aristotle with these science ideas:
Understanding the rate of corrosion
Converting water to electricity
Kaleidoscope science
Examining buoyancy
Soil and water pH
Making hot ice cream
Creating static electricity
Seeing into space
Electromagnetic radiation
Riding on air
Bouncing ball energy
Get Science Fair Project Help
Now that you've perused the extended list of science fair project ideas, you might still feel like you need a little help. We have the answer for that, because we can provide all types of helpful assistance with your projects and homework. Our professionals are the best in the business, and will provide you with top quality assignments for a low price, so you don't have to worry about getting your homework done anymore. You will become the most successful student in any school, class or even university.