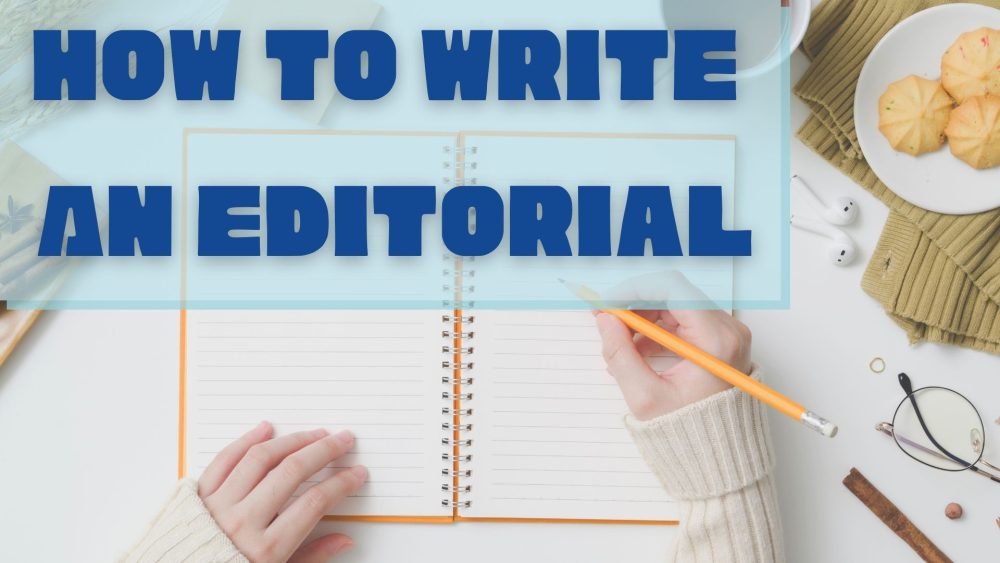 Where can I learn how to write an editorial? How long is an editorial article? Can you teach me how to write an editorial essay? These are all questions we are receiving almost daily from students all over the world. The good news is that we can help you with your editorial writing project.
In this blog post, we will tell you everything you need to know about the editorial essay, including its format, size, and size. You will also get a lot of useful tips and advice from our expert editorial writers. Let's get started!
But What Is an Editorial?
So, what is an editorial? Or, better yet, what is an editorial essay? We will start by explaining what is required of you.
Basically, an editorial is a piece of writing that shares your point of view on a specific issue or event.
Some editorials can try to change a reader's opinion and persuade him to adopt yours. Others will just present your critical analysis of the subject and let the reader decide what he wants to do next. There are even editorials that praise a person or organization for their involvement in a certain matter.
Types of Editorials
If you want to become an editorial writer, you need to be able to differentiate between the different types of editorials. There are many types of editorials, so we will just discuss the 4 most popular types:
The interpretive editorial – discusses an even of an issue in detail and explains it in order to raise awareness on the topic.
The critical editorial – discusses the main causes of an issue and proposes a solution (also acknowledges other points of view)
The persuasive editorial – this editorial is aimed directly at the reader and aims to make him adopt the point of view of the author using strong persuasive language.
The praising editorial – used for praising a person or an organization for their involvement in a certain matter of importance.
The Editorial Format
It's now time to discuss the editorial format. Even though there are several editorial formats that you can use, we think that there is a specific structure that works great for all 4 types of editorial articles we have presented above. Here is how you should structure your piece:
The introduction. Start with a hook and then introduce some background information about the topic.
The argument. This is where you present your point of view and provide some reasons why your audience should agree with you.
The evidence. Present the evidence that supports your point of view. Don't hesitate to use strong arguments, facts and even anecdotes.
The counterargument. Discuss the opposing points of view, acknowledging them. Be fair and don't dismiss the opposing arguments yet.
The refutation. Show your readers why the counterarguments are not relevant or even incorrect.
The conclusion. Summarize everything, emphasizing your point of view and then wrap it up with a strong call to action (if appropriate).
Getting a Good Editorial Example
Did you know that the best way to learn how to write an editorial is to read a great editorial example? While you may be able to find a good editorial article example on the Internet, you will most likely fail to find one that pertains to your topic.
We offer you an example of an editorial written by our professional homework writers. It's completely free and absolutely original. Enjoy the quality and get the best ideas from this sample.
Opinion Editorial
According to the US Bureau of Labor Statistics, the demand for registered nurses within the United States is expected to increase by 15 percent between 2016 and 2026, and the demand for advanced practice nurses is expected to grow by a shocking 31 percent. At the same time, burnout among nurses is on the rise, with more nurses than ever leaving the workforce after only a few years of service. As the Baby Boomers hit retirement and the rates of chronic disease continue to rise, it is essential to keep more trained nurses in the profession. One way to achieve this goal is through nurse mentorship programs and preceptorship projects, which help nursing students transition to positions as RNs and newly-trained nurse practitioners transition into their new jobs. Programs like these offer the essential support that nurses need as they enter the workforce or advance within the field, making it more likely that they will continue in to pursue the profession for the long-term. However, for many educational and medical institutions, financial barriers are blocking the development and implementation of these programs, so it is time for the government to step in and provide funding through state and federal grants.
As a future Family Nurse Practitioner, I have witnessed the effects of nurse burnout for myself. Many of my colleagues have entered the profession as first-year RNs, excited to finally put their years of schooling to the test in the clinical environment. However, the mental, emotional, and even physical challenges of nursing can become overwhelming, and when the stress becomes too great, they start looking for work elsewhere. Not only does this mean that our institutions of higher education are wasting time and resources educating nurses who only stay around for a year or two, but it is also a problem for the providers and patients who are left behind. As a nurse, it is often easier for me to collaborate effectively with an experienced nurse than one who has just started working. Similarly, patients can benefit from the expertise of a nurse who has years of practice under her belt. However, with such a high rate of turnover, there are fewer and fewer nurses who have significant work experience.
Currently, the US Congress is considering the Nurse Staffing Standards for Hospital Patient Safety and Quality Care Act of 2017. Among a variety of provisions, this legislation would provide for grants that support nurse mentorship programs and preceptorship projects that can help registered nurses and nurse practitioners adapt to the hospital setting. Through these programs, nurses can receive support from experienced nurses that can help them better manage the challenges that so often lead to nurse burnout. Mentors and preceptors can also help new nurses and nurse practitioners get their feet under them more quickly so that they can make the most of their training from the very start of their careers. In 2017, identical bills funding such programs were introduced in both the Senate and the House of Representatives, but they are stuck in committee and have not been brought to the floor for a vote. Therefore, I encourage Connecticut citizens to call their representatives in the Senate and House and call for them to move this legislation forward. I also urge lawmakers in the Connecticut General Assembly to take up similar legislation at the state level, in the event that the federal legislation is not passed.
More than ever, we need high-quality healthcare in the United States, but the size of our nursing workforce is on the decline, and institutions lack the funds they need to implement programs that can effectively support nurse retention. This serious issue requires a concrete policy solution. I hope you will join me to call for state and federal funding for nurse mentorship and preceptorship programs at institutions in Connecticut and around the country.
Newspaper name: Hartford Courant.
How to Make an Editorial: Tips and Advice
Now that we've discussed the format of an editorial and pointed you in the right direction, it's time to take a look at a few tips and advice. If you want to become a better editorial writer, the following tips and advice should help you significantly.
The most important thing you need to keep in mind when writing editorials is that you need to take a firm position on the topic you choose as the subject. Even though you have to also discuss the opposing views, you must make it clear that the other view is incorrect and explain why. However, you must make sure you support your statements with data and information from reliable sources.
Also, keep in mind that you need to explain the issues you are discussing in great detail and that you should critically analyze all the points of view. You should also seriously consider taking one or more interviews from relevant people.
It is important to come up with new ideas in your editorial article. Every time you add something new to the discussion, your editorial becomes more interesting and potentially more engaging. Be confident in your point of view and your ideas and your readers will start to trust you.
Finally, your editorial should provide a solution to the issue you are discussing. You must come up with something tangible so that your audience can take action. If you want to learn how to make an editorial, keep in mind that is not an article where all you do is complain about something.
If you don't know how to start an editorial, you should definitely take a look at some editorials written by renowned authors and publications. For example, here are some editorial articles that we have absolutely loved:
The Guardian view on sick pay: a system unfit for purpose (The Guardian, February 6, 2022)
The Observer view on Britain's growing cost of living crisis (The Observer, February 6, 2022)
Jeffery Gerritt: From Detroit to Pittsburgh, the long way around (Jeffery Gerritt, December 16, 2021)
Editorial: The 1980s crack epidemic was a fork in the road. America chose racism and prisons over public health (Robert Greene, June 10, 2020)
A Whitewashed Monument to Women's Suffrage (Brent Staples, May 14, 2019)
Editorial Observer; When Dogs Are More Important Than People (Brent Staples, September 10, 2000)
Get Assistance From Our Best Writers
If you are struggling with writing your editorial article, we would recommend you to get some assistance. Our expert writers enjoy doing homework for money and helping you get rid of all those troubles. They can finish an editorial piece in as little as 3 hours, so you can sit back and relax while our experts handle your assignment.
Also, we are the company to get in touch with if you need reliable homework help. Remember, all our ENL (English as a native language) writers have more than enough experience to write any essay or research paper for any class. Over the years, we have helped thousands of high school, college and university students with their assignments.
We are a trustworthy academic writing company that provides every student with custom content based on their needs. This means that your professor will never be able to accuse you of anything because our editorials and papers are all one hundred percent original – written from scratch. Because we work 100% online, we are able to cut costs and pass the savings on to you.
What are you waiting for? Tell us what you need, pay using one of our secure methods and an expert will write you an editorial worthy of an A+ in no time!
Writing an Editorial: Frequently Asked Questions
We realize that writing an editorial might be more difficult than you think. Even though we have done our best to provide you with all the necessary information, you probably still have some questions. This is why we will answer the most common questions we have received from students below:
Q: OK, but how long should an editorial be?
A: Truth be told, there usually is no limit on how long your editorial article can be. However, it is generally accepted that an editorial should fit between 500 and 1000 words. And of course, your teachers may set a number of minimum or maximum words.
Q: What is the hook in an editorial?
A: If you are preparing to write an editorial, you have probably encountered the word "hook" in various guides. The hook is basically a part of the introduction that must captivate the attention of your reader and keep him reading. It can be a question, a quote, or even a personal recollection.
Q: Can you tell me how to become a better editorial writer?
A: Well, learning how to write a newspaper editorial is one way. However, you need to practice. After all, practice makes perfect. After writing 10 or more editorial articles, writing another one will be a piece of cake. If you have a place where you can publish them (like a blog or a social media account), you can even make some money from the traffic you'll get.
Q: Are there any directions for writing a counterargument you can share?
A: Basically, the counterargument section is where you acknowledge the opposing points of view. Make sure you are objective in the counterargument section, even when you don't agree. If you have to refute the counterargument, base your statements on authoritative sources of information, not on your own vanity. Also, remember to be respectful of other people's opinions.
Q: Does a good editorial need to be an opinion maker?
A: Not necessarily. Many excellent editorials are interpretative or praising editorials. They are not persuading people to adopt a specific point of view, so they cannot be considered opinion makers. A good editorial is one that presents the facts and your critical thinking as eloquently as possible and in an easy to follow manner.
Q: Isn't the editorial the same thing as a persuasive essay?
A: Even though many editorials are persuasive in nature, there are differences between the persuasive essay and the editorial article. First, the editorial can't be written just based on impersonal research, like the persuasive essay. In many cases, editorials are also shorter than persuasive essays. And let's not forget that the scope of the editorial is to analyze all points of view on a specific matter, without persuading the reader to adopt the point of view of the author.
Remember, if you have a question that is not in this list, don't hesitate to contact our experts. They are here to help.