Are you burdened already by the tremendous homework on your table right now? Too much homework will never stress you after reading this post!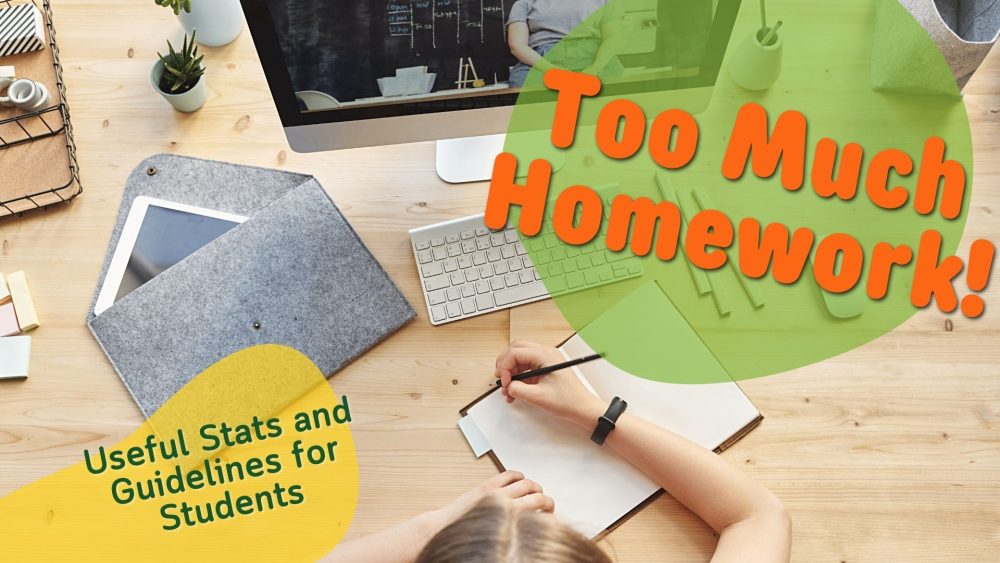 Homework has become a nuisance in the ears of many students, and some will not hesitate to turn away from you at the mention of it. Many students have had to grapple with burdensome homework after too much school work during the day. As a result, it has become like a plague that no student wishes to associate with at all costs. But do you know that you can find homework help instantly and get that much-needed rest? Scroll down.
Why Do Schools Give So Much Homework?
Many have questioned the origin and necessity of homework, especially with the effects it has had on some students. Nonetheless, much evidence shows that homework is a key tenet of any learning system, with impressive results if utilized well. Although there is a heated debate on how much homework is too much, the bottom line remains that homework is necessary.
Many schools have justified giving out too much homework by arguing that most students waste a lot of time during holidays or in the evenings when they come from school. Others claim that too much homework has helped students keep tabs on various concepts learned during the day. Most teachers say that students:
Become lazy when not given homework
Retain concepts faster with adequate take-home assignments
Can improve on their weak areas when they try a task on their own at home
Whatever the case, there is a positive and negative side to it. Let us now explore some homework statistics to help us understand this concept better.
Homework Facts And Statistics
According to findings by a Stanford researcher, high school students spend an average of 3.1 hours on homework each night. As a result, these students may spend up to 9.6 hours of homework per week. However, according to The National Education Association and the National Parent Teacher Association in the US, students should spend at least 10 minutes per grade level per night on homework tasks.
It is, however, evident that students spend more than that, and as a result, there are increasing negative effects on various spheres of their lives. The Organization for Economic Cooperation and Development highlights that "after around four hours of completing homework per week, the extra time invested in homework has a negligible impact on the student's performance." To that end, students get hurt physically and emotionally.
Two main groups are crucial when examining the amount of homework given and the effects. These are:
The privileged, high-performing schools
The underprivileged, low-performing schools
With these two groups in mind, we will understand the extent to which too much homework affects students and how to allocate assignments moderately. We will also discover how this impacts the student's advantage in competitive climates.
Average Amount Of Homework In High School
The average amount of homework a student receives impacts their learning, full engagement, and well-being. There have been cases of demoralization due to too much homework being stuffed into students. Since most students struggle to balance extracurricular activities and homework, there is a need for a standard amount of homework.
Before you say, 'I have too much homework,' consider the following:
Length of the assignment
The timeline for submission
Number of accompanying resources needed for the task
Having a 10-page take-home assignment that is needed on short notice is considered too much. However, if a similar task has a deadline of ten days or so, then it is moderate. The average amount varies depending on the different levels of study. You do not expect a university student to have a take-away assignment that only takes ten minutes.
So, how much homework in college is enough for students? Well, as long as the assignment does not infringe on the social or emotional well-being of the student, then it is enough. Some assignments might take even three hours to complete depending on the technicality of the course. The key consideration is that the assignment does not put unnecessary pressure on the student.
Best Amounts Of Homework
Research done by Brian Sztabnik, a veteran middle and high school English teacher, poses the following findings when determining the right amount of homework:
How long it will take to complete the homework
Considering individual learners
How the assignment will encourage future success
If the homework places the material in a context, the classroom cannot
How the task offers support when a teacher is not available
You can note from the recommendations above that this is a collaboration between the student and the teacher. The professor does not just wake up one day and decide to bombard his class with any assignment. It must be able to meet specific objectives and guarantee the students' success in the end.
On the question of 'why does the school give so much homework,' you will always find conflicting reasons, some of which are genuine while others are not. Therefore, teachers should involve students in determining the best amount of homework. Parents and guardians should also have a say in this because they ultimately understand the academic needs of their kids.
So if you are asking yourself, 'how many assignments should I do a day? Remember that it's not all about how comfortable you will be when handling them. Rather, you should consider the results of the amount of homework you are completing in a day.
Homework Effects On Students
We have already pointed out that too much homework affects students in a greater dimension than we might think. Students' social and psychological needs are the most affected, and thus, the student's overall performance may be dismal. Below are some of the notable impacts of stuffing too much homework down the throats of students:
Increased stress levels in students: Research shows that up to 56% of students consider homework the primary source of stress. Questions like 'why do I have so much homework' or 'when will I complete this task,' as well as queries like 'i really want someone to help me with my homework,' tend to increase adrenaline levels among students. Therefore, most students have increased anxiety and lack the motivation to complete the assignments. Worse still, the pressure of tight deadlines with too much homework can cause students to submit poorly done work.
Health complications among students: There are devastating effects on students' health, such as sleep deprivation, headaches, stomach problems, weight loss, and exhaustion. Some students suffer from high blood pressure, especially those in college and post-graduate levels. It is also prudent to note that too much homework may result in eye-straining or back problems among students working on computers. Sitting too long may also impact the student's growth and development pattern.
Less time for social and extracurricular activities: Students with too many assignments will always be indoors and not have the time to participate in leisure activities. As a result of the continued isolation and lack of play, they may be introverted or develop feelings of loneliness. Others may not have time to interact with their parents and experience the natural parental care and love expected at such a stage. Some will develop complications due to lack of physical activity, such as heart diseases and some kinds of cancer.
Underperforming students: Students will only strive to complete the task rather than understand the concepts with long assignments and limited timelines. As such, homework will only be an avenue of tedious research for specific tasks. Such students may not perform well compared to those who have adequate time to complete their assignments. The latter will research and understand the concepts better than the former, who will only rush through various research materials.
Negative attitude towards school: Most students who are always bombarded with too much homework will hate the teacher or school. They will answer such tasks as a nuisance and only complete them to avoid punishment. However, some may not complete them and drop out of school altogether.
Some students will opt to delegate their burdensome homework tasks to online helpers and not bother looking at them. It encourages laziness and complacency in the students, and the teachers might not accurately gauge their level of understanding.
Teachers considering 'how much homework should students have' will always do well if they consult the students and understand them first. Although some students are generally lazy and do not want to complete any assignment, there are genuine cases where too much homework is detrimental.
Advice And Tips On How To Deal With Too Much Homework
Now, do teachers give too much homework to students? Yes, they do. In most cases, these teachers mean well to the students, and as such, students have to learn how to complete such long assignments. There are various ways of completing too much homework on time without feeling the pressure and heat that comes with it.
Prioritize your assignments diligently: When you have too much on your table, knowing where to begin becomes a challenge and, thus, the temptation to quit. However, you can sort out your homework from the easiest to the most difficult ones. This strategy helps you demolish that elephant homework in the shortest time possible.
Find the right time to complete your homework: Most students feel tired in the evening after a long day at school and thus unable to complete assignments at this time. Therefore, you can opt to take a nap after school before getting into the homework. Alternatively, you can decide to wake up early in the morning and demolish your homework when your mind is fresh.
Seek professional writing help: You can hire an online writer to help you research and develop an outline for your task. It will save you time and help you have a high-quality paper in the end.
Other options include using a group discussion, researching the internet, and asking your parents to help. Whichever option you prefer, ensure that it helps you understand the concept and retain the answers in your memory.
Too Much Homework? Get Help Instantly
So, you might me dealing with too much homework, even if it is not the best approach to studying as research has shown. But don't despair, because there is always the option of getting homework help online and the ability to buy homework. Our writing company offers intensive and results-oriented homework writing help to students. Try our ENL writers today and get a custom paper for your emergency homework.