Did your lecturer ask you to write a literacy narrative essay, and you are worried about where to start and how to go about it? This is a recurrent experience with most students because other types of assignments are more common compared to literary narratives. So, how exactly do you go about writing a college literacy narrative essay?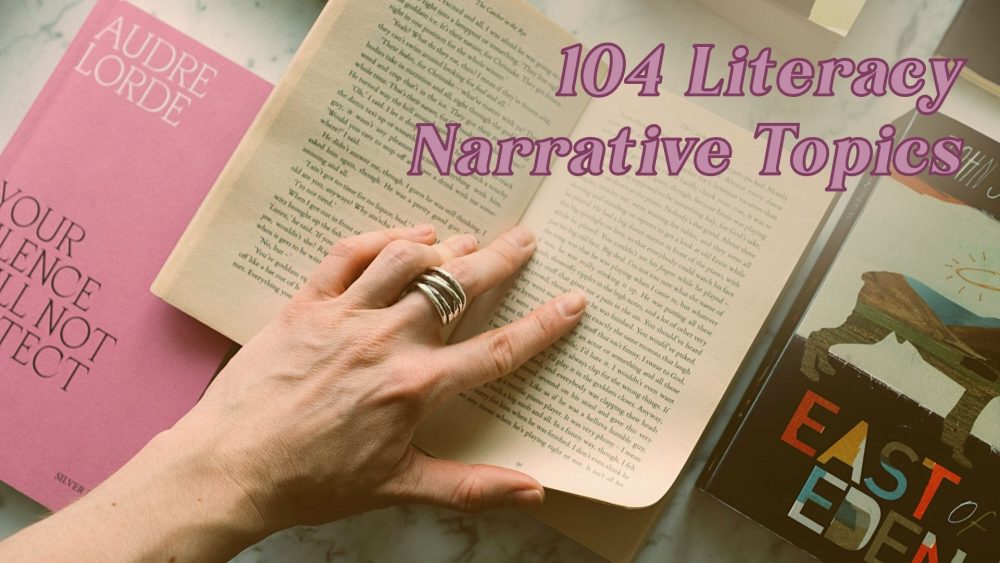 Writing this type of essay requires you to flashback the literary experience, such as reading and writing, you had in the past. Well, it is like a sort of reflective essay, and although seemingly simple, students find it very tough to prepare. If you also find it challenging, this guide to writing a personal literacy narrative essay is all that you need. In addition, we will list the top 104 literacy narrative essay topics for top grades.
What is a Literacy Narrative Essay?
Before looking at the process of writing this type of paper, let's start with the literacy narrative definition.
This is a type of academic writing that requires the student to explain their connection with writing, reading, and language. When writing a literary narrative, you need to think about the influence that literacy resource has impacted on your life.
For many people, it is through reading and writing that they are who they are in life. In the early days of reading and writing, perhaps you felt forced into the whole idea of reading and writing, but this notion later changed completely, and probably became a passion. This is the experience you need to narrate in an interesting way. So, how exactly do you prepare a literary essay? Let's put that into perspective.
How to Write a Literacy Narrative
Here are the main steps involved in preparing an intriguing literary narrative essay.
Take a pen and a paper and remember a specific memorable moment of writing or reading something. It might be the first time you wrote something, read a great book, or encountered a specific character when reading a novel. At this point, there is no need to limit yourself. Instead, let the old memories come back and flow freely as you jot things down. If you are still unclear about the first books or stories, it might be an excellent idea to talk to your parents or elder siblings.
Identify the actual memory experience that you would want to talk about in the literacy essay. Now, try to concentrate your thoughts about this experience, focusing on how best to explain it. Particularly, note down the characteristics of the memory and try to define it. Perhaps it was nostalgic, exciting, or fearsome.
Summarize the literacy memory in a few paragraphs. These should expand the experience a little so that you can demonstrate the path you followed and your personal views about the environment or world.
Now, it is time to get down to the actual writing. So, it will be an excellent idea to give your literacy narrative essay a topic. Try to make it as captivating as possible. Later in this post, we will highlight some of the best literacy narrative ideas you might consider. The first paragraph should start with a hook statement to make the reader want to go deeper into the story. In this first paragraph, it is also essential to let the reader understand your essay's theme.
When working on the second paragraph, it is time to get into more details about the topic. So, try to give a vivid description about the actual setting. If you are describing a play, say, that changed your views about nature, go ahead and explain the setting. If the experience was good or bad, explain it at this stage.
Next, paragraphs should bring forth the resolutions from the literary piece, book, or experience. So, how did the experience of reading, traveling or watching that play make you feel? Note that the resolution does not have to be direct. If it was not unclear then, explain how it later impacted you.
Finally, you need to highlight how the story has helped to define your life. For example, did the play or book shape your preference for specific books or movie category preference? Try to interweave this experience with your everyday life and how your career is unfolding. For example, did that book about, say, a conservationist's effort to save a forest define your career in conservation? Throughout the post, make sure to use connections to make it easy for the reader to understand.
Literacy Narrative Format
To prepare an awesome literacy narrative essay, it is crucial also to have a good format to guide you. Here is a list of the formats that you might want to consider before writing a literacy narrative essay.
Theme of the literary narrative essay/ topic (think of why the essay is relevant).
The setting (make the place and people present as vivid as possible)
The occurrence of events (how are your feelings connected?)
What resolution did you get? If there was none, indicate it too. Make this an explanation of how the experience makes you feel.
What is the significance of the event in your life today? Here, it will be an excellent idea to connect it with your personal life, such as career progression, a personal viewpoint about life, or life choices.
Top Literacy Narrative Topics for You
Learning to read: The first steps.
The first poem that you ever wrote.
Learning how to analyze a poem.
The first fun play that I attended.
Your favorite book as a child.
The most favorite book as a teenager.
Your most preferred book as an adult.
Writing a book: How does it make you feel today?
The best new article that you have ever read.
The email that changed your life.
The most interesting book that you received from your dad.
The best book that made you change your personal view about relationships.
What lessons did you learn from the first novel that you read in high school?
The character in your favorite play that changed your thoughts about nature.
Watching the first horror movie.
I could not have achieved this without the experience from my first book.
The dangers of unguided forays on social media: The Facebook post that almost caused me depression.
How I learnt the art of reading two books.
Why I always keep my diary with me.
Reading Macbeth changed my views about life.
Why Shakespeare is my best writer ever.
This paper made me become the expert I am today.
I could not travel abroad without reading this book.
Mom could not see me off: She wrote this poem to say goodbye.
Unique Literary Narrative Ideas
Reading the best Obama's speech.
"I have a dream" by Martin Luther King Jr. fits my personal life.
I read a novel every week: My most intriguing encounters.
The Nuremberg Laws makes my heart sad.
I now accept and support mom for giving me up for adoption: Here is the book she dedicated to me.
Social media post that made me shift my career.
How my first college assignment made my heart skip a beat.
Genesis is my favorite book in the Bible and I will tell you why.
One book that made you a better person.
I read an executive order from President Joe Biden today: Here is how it feels.
The play that you would want your president to watch.
I just read how to make a drone: How different is that from reality?
My encounter with aliens: Why fiction books are my best.
She wrote her will on the death bed: What are your feelings about it?
Lessons from dinosaurs in Jurassic Park.
The best winter family report: Here are the lessons I learnt.
This accomplishment was not possible without my favorite book.
I read the first sustainability report from a company and this will change the world.
The privacy policy of my favorite company protects everyone.
Reading the first amendment in the American constitution: How does it make you feel?
The song lyrics that uplifts you.
This book made me to realize that I am beautiful: Life has never been the same again.
Literacy Narrative Essay Topic Suggestions
How writing my book opened the doors to a new career.
Two lessons I learnt from my first novel.
This book makes me feel like a prince.
A new story that my friend in college wrote was so uplifting.
Comments from my lecturer about my literature work changed me.
Being Yourself: How this novel got the best out of me.
The position you look forward to after reading your most favorite book.
A family vacation to mimic the best film I ever watched.
This play calms me down.
A class presentation that earned my colleague sponsorship.
This application essay inspired me and now I am in the best college.
Reading this article made me reconcile with my friends in college.
This book describes my best manager.
What is the scariest book that you read in high school?
What is the most boring novel that you have ever read?
What is your most favorite character in the play Romeo and Juliet by William Shakespeare?
This chapter in Animal Farm by George Orwell awakens the human rights fighter in me.
This story about sacrifice in The Daily Mail captured my thoughts about humanity.
You will never be the same after reading this book.
What I learnt about leadership after reading Bill Clinton's book.
Reflective Literacy Narrative Topic Ideas
I regret the decision I made after reading this book.
This book makes me feel lonely but I keep reading it.
Looking at the sunset just got better with my favorite book.
I prefer watching the best play to reading a novel.
I read about this destination from a travel magazine and it is awesome.
Moving to a new city: What does your recent publication say about it?
What book makes you feel ashamed?
This book taught me how to deal with humiliation.
I am sorry friend: I misjudged you after reading this book.
This book made me easily overcome the challenges in college.
This book makes me obsessed with technology.
This post helped me to demystify fake and real news.
Every day, I look forward to being a better person after reading this book.
If everyone reads this book, the world would become a better place for all.
My teacher insisted I read this book: Now I am a completely changed person.
Lessons I learnt about war from "The Things They Carried."
Angels in America is my favorite novel and this is why.
Moving Literacy Narrative Essay Topics
Participating in a school concert: How I discovered my talents.
My first relationship happened in the theater.
This book made me discover my self-esteem.
Removing a toxic person from your life: This book can help.
This song gets me pumped up.
Learning to drive from my dad's memoirs.
Reading the marriage vows: This is my conviction.
I read this to choose my major in college.
This lecturer's thesis changed my learning style.
Receiving a good news report on my first birthday: this was my reaction.
My mom is my role model: I read her message on her wedding anniversary.
She wrote this report the first day she delivered me: I will be forever grateful to my mom.
This book that dad bought last summer is a must read every month.
I wrote this poem when they bullied me: It is now my source of strength.
Building a dog house from a manual: I am what I believe.
Next winter vacation, I want to read this book.
How to become a revered writer.
My motivation behind writing short stories.
The most heart-wrenching post someone wrote to me on Facebook.
My most memorable literature class.
I wrote this letter when I fell into depression, but now it is my favorite.
Use Experts to Write Your Literacy Narrative Essay
In this post, we have answered the big question, "what is literacy narrative essay?" We have also listed the best topics for top grades. So, are you ready to write the essay? If you are still unsure, perhaps for lack of the right skills or limited time, do not give up because we have 24/7 online custom professional writers who can help you. The questions "who can do my homework for money" is not something you're going to be asking anymore.
The writers are trained by the best professors, and therefore, you can trust them to correctly prepare your literacy narrative essay for top grades. No matter how tough or advanced the topics from your professors are, our homework help can guarantee you the best grades. With trustworthy and educated writers, you can only expect one thing: the best grades.