Even if you are not a literature student, book reviews, analyses, and literary essays are common in the university. Shakespeare plays are some of the most popular ones, and can be the most difficult ones as well.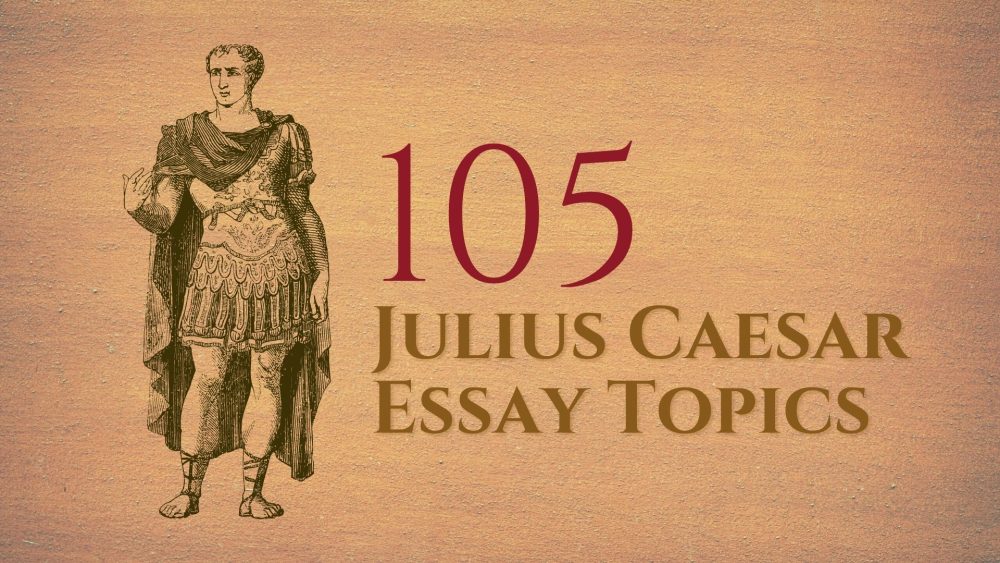 Shakespeare wrote a lot of books that are still prevalent in literature today. One of them is Julius Caesar. This book talked about friendship, leadership, ambition, fate, free will, and more. The content of the book has been the subject of several debates and has given birth to many essays and analyses. If you have just read Julius Caesar in class, your teacher might ask you to write an essay on your views about the book, and it is up to you to figure out a topic and other details to complete the paper.
This article will guide you to write an essay about a book and expose you to different topics you can explore when writing about Julius Caesar.
How To Write An Essay About a Book
Firstly, you have to decide what kind of essay you want to write. Is it an argumentative or explanatory essay? Whatever direction you are taking your essay, remember that a literary essay is different from a regular paper. They may seem similar, but the structure might be slightly different. Here is how you can structure your literary essay.
Introduction
Every essay needs an introduction. This is how you let your reader know what to expect as they read your paper. Starting can be the most challenging part of writing an essay, so if you are struggling, follow the below guideline:

Start With a Universal Statement: Introduce the book in a simple sentence. For example, "Julius Caesar is an honorary literary work by Williams Shakespeare that is read by students worldwide.
Body: This shouldn't be more than three sentences about the book and its impact.
Thesis Statement: This is where you take charge and tell the reader your opinion about the essay in a sentence. This part is critical because this statement is what your entire report will be based on.

Body
In the body of your essay, you are expressive about your opinions. The number of paragraphs here depends on the length of the paper, but it is ideal if you make it more than one. To start the body of your essay, begin with:

A Mission Statement: Specifically tell your reader how the book relates to your thesis statement.
Give Evidence: Include quotes from the book to back up your sentences. You do not have to fill your paragraphs with quotes; add a few relevant to your thesis statement. Explain how they support your thesis in the section.
Conclusion: Your paragraphs should not end abruptly; wrap them up with a sentence that brings all you have written above together.

Conclusion
This is the end of your essay. It reaffirms your thesis statement, shows that you have successfully backed up your words, and summarizes the body of your essay.
Tone Of A Literary Essay
Many people mistake writing an essay in a book for a review or report. The difference is that with a book review, you are stating your personal opinion about a book, while in an essay, you are writing with evidence to defend or back up a theory obtained from the book.
Your tone is fundamental when writing an essay. It should let the readers know that this is a profound text. Here is some literature homework help and guidelines to keep in mind:
Write Clearly: No need to pack your essay with unnecessary examples. Be clear and concise when you write, and always go straight to the point.
Write Authoritatively: Your quotes should be from reviewed sources as they form the basis of the essay and let the readers know what you are writing about. If your tone is passive, you might not be able to convince the readers that you are writing from a place of knowledge.
Write Smart: Before you start writing an essay based on the book, you have to read the book first. Your opinions cannot be based on summaries. First-hand knowledge of what happens in the text will help you write an intelligent essay.
Now that you know how to write an essay about a book, it's time to introduce you to some Julius Caesar essay topics to help kick start your essay writing with some.
Good Julius Caesar Essay Topics
Below are some excellent essay topics on Julius Caesar that all students can work on.
What are the roles of Portia and Calpurnia in the book?
Deception and Manipulation: How did it work against Julius Caesar?
What is loyalty, and how is it portrayed in this book?
Understanding the character of Julius Caesar.
Discuss the role of jealousy in the book.
Physiological profiles of special characters in the book.
What qualities of a good leader can be found in Julius Caesar?
Julius Caesar as a tragic hero: Discuss.
Analysis of Julius Caesar's nightmares and their meanings.
Who was Julius Caesar? Discuss his background and how it influenced his character.
Discuss the happenings at Caesar's funeral.
Discuss Julius Caesar as a nobleman
The life of Julius Caesar and Brutus.
How did Caesar's death affect Roman politics?
The conquests of Julius Caesar.
Julius Caesar's reforms and how they affect modern-day politics.
Discuss the battle between politics and ethics in the book.
Why is the play considered a "tragedy of lost moralities?"
With the happenings in the play, explain how love can be responsible for the tragedy.
The significance of virtue in the Julius Caesar play.
The difference between the historical and fictional stories of Caesar.
Compare Caesar's ruling ethics to a recent political leader.
Why was Caesar considered arrogant?
Describe Caesar as a warrior.
How do historians describe Caesar?
Was Julius Caesar a politician of note?
When Caesar was kidnapped, What skills made him friends with his captors.
An overview of Julius Caesar's ranks and how he ascended the ladder.
Caesar's campaign tactics and how they can come to play in modern politics.
Caesar's life as a governor.
Julius Caesar Argumentative Essay Topics
The play is filled with many controversial moments that have fueled a lot of arguments over the years. Here are some argumentative topics to write on.
Omens and fate – do they work? Relate it to Julius Caesar's story.
Is Brutus a virtuous man?
Why was there so much deception in the play?
Are Brutus and Cassius honorable?
Compare different views about Julius Caesar.
Was Brutus right to join the conspiracy against Julius Caesar?
Was Julius Caesar a nobleman?
Did the soothsayer play an essential role in the play?
Was Caesar the most remarkable man in the Roman world?
Why do people think Caesar is of divine descent?
Was Caesar killed because of jealousy or love?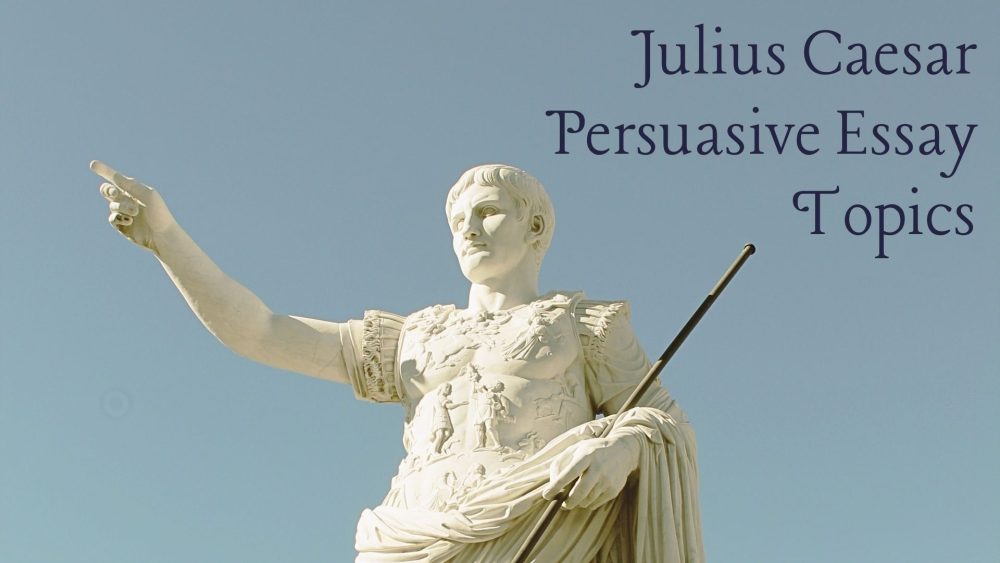 Julius Caesar Persuasive Essay Topics
Here are some topics you can use to persuade your readers to agree with your point.
Did Cassius trick Brutus, or did he join the conspiracy willingly?
What were Caesar's ideas about ruling a state?
Caesar made several speeches throughout the play. Why are they relevant?
What other leader has represented military and political power better than Caesar?
Should we start taking dreams and prophecy seriously?
Why didn't Brutus' speech convince the people that his intentions were good?
Who were the best receptors in the play?
How was friendship used as a tool in Caesar's assassination?
Julius Caesar Essay Questions
Several questions about the book still need answering; here are some of Julius Caesar's discussion questions to explore.
Should Brutus be described as a hero or villain?
Was Cassius' motivation noble?
Who is the real protagonist in the book? Julius or Brutus?
How vital were omens and prophecies in the book?
Did Julius Caesar die because he ignored prophecies?
Would you say the killing of Julius Caesar was justified?.
Was Julius Caesar a tyrant?
Why has the play been produced in the theater multiple times over the past centuries?
Why is Julius Caesar described as Rome's most outstanding leader?
What role has Julius Caesar's life and death played in history?
Who made the most persuasive speech in the book?
Can Julius Caesar's story be described as dramatic?
What characteristics of Caesar made him a role model to Napoleon?
How did Caesar's arrogance contribute to his downfall?
How was Caesar able to live a lavish lifestyle despite being from a modest background?
How did Caesar gain his enemies?
Why was Julius Caesar murdered?
What are logos, pathos, and ethos?
Did Caesar have too much power?
What was Decius' role in the manipulation of Caesar?
Was there any true friendship in the book?
Julius Caesar Research Paper Topics
College and university students expected to write research papers on Julius Caesar can choose from the topics below.
Compare and contrast government in the days of Julius Caesar and politics now.
Study the challenges in Brutus and Cassius' friendship.
Research movie productions of the book and compare them with the original.
Analyze the supernatural and its role in the outcome of the story.
A review of Mark Anthony's funeral speech.
Analyzing the character of Brutus.
What roles did women play in the book?
How did Caesar rise to power?
Describe the death of Julius Caesar.
Compare the two Julius Caesar speeches.
A biography of Julius Caesar.
Discuss friendship in the book.
Analyze the relationship between two select characters in the book.
The role of commoners in the book.
Julius Caesar: more powerful in life or death?
Analyze tragic flaws that can be found in the play.
What famous quotes from the play can be found in modern political speeches?
Julius Caesar: His life and death.
Discuss the assassination of Caesar.
How did Caesar's friends use flattery to deceive him?
The history of Julius Caesar.
The story of the first Roman Emperor.
How important is the support of ordinary people to the decisions of their leaders and the military?
The similarities between Caesar and Napoleon.
How important was the character of Mark Anthony?
How does the tragedy of Julius Caesar reflect reality?
What role did corruption play in the outcome of this story?
Who is a tyrant, and why was Caesar labeled one?
Describe an honorable man according to the play.
The progression of Mark Anthony's character.
Julius Caesar Essay Prompts
Starting an essay can sometimes be challenging; here are some prompts to get you started.
Can Decius be described as a smart man?
Anthony and Brutus: How was Anthony able to deceive Brutus into friendship again?
What is the most persuasive and manipulative moment in the play?
How did Brutus, a servant, become friends with Caesar?
How many people killed Julius Caesar?
Need Help Writing Literature Assignment?
To write a comprehensive essay about Julius Caesar, you have first to pick a topic and develop it into a fun piece to read. Some students may find this difficult because of the amount of classwork they have to complete.
It is okay to search for an essay writing service to assist you in writing your assignment fast if you can't do it yourself. Suppose you are planning on hiring an online assignment writing help, we can offer the service to you.
Our team features the best essay writers, who are available to provide custom, interesting, and high-quality essays for all university and college students. A professional homework writer will be assigned to your task. We will deliver your English research papers and essays to you at a cheap and affordable price. You can complete all transactions securely online. So don't hesitate and get in touch with us.
FAQ
What are good essay questions for Julius Caesar?
Some good essay questions for Julius Caesar include:
Discuss loyalty depicted in Julius Caesar, particularly in connection to Caesar and Cassius, Brutus, and Antony.
Discuss the roles played by Calpurnia and Portia.
Did the conspirators justify Julius Caesar's assassination?
Was Brutus tricked into joining the conspiracy against Julius Caesar?
What are the consequences of Julius Caesar's murder?
What are the main themes in Julius Caesar?
The main themes are betrayal, loyalty, fate, tyranny, honor, and power. Cassius' influence on Brutus made the latter betray his friend, Julius Caesar. The story shows the conflict in Brutus' loyalty to Caesar and his country. The omens and beliefs portrayed in the play indicate the theme of fate versus free will.
What is a good thesis statement for Julius Caesar?
Marcus Brutus betrayed his friend due to his greater loyalty to his country. He believed that Julius Caesar had become a tyrant and joined the conspiracy to end the power. Caesar gained control over the senate after abolishing the republic. The senators were scared that he had become too powerful and conspired against Julius Caesar.