So, you don't know how to write a personal narrative essay? There is no shame in it. Nobody was born an academic writer, after all. We can assure you that every student has been in your shoes at one point or another during their school years. And besides, learning how to write a personal narrative is not an overly complicated thing to do – especially when you have us to help you.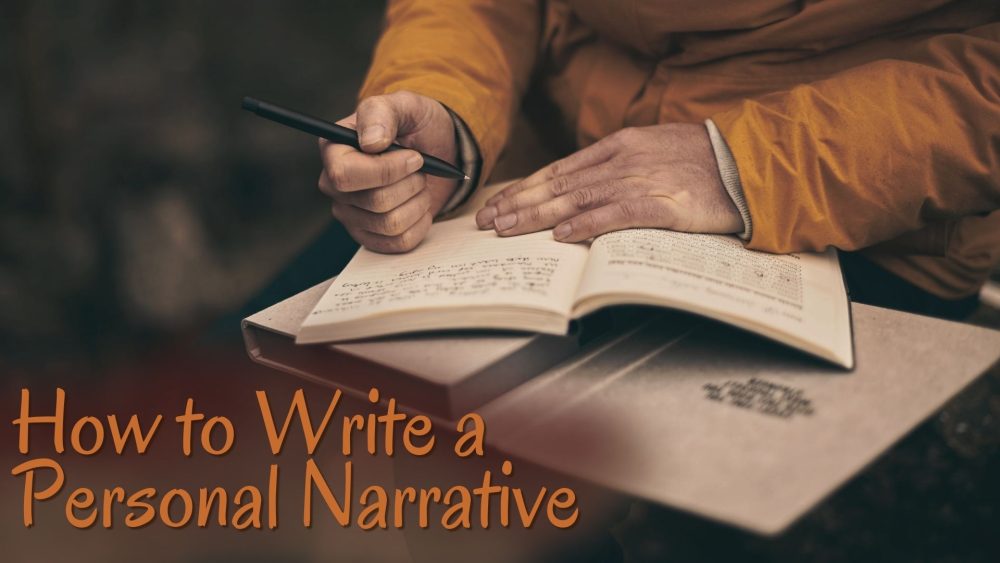 In this blog post, we will show you how to write a good personal narrative. You will get plenty of tips, ideas and advice, as well as a comprehensive guide on how to brainstorm for ideas and how to write the paper step by step. We will also show you how to make a narrative stand out from the rest, in case you want to use this paper to apply to college. Let's start with the beginning.
What Is a Personal Narrative and Why Is It Important?
Before we can show you how to write a narrative the right way, we need to make it clear what a narrative essay is. So, what is a personal narrative?
The personal narrative is an academic paper that analyzes an important story in your life and shows your audience how the events changed you or the way you perceive yourself or the world. You can talk about any event, past or present, as long as it is related to you. Talking about something on the news is not a personal narrative.
Remember, when writing a narrative paper, you need to keep in mind that it is an academic paper. This means it needs to have a thesis statement. Even though you have the creative freedom to talk about your experience in any way you like and to draw any conclusions from the events, you need to keep your writing unbiased and well organized. This is not a rant about an even in your life.
Getting Ideas for Your Personal Narrative Writing Project
Great, but how do you write a narrative? Well, now that you know what you need to aim for, it's time to talk about the next important part of a proper personal narrative writing project: brainstorming ideas for your essay. It is very important to try to find the best ideas before you start writing a personal story. Why? Because otherwise you will most likely miss some of the more important things you should talk about. Moreover, you will usually be unable to structure the paper properly and express your ideas clearly. To make sure this never happens, here is what you need to do:
Read the definition of a narrative essay again. Be sure to memorize the "this paper tells an important story about you" part.
Think about your most precious memories and write each one of them down. Don't worry about what the memory is about. Just write it down.
Next, organize the memories into categories. We recommend the following categories: people, events, times and places, accomplishments, happy events, unhappy events, and not important.
Each memory that you don't feel like talking about goes into the not important category.
Next, go over your memories and decide which one has the best chance to win you an A+ if you talk about it in an essay. Remember, the topic needs to be important enough to explain a change in your life or a change in the way you perceive yourself. Getting a new cat (even though you love that cat to the Moon and back) is usually not a very good idea for a narrative essay topic.
The Structure of a Personal Narrative
The next part of our "how to write a narrative story" article is the structure of a personal narrative. Yes, knowing how to properly structure your academic content is extremely important. The fact that you are talking about yourself does not mean you can write your paper any way you like. It is, after all, still an academic paper. Because you probably want to make an outline before you get started, here is the personal narrative format we recommend to most students:
An introduction. This is where you basically set the stage. You should be as vivid and descriptive as possible.
The beginning of the story. This is where the story begins. Some may call it the conflict.
The middle events. Continue the story and make sure the action is rising. Explain the conflicts, problems, struggles, etc.
The climax. This is the most important part of your story. It is the part that has helped shape your future, so to speak. In a typical story, this would be the turning point.
The falling action. This is where you talk about the results of the event (the resolution). You can use it to discuss how the event has changed you as a person, for instance.
The conclusion. Restate the thesis statement, briefly present two or three important things about the event you're talking about and wrap everything up by telling your audience what the event means to you and why you are now the person you are thanks to it.
Steps for Writing a Personal Narrative
The steps for writing a personal narrative are different, depending on what you are writing about. Also, the structure can be changed to suit your needs. Here are the general steps you should take to write the paper relatively quickly:
Brainstorm and find the best topic for your narrative essay.
Come up with a thesis statement. This is usually a sentence that summarizes the most important effect the event has had on your life.
Write the introduction and set the stage for the story.
Write your story as a narrative. This means using first person (be careful not to overuse it though). Try to follow the structure we've presented above and you should do just fine.
Write a strong conclusion and make sure you show your audience the importance of the event.
Edit your work. The personal narrative essay needs editing 99.9% of the time. Delete fluff and repetitive ideas. Add more information to flesh out certain sections. Make sure you describe everything in great detail so that your audience can visualize what you are talking about.
Proofread your work. Twice. Your professor will appreciate it and you won't lose points for a few typos or spelling errors.
Any Good Examples of Personal Narratives Out There?
We know, learning how to write a personal narrative essay for college by reading a guide is not going to make you an expert writer. This is why you need some great examples of personal narratives. The good news is that you can find many such examples without going to too much trouble. You can find samples online if you know what to look for. Here are some examples of powerful personal narratives written by experienced authors:
Rebecca Gummere's "The Fateful Discovery a Woman Made After the Sudden Death of Her Infant Child"
Amy Paturel's "Your Brain's Response to Your Ex According to Neuroscience by Me"
Nothing Extraordinary by student Jennifer Kim
First Impressions by student Isabel Hui
Roxane Gay's "Bad Feminist" (a collection of essays)
Read a one or two of these masterpieces and you'll see exactly what it means to write a powerful narrative essay. Don't be afraid to use what you learn in your own writing. After all, this is the whole point of searching for a great example.
Tips and Tricks for a Better Personal Narrative
When it comes to personal narratives, there are many things that can be done differently. It all depends on the story you wish to tell and on the effect your words need to have on your readers. If you are planning to use the essay for college admissions, you need to make sure your personal story is extremely interesting and inspiring. Here are some tips and tricks that should help you write a better narrative paper:
Avoid using overly complex words that your audience would have a hard time digesting. Your writing needs to be simple, clear and concise.
Don't describe everything; otherwise you will end up writing a novel. Focus on the most important parts of the story.
As much as possible, avoid using second-person narrative. You must make it clear that you have experienced the events yourself.
Use dynamic and powerful words to make an impact.
Try to think long and hard about what the even means to you. Show your audience how it has changed you as a person or your life – don't just tell.
Make sure the paper is perfectly written. This means you need to edit and proofread your work thoroughly. We would recommend you give the piece to your parents or a friend to read and give you some feedback. You'll be surprised how many things you can change in a personal narrative essay if you get some feedback.
Need Some Personal Narrative Writing Help?
Do you need affordable personal narrative writing help? Our company has been offering homework help to students for years. Our rates are very affordable, so every high school or college student should be able to get the help he or she needs from our expert writers. Over the years, hundreds of teachers have rewarded our efforts by giving our customers the A's and A+'s they needed.
No matter the class, we can help you with your assignment right now. Our experts are not only very experienced, but also extremely creative. This means you will get a great essay that will be interesting to read and very well researched for a fantastic price. We are also very supportive of our customers, so don't forget to ask us about our latest offers and discounts.
Remember, we only sell custom content written according to your requirements and guidelines. Everything will be 100% original. Get online help from our trustworthy PhD degree-holding writers. They can write a personal narrative for you in as little as 3 hours, so what are you waiting for?