Tests are vital, and you need to take them if you want to succeed in your academics. In this article, we will cover the best test taking strategies. However, you require being attentive in class to succeed and get top grades.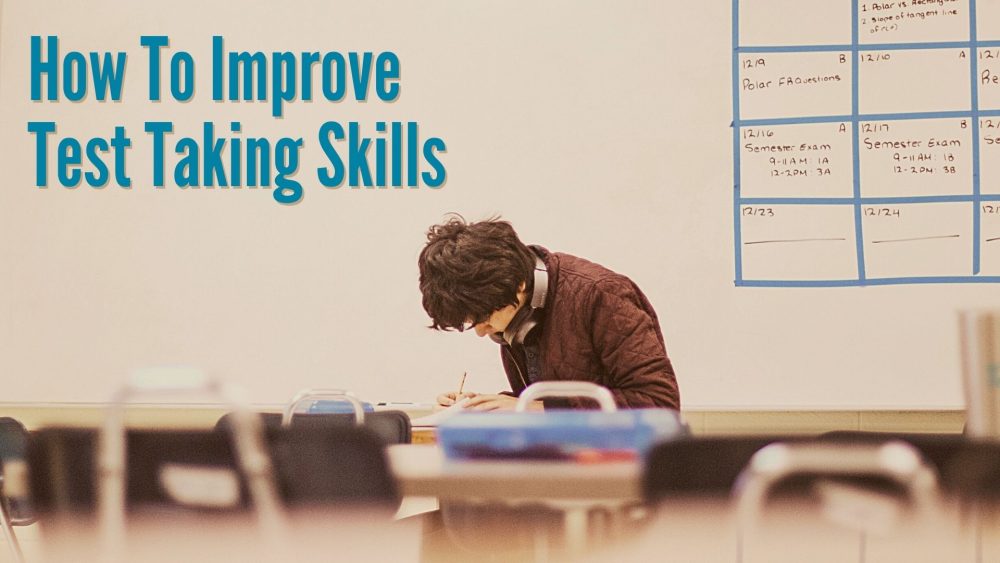 Whether you are in school, university, or college, these test-taking skills are essential. There are many testing strategies that you can get from different sources, but you require choosing those that will work for you.
It is critical to take into consideration the test-taking techniques because they will help you succeed when preparing and doing your exams.
Various Types Of Tests
Did you know that there are different categories of tests? Yes, they are different, they are not all the same. Hence, it is essential to know how to succeed when doing any of these tests.
Additionally, tests have to be there to gauge whether you have understood a concept or not. This helps to rate your knowledge or comprehension. They are the main instruments used to evaluate your learning by most institutions.
Did you know that tests have a way of making you learn better and remember more than you could have imagined? Here are some of the best-known tests
Diagnostic Test. These are the kind that are given to evaluate or review how much you have gained from the class. They will also help you to identify your areas of weakness. That's why teachers love giving these kinds of tests to rate how much you have gained. Test-taking can seem troublesome, but with the right strategies, all will be well.
Placement Tests. These are the kind of tests that are used to place students. Let's say you want to go to a different country, you will need to do some language tests to see whether you qualify to go to a certain country. They are also used locally to test whether someone can be able to move to the next level.
Achievement Tests. These are the kind that is used to measure a student's improvement in regard to the syllabus. Most of these tests mainly contain items that students have been taught in class. They can either be short-term or long-term. They are like gauging tests.
Proficiency Tests. These tests try to check how knowledgeable you are about a certain subject. In the English language, these tests include TOEFL or IELTS exams. This is important for foreign language-speaking individuals. You need to meet a certain target to move forward.
Internal And External Tests. The internal tests are the ones given by an institution where a student is learning. On the other hand, external tests are given by an outside body. For example TOEFL.
Objective And Subjective Tests. These are the kind of tests that have clear right or wrong answers. The multiple-choice tests fall into this group. You have to choose an answer from the various possibilities. Furthermore, the subjective tests are the ones that require the examiner to make their own subjective assessment regarding the grade deserved. There are also the combination tests that are a combination of the objective and subjective styles.
Kind Of Tests In Different Classes
There are different types of tests offered in different classes. The tests fall into pre-assessment, formative assessment, or summative assessment. That's why it is important to gather the test-taking skills for proper preparation. These are some of the best testing strategies for students.
Pre-Assessment. Just as the name illustrates "pre", these are the kind of assessments given before starting a new topic. The tests are normally used to measure the knowledge and skills given. In this, the professor/tutor or teacher gathers baseline data to use at a later time to evaluate the change. The professor tends to ask students to explain a certain concept before the start of the class. Then the professor gauges again after the end of the lesson to gauge how best the students have understood.
Formative Assessments. These are typical quizzes, pop quizzes, review questions, and practice tests. Your professor's main goal is to get feedback from you about what is needed in the next teaching. They use this to gauge whether to continue to the next topic or stick there.
Summative Assessments. These are the normal types of tests given at midterm or as final exams. They summarize what a student has learned for the whole learning period. They can at times be stressful but are an effective way of measuring how much students have learned.
What Kind Of Questions Can Be Found On Different Tests
Do you know what kinds of tests are assigned in different classes? There are different kinds of questions that can be found on different tests. These include the written, oral or physical.
Written Test – These are the kind that can be open-book, closed book, or in between. In the game, students require giving written answers. There are different types of written tests that include:
Multiple choice: In this, you are presented with a question and a set of answers for the questions. These types of questions are easy to tackle because of the presented multiple choices.
True or false: In this, you are presented with a statement, and you need to determine whether it is true or false. However, these types of questions are not highly recommended.
Matching written questions: In this, you are presented with specific terms or ideas and a set of definitions or identifying characteristics. You are just required to match the idea with the statement.
Fill in the blank: In this, you are presented with identifying characteristics. What you require to do is to recall and supply the term that will fill perfectly in the gap.
Essay: In this, you are presented with a question or concept that you must explain in depth. The essay questions emphasize the themes and students needed to demonstrate critical, creative, and writing skills.
Oral Test: These are a discussion type of test in which they are subjective and there isn't just one correct question, but a couple. The oral tests are done for different units at school. The major thing is for the student to demonstrate specific knowledge on a particular subject.
Physical Skills Tests: In this type of test, you are presented with opportunities to perform specific tasks that require manual labor or physical skills. For example knitting.
How To Improve Test Taking Skills
To succeed in any exams, you require to have good test-taking skills. If you want to improve your test-taking skills, you can use these tips. You will never be anxious when taking a test. The best test strategies for students will help you to prosper.
Proper Preparation
If you want to succeed in any exam, you need to do proper preparation. Even with all the exam-taking tips, you require doing proper preparation. Preparation starts when a semester or term starts. If you want to succeed, strive to be attentive from the start.
When you start preparing when it's time for the exam, you may end up missing a lot. However, if you start preparing when you are learning. This will help you to have some ideas.
So when the test time reaches, it will be easier to remember certain concepts. You require using enough hours to understand the various concepts that were taught to achieve a high score.
Arrive Early For The Test
During the test day, remember to arrive early, this will help you to relax and get familiar with the exam environment. You will increase your confidence if you have time to relax.
You also won't have anxiety while waiting for the test. Arriving early will also help you to ask any last-minute questions and get relevant explanations.
Listen To Instructions
If you want to implement the best test-taking strategies, you need to listen to the instructions given. Also, remember to read the instructions provided in the test paper. Yes, that is vital because in many cases, you find that the first question is compulsory and if you miss out on it, you can get fewer marks than you would have.
It is important to listen to the instructors' instructions at the beginning of the test because they at times alter some instructions. The way an instructor explains is different from how a fellow student can explain to you.
Test Your Memory
If you want to succeed in any exam, as soon as you begin your test, write down significant information that you think you might forget.
Hence, you can write formulas, dates, lists, and much more. This will help you to recall certain indispensable information. Also, when revising, you can use past papers.
Read The Questions Well
When you start the exam, remember to read the questions systematically. There is certain information that you can miss out on and end up costing you.
In other cases, if it's a multiple-choice question, be sure to check for the right answer. Also, remember to answer all the questions as required.
Time Management
If you don't know how to manage your time, you will be in a bad place. Try and estimate the amount of time you have for each section and how long you will need for each question. Remember to also leave time for proofreading and checking whether everything is intact.
Be Keen On The Answer
At times the answers tend to look similar but are not the correct answer. Try and look for all kinds of cues that can tell you otherwise about the answer.
At times, you may have limited time, however, try your best to answer all the questions on time. There are certain specific test-taking tips for college students that should be followed. In the case that you run out of time, try to answer all questions, even if the last one you will answer partially, but as long as you do it. It is better than not doing it at all.
Be Confident While Doing The Exam
At times when doing the exam, you may realize that you don't have certain answers, don't feel overwhelmed or tenses. Instead, just attempt another question and leave the hardest for last.
This will save you time and maintain your confidence. Also, trust your instincts. In certain matters, you find that the first answer that pops into your mind is the correct answer. If you start dilly-dallying, you may end up choosing the wrong answer.
Review Your Test
Once you feel you are done, go back and answer the difficult questions. Moreover, remember to review the work, to see where you might have gone wrong.
Additionally, check for spelling and grammatical errors. Also, try to check the instructions again to see if you missed out on something. If you don't check well, it might affect the grading that you will get from your professor.
Learn From Each Test
To succeed, remember to learn from every test experience. This will help to boost your confidence and be better at what you do. Do a personal evaluation to know best to improve.
Need Help With A Test?
These test-taking strategies high school are essential if you want to succeed. All these tips we have provided are research-based test-taking strategies. All these test study skills can help you to succeed in your studies. No more worries about how to take a test.
These testing tips for students are ideal for anyone while pursuing a certain course. Choose the best strategy or methods that will help you to get top grades. If you follow this advice and tricks, you will be in a better position.
Additionally, if you are looking for any test help or homework assistance, we've got you. When you're thinking "can someone take my class?" we are here for you. We have educated writers who provide high quality output when you pay for homework with us. They are trustworthy and offer affordable prices. Be assured that you will get nothing but the best. All our services are secure.