Notes serve as a record whenever you want to revise or look back to a discussion; you can turn to the notes of that discussion, and you can easily remember its essential points.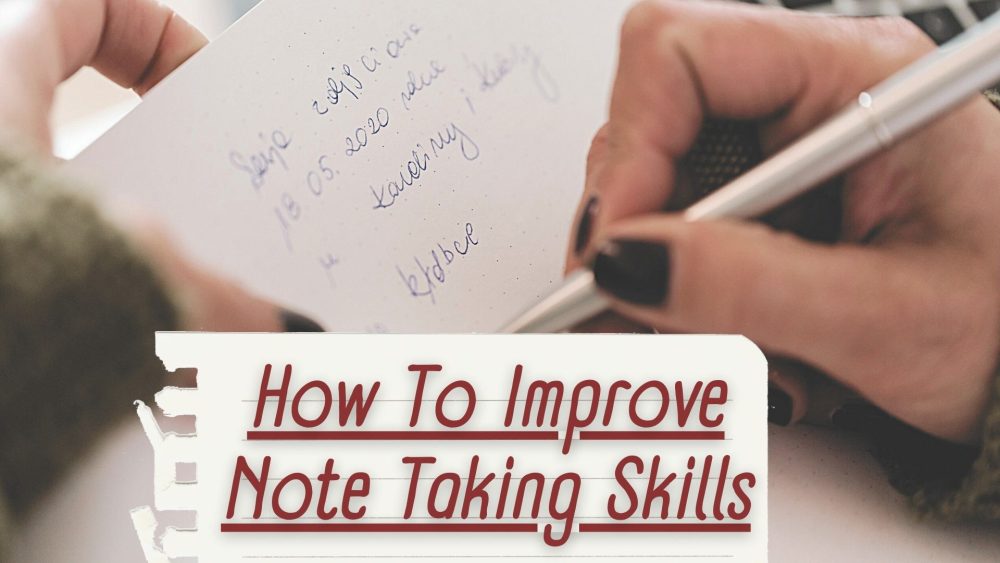 Note-taking is much more complicated than marking up things that look fancy; it involves various skills and strategies to connect the information.
If your notes are comprehensible, only then will you be able to benefit from them. However, if your notes are a combination of words that don't even make sense, then you won't be able to benefit from them, no matter how smart you are. Hence, it's essential to know the tips and tricks to write quality notes that can be fruitful for you every time you go through them. Notes should be easily comprehensible by anyone who wishes to learn from them.
This guide from our expert homework writers should help improve your note taking strategies.
Notes-taking And Its Benefits
Notes are critical key points related to the lecture or discussions you had in your classroom. Note-taking is an underrated skill that paves the way to creative thinking. When you take notes, you are not just trying to master the concept, but your brain is simultaneously operating to process information and connect it with the ideas you already know.
Actively listening and then scribbling the info into meaningful key points involve some heavy brainwork. Note-taking allows you to practice this process until you become a pro. The spacing effect is the idea where you need to revisit the information to stick it into your mind for a longer time. When you take notes, you can quickly review them instead of re-reading an entire book.
One can also document your thoughts in your notes to remember your views related to the information. When you have made notes and recorded your opinions and ideas about the information, these notes will become valuable to your future self and prompt ideas for your current projects.
Notes act as study aids that enable a student to remember and understand the information much more efficiently. Students can take notes of what they learned in their lectures and classes to revise it later quickly. Notes taken between interviews can provide information for an article, a book, or a journal.
In this article, we will be discussing the best note taking strategies and skills to enable you to do your best in academics.
How to Take Effective Notes And Their Note Layout
Here's how you can take effective notes to improve your academic performance:
Outline Method. The Outline method is the easiest to take notes; it involves selecting four to five key points covered in the lesson. Next, you write more sub-points under the critical points related to the lecture. The method is beneficial as it's not overwhelming and can be easily used and focused on. This is one of the best ways to take notes and should be used by students who are learning note taking strategies.
Cornell Method. The Cornell method is the most commonly used for better notekeeping today. The process involves dividing the page into two columns, one for cue and the other for actual notes. The cue column is used to write anticipated exam questions, write about main ideas or people and related information. The wide section is devoted to explaining the cue points. There is also a summary section at the end that can summarize the whole lecture.
Mind Mapping Method. Mind Mapping works best for complex subjects that have interrelated concepts such as physics, chemistry, etc. The map serves as a visual aid on how the topics are related to each other. You start with a broad general idea, and then you proceed into the sub-topics of those topics.
Flow Notes Method. The Flow Notes method is best if you want to maximize your learning and reduce the reviewing time. In this method, you start by writing the topic, then with the help of the arrows, you doodle diagrams and graphs to present the general idea. Through the flow method, you can take detailed notes of your lectures.
Sentence Method. The Sentence Method is a simple method that can be used for effective note-taking. The idea involves simply jotting down the information in crucial points to the best of your ability. Although it may be difficult to record information in sentences, this is the best way to take notes.
Charting Method. The Charting Method divides the sheet into three columns like the Cornell method. You can use the columns for different topics to highlight the critical points in each. This note taking strategy is helpful if you want to highlight crucial pieces of information on various topics.
Writing on Slides. If you are taking notes in class or after a lecture, writing on slides is a practical note-taking idea that beginners can use. The idea is to print the slides of the lecture and start writing on them. You can take specific notes related and expand the information already presented in the form of notes.
By using one of these methods you can become a better note taker and organized information in a way that you find helpful and effective.
Note Taking Guides
Students may use notes layout or strategy discussed above for better note taking. However, if they are unaware of the basic tips necessary for each method, they might make complex and vague notes. To take effective notes, it's important to know essential information that will help you create short and easily comprehendible notes. Let's look at some note-taking skills that you can use to improve note-taking.
Write Key Facts: During the lectures, you are bombarded with tonnes of information; you need to identify the essential points and write them as notes. Dates, formulas, examples of the topics are some examples that you can remember during a lecture to record as notes. It takes time to learn to listen for the central concept and critical ideas from the information that is being delivered.
Don't Overdo It: Don't overburden yourself by taking extensive notes; if you write down everything you listen to, you might miss out on essential concepts that need active listening. Some students learn better by listening if you miss out on the crucial start of taking notes, you might make incomplete notes. The best note-taking system involves writing down a few vital points and then going through them right after the class to retain the information for a long time.
Don't Be Reluctant to Ask: If the teacher is going too fast, you might miss out on important information; hence, you should never be afraid to ask the teacher to repeat the information.
Copy and Compare: Some students prefer maintaining a colorful and neat diary for notes to aid easy learning. If you have scribbled the notes in a hurry, you can redo them in your fair journal to easily comprehend them. Also, if you plan to combine study with your friend, you can always compare your notes with others to ensure you haven't missed out on important key points.
Note Organization Methods
Some students can learn better through clearly written and neatly developed notes. Here are some tips for those finicky students who want to keep their notebooks Instagram-worthy.
Use phrases instead of sentences
Take notes in your own words
Use color
Underline, circle, star, and highlight to increase readability
Structure your notes with the use of heading, subheadings, bullets, and numbered lists
Use diagrams, concept maps, graphs, and charts to explain the concept better
Use abbreviations and symbols for fast note-taking
How to Take Notes in College?
As you begin college, you may experience open-ended lectures. The only way to retain this information is to record the key points. However, note keeping in college isn't as easy as in high school, with a lot of pressure of getting good grades and being disciplined. To get you through your college years successfully we will be listing the best note-taking tips.
Sit at the front of the class so that you can stay attentive and focus better.
Decide if you want to record notes digitally or handwrite them.
Keep your notes short and write neatly
Use apps such as OneNote to organize your notes
Minimize distraction during a lecture so that you don't miss out on anything important
Develop a system to make notes, update and revise them.
Use graphs, diagrams to explain the concept better
Use abbreviations to save time to focus on the main things
How to Improve Note-taking?
Efficient note-keeping is the only way you can do good in academics. If you already know how to take notes but your notes seem to lack the details then read on and discover ways to improve your note-taking skills.
Make clear notes and use accurate information
Come to class prepared so that you can make better notes
Organize your notes according to subject, date, and class to locate the topic easily
Note down questions that were unanswered during the lecture to ask after the class
It is advised to make write in notes as to when you write you tend to remember the information better
Overlook heavy powerpoints as you can not listen actively and write efficiently together during a lecture.
Are You Struggling With Your Class?
Best notes are the ones that you spend time writing and reviewing to learn from them fast. On the contrary, it may take time to learn to take good notes. The trick is to do it regularly and never give up, but till then, you can take help from our trustworthy and reliable writing services .
Instead of struggling you can order an homework assignment help from us. Our writers offer custom-based services to make notes, prepare assignments, and much more. We also provide online study help for high school, college, and university students. The best part about our services is that we guarantee to keep your work secure and offer cheap rates. Just write "Do my homework" on your search engine, and you can find all the people and places that provide such services.