Are you taking chemistry? If "yes," you will no doubt need to learn more about the seven strong acids. You will find this information very important because most chemical reactions, chemistry calculations, and other applications are likely to touch on acids and bases. In this post, we are going to tell you everything that you need to know about the seven strong acids.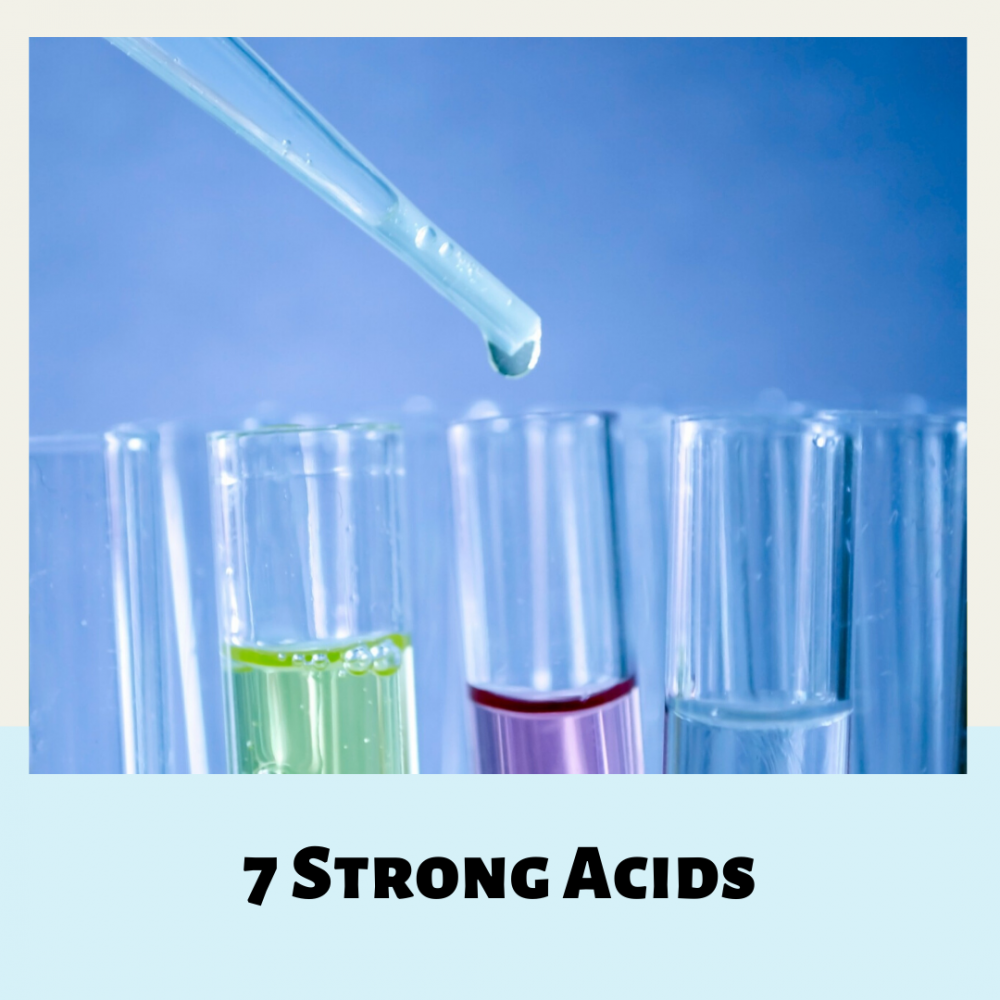 What are Strong Acids?
One thing that you should appreciate at this point is that when an acid bears the tag "strong acid," there is nothing related to corrosiveness or how powerful it is. But the term strong implies that the acid is capable of releasing a lot of hydrogen ions into a solution. A strong acid is an acid that is capable of dissociating completely into ions when it is added into the water – all the acid molecules break down.
Strong acids give at least one hydrogen cation (H+) per molecule, while weak acids only dissociate less than one percent. This means that few of the weak acids' molecules break down to release H+. At this point, you might be wondering, "why is this crucial?" Well, it is all about chemical reactions. See the example of an ionization reaction HCL, one of the common acids in the list of strongest acids.
HCl → H+ + Cl–
The product has one hydrogen ion, right? This means that all the HCL has been ionized in the chemical reaction. Besides, you should also note that the equation is moving in one direction. This implies that once the reaction is over, you cannot reverse it – it is permanent.
To demonstrate the difference between strong and weak acids, we will now show you how a weak acid reacts in water. The acid we will use in this case is ethanoic acid.
CH3COOH + H2O ⇆ H3O+ + CH3COO–
Checking closely, you will notice that the reaction contains two arrows, pointing in different directions. This means that it can be reversed (hydrogen ions keep shifting from being part of the acid to water and vice versa).
What are the 7 Strong Acids?
Notably, there are only seven strong acids. The rest are all weak acids. So try to remember them as well as their formulas because you are likely to encounter them in different cases, especially the chemical equations.
7 Strong Acids

Chloric acid HClO3
Hydrobromic acid HBr
Hydrochloric acid HCl
Hydroionic acid HI
Nitric acid HNO3
Perchloric acid HClO4
Sulfuric acid H2SO4
Strong Acids versus Concentrated Acids
One thing you need to appreciate is that strong acids are not the same as concentrated acids. Further, weak acids are not the same as diluted acids. So what is the difference? The concentration of an acid means the amount of water or solvent that is in it. If an acid has less water, it implies that it is concentrated. However, an acid that has more water is diluted.
Remember that when it comes to acid concentration, there is no standard. Therefore, it is possible to have a strong acid that is diluted and weak acid that is concentrated. But, in general, a diluted acid's PH is expected to be around 7 while that of a concentrated one should be lower, around 3.
Strong Acid versus Corrosive Acid
Simply because an acid is in the strong acids list does not make it corrosive. The term corrosiveness means that it will damage the surface, such as living tissue, that it comes into contact with. Indeed, some acids are very corrosive that they eat away, even the bones. But again, an acid's strength is not related to its corrosiveness.
The term corrosiveness and acid strength measure different parameters. Some strong acids, such as sulfuric acid and hydrochloric acids, are very corrosive. They can even corrode stainless steel. But again, it is also possible for a weak acid to be highly corrosive. Take the example of hydrofluoric acid; although a weak acid, it will easily decalcify bones.
Notably, when corrosive acids are diluted, their corrosiveness goes down. This means that if they get into contact with your hands, they may simply cause mild reactions such as itchiness.
Seeking Chemistry Assignment Help
When your chemistry teacher issues assignments related to the lists of strong acids and bases, it can be a challenge if you have not mastered them. But this is not the only thing that can make the assignment on the list of strong acids and bases an uphill task. If you lack good writing skills or have other engagements, the assignment can become really difficult. Your best solution is seeking cheap chemistry assignment help.
The chemistry writing assistance is offered by professionals who can handle any chemistry paper. From "what are the seven strong acids," to "different acid-base reactions," no task is too complex to them. Therefore, do not just relax and wait to get a fail or average grade in chemistry; use professionals for the best grades.