The observation essay – this is one of the most difficult writing assignments high school and college students can receive. While it is not as difficult as writing a research paper, writing an observation essay on a person or a setting can pose serious problems to students. The sad truth is that students don't really know how to write such a paper because many of them don't understand what an observation paper is supposed to look like. In other words, students don't have much experience making observations, taking field notes, and then writing a comprehensive paper in proper academic format. Let's delve deeper into observation essay topics and see why they are important and how to find the perfect ones.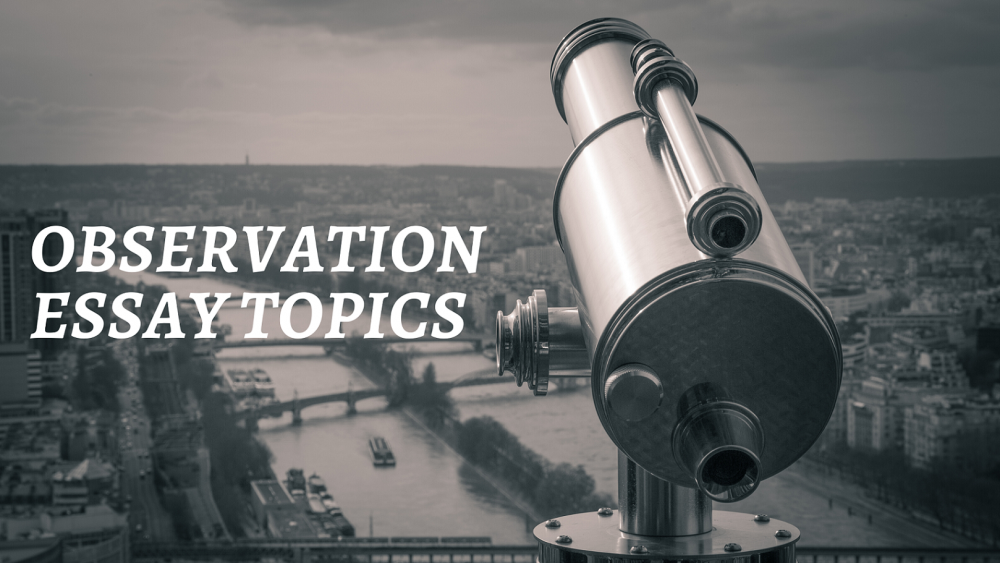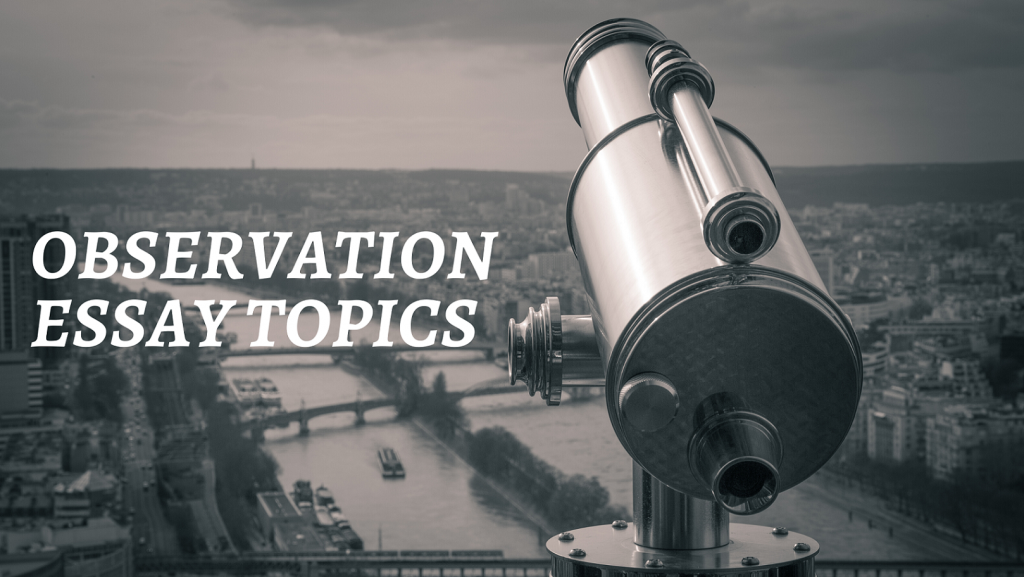 Writing the Observation Essay Quickly
The reality is that writing an observation essay doesn't need to be a painstaking process. Yes, we know that students struggle with this type of assignment. However, if you follow a few simple steps, you can write the best paper in the shortest possible time. Here is what you need to do, in simple words:
Think about the perfect topic for your essay. You can get examples online from professionals immediately if you so desire.
Think about the setting or the person you want to observe and find the perfect candidate.
Start your observation, taking field notes. Always enter the date, time, location, and everything important in front of each entry.
Write only what you see. You have ample time for interpretation when you write the paper.
Analyze the field notes and make observations. Create an outline using your observations (the skeleton of the essay).
Write the paper using the field notes and your observations. Don't forget about the importance of the thesis statement, hook sentence, introduction and conclusion.
Proofread and edit everything. Read the essay out loud to make sure it flows perfectly.
It wasn't as difficult as you thought, right? The most difficult part is finding the perfect topic for your paper. Fortunately, our experts have compiled a list of 30 very interesting observation essay examples that you can use for free.
Observation Essay Examples Online: 30 Topics
Pick any of these exceptional topics for your next observation paper:
Money: Its Meaning in the Modern World
The Zoo: Are Monkeys Really Sad?
My Most Interesting Family Tradition
What Is Loyalty – Explanation Through Observation
Is Bullying in School Widespread?
Interesting Traits of My Personal Idol
Children Hate School, But Why?
The General Atmosphere in the Classroom
How Do People Behave in Shopping Malls – And Why?
It's Easy to Establish Relations in a Train: Why and How
Observing the Impact of Social Networking Sites on Students
Why Do Poor People Avoid Shopping Malls?
Small Children Copying Their Parents
There Is a New Club in the City!
Obama Was a Success Due to His Personal Traits
Do Video Games Cause Behavioral Changes?
Jealousy – What Is Causing It?
Great Friends Who Turned to Great Enemies
Tolerance in School: Is It a Myth?
The Person I Admire the Most – And Why
The Experience That Changed My Life Forever
The Many Responsibilities of Students – How Do We Cope?
How I Felt on My First Trip to the Mountains
Is Music a Therapy or Is It Just a Myth?
How Scary Is It to Get Stuck in the Elevator?
Do Sports Really Develop Leadership?
The Behavior of Stray Dogs Around People
Do Cats Know What Gratitude Is?
Characteristics of Adolescent Behavior
School Classes That Favor a Gender Over the Other
The Importance of a Good Observation Essay Topic
You need to write an observation essay, which is already a pretty difficult task. Every single student in your class has to write a paper. Do you want your essay to be similar to other three or four? Or do you want your observation essay to be unique, interesting and captivating? You know you will get a top grade if your writing is unique and interesting, so the answer is clear. In order to write a unique paper, you need a unique topic. This is why exceptional observation essay topics are so important. They differentiate your paper from all the others and help you make an impact on your teacher. Pleasantly surprise your professor and you are almost guaranteed a good grade. However, finding good topics is more difficult than you think, especially if you need to write an observation essay on a child.
Finding a Unique Topic: Make It Interesting
Most students simply pick the simplest of topics for their paper and start writing. You are better than that! What you want to do is conduct some research until you find the perfect topic. Here is what you need to look at when choosing the best topic:
The topic needs to be interesting and unique. Never pick anything your classmates would think about.
Don't choose a broad topic because you won't have enough things to write about.
Don't choose a very difficult topic because you will have too much work to do.
Write about things you know about to minimize the time spent researching the topic.
Always think about what would surprise your professor and capture his attention.
Look at observation essay examples to get an idea of how a good topic looks like.
As a tip, go to the library and start reading works by established authors. Many experienced writers clearly state where further research is required in the conclusion of the paper. You can get a lot of very interesting and unique observation essay topics simply this way. Another option is to work with an academic writing agency that uses professional writers (ours are all degree holders). Such a company can provide you with a list of exceptional topics (not too difficult, but not too simple either) in no time. An experienced writing service like ours is perfect for when you don't know how to write observation essay papers.
If you need an even more interesting observation essay or a few top grades to increase your GPA, our online academic writing service is at your disposal. Our customer support department is working 24 hours a day, 7 days a week. Get the assistance you need right now! In case you didn't find the topic you need, be sure to check out this page.
Stuck with your homework? Good news! Enter promo "homework20" and grab your unique observation writing assignment with 20% discount!