Writing essays is pretty difficult, whether you are in high school or in college. Either way, if you need assistance, help is here. This is why so many students are having problems with their school assignments. Most students think that simply writing an interesting conclusion, a few good body paragraphs and a nice conclusion is enough to win a top grade. Nobody really thinks too much about the essay name. Yet, this is one element of your paper that can make the difference between a mediocre grade and a good grade.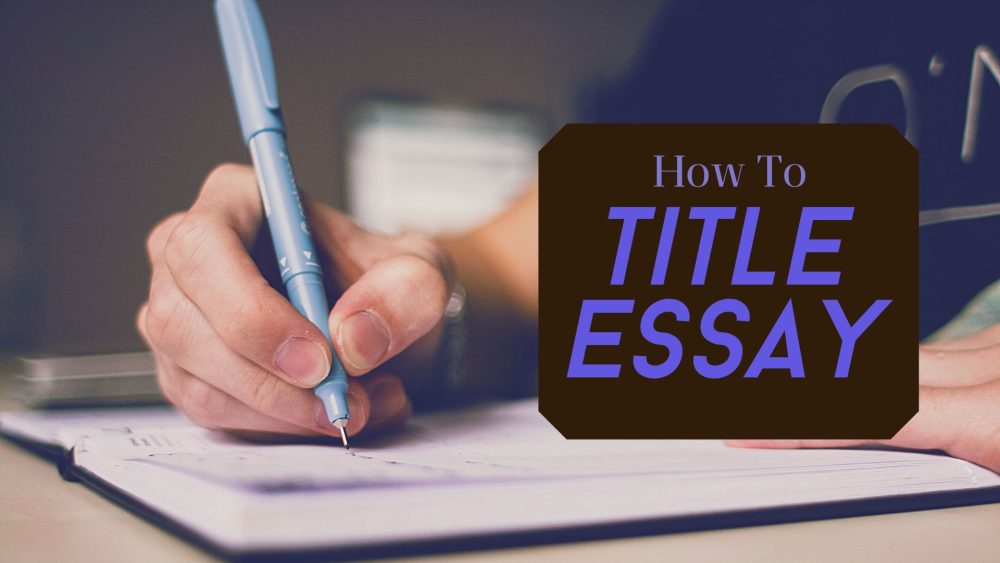 If you want top grades, you need to learn how to title an essay properly. It may sound strange, but teachers put a lot of emphasis on good titles. Some may say that teachers are biased and that the content of the paper is more important than its title. However, regardless of this fact, you need to learn titling essays so that you impress your teacher. An impressed teacher is much more likely to award you a top grade – or at least some bonus points for the title. If you need some quick help, you can get assistance on the Internet quite easily. An academic writing company can help you with a list of the best titles possible – and everything is done online.
Importance Of The Best Essay Name
Why is it so important to learn how to name an essay? Many students don't know the answer to this question. However, catchy essay titles are very important. If you think about it, the title is the first thing your teacher sees. Do your want your teacher to see a title that he has seen dozens of time already? Not to mention the fact that the best title is one that none of your classmates have thought about. The title of your paper has the potential to capture the attention of your readers and make them want to read more.
Even though the essay name is just a few words long, it can make readers so curious that they absolutely need to read more. Of course, the introduction should raise to the level of the title if you want to keep the interest of your readers elevated. Learning how to name essays should be one of your main priorities if you want to get better grades. A small change can make a very big difference when it comes to titles. Let's take a look at some tip that will help you come up with better titles (30 essay name examples are provided as well).
Tips On How To Title An Essay For College
Don't know how to title your essay? Here are some interesting and helpful tips on the best ways to title an essay:
Write the essay first and the title last
Think outside the box – come up with something new
Use strong words and avoid filler or empty words at all costs (important tip on how to name essay papers in college)
Use the title to make an impact and make your readers curious
Include all – or part – of your thesis in the title
Don't forget the tone and central idea of the paper
Titles must be accurate, brief, easy to read, eye-catching, and believable
Use active voice in your essay name
You can use clichés or popular phrases, as long as you rework them for your paper
There are several other tips on how to title and essay in addition to the ones listed above, but these are the most important. Yes, coming up with a good essay name can be quite difficult. You can, however, get a list of titles from our experts online – and we guarantee that the titles you will receive will be the best you've seen (we have a 100% Money Back guarantee for your peace of mine). If you are wondering "what to name my essay," let's take a look at a list of 30 titles compiled by our experts. You can, of course, use any of these titles for free for your next paper.
Cool Essay Titles To Try
Without further ado, the 30 essay name examples so that you have an interesting title for an essay:
Environment Paper Titles
30 Years of Chaos: The Impact of Climate Change
Global Warming Is Causing Extreme Weather Conditions
Reducing Air Pollution – Are We Really Doing It?
The Solution to Our Garbage Problem: Recycling
Ocean Pollution: The Unseen Daily Tragedies
Legal Titles
Comparing Abortion Laws Around the World
Making It Legal: Prostitution Laws
Sex Crimes Are Not Punished Enough – An Analysis
How High: Should Marijuana Be Legalized At Government Level?
Capital Punishment – Is It Really Effective?
Technology Titles
Are We Really Safe: A Cyber Security Analysis
How Data Storing Is Changed by the Cloud
Technology on Mars: Tools and Tech Used By NASA Rovers
The Terminator – Is Artificial Intelligence Really a Threat?
Where Will We Be in 100 Years: The Future of the Internet
Health Essay Titles
Are We Killing Ourselves? The Many Effects of Alcohol
Is Euthanasia Assisted Suicide?
Fats: Benefits on the Human Physiology and Psychology
Is Birth Control as Effective as Advertised?
The Timeline of Nicotine Withdrawal: From 1 Hour to 30 Years
Education Titles
The School Dress Code: Is It Discrimination Against Women?
Banning Guns in School – Effective Methods
Grades Do NOT Always Reflect Students' Intelligence
Homeschooling: Advantages and Disadvantages
Going Into Debt for School – Is It Really Worth It?
Titles for Business Papers
Have a Great Idea? Turn It Into a Startup Today!
Taxation Is Killing Small Businesses in the United States
Google Shows That More Benefits Equal Happier Employees
Are We All Equal: Big Corporations Breaking the Law Unpunished
Get Productive: Effective Time Management in Remote Teams
If you don't have time to learn how to name essays, you can use these titles right now. No need to ask permission! If you need help on how to name essay papers right away, we are ready to give you the assistance you require right away.
Need Some Assistance?
Our expert writers have written thousands of papers for students of all ages. We have extensive experience with coming up with a catchy essay title for each one of our papers. This is why you can count on us at any time of day or night (our support department works 24/7). In case you need the best titles for your paper, we are ready to send back a list of titles in the shortest time possible. Remember, our writers are all degree-holders and we work with only reliable and trustworthy authors. Our 100% Money Back Guarantee stands proof to the quality of our content. If you don't know how to name essays, we can name it for you online right now!