There are different definitions of rhetorical analysis essay. However, mainly and simply it is a critical opinion for a certain situation or a certain incident. as an explanation from an uninvolved party in the proposed text or subject. When you start writing a rhetorical analysis essay, first you have to mention the Soapstone tools, which is identified by the elements composing the rhetorical analysis, an essay, which is (Speaker, Occasion, Audience, Purpose, Subject and Tone). You do not have to mention these elements in order but also you have to make it absolutely clear that you are subjecting a certain purpose.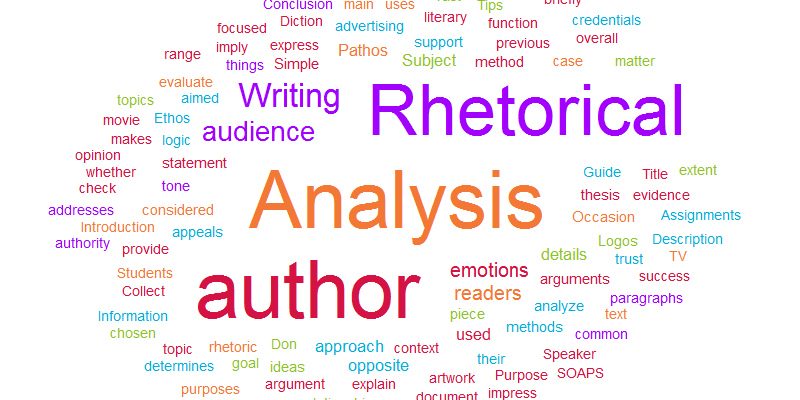 Also, remember that you do not have to agree with the speaker; your only task is to analyze the applicability of the speaker's argument. The very first step to start the rhetorical analysis essay is to fully understand the subject or the text to be analyzed. Also stating the purpose of the speaker and the effects of the occasion, which is simply identified as the Soapstone tools, which was explained in the previous paragraph. using pictures and images will strongly defend your analysis as a rhetorical analysis essay example that discussed the impact of wealth and poverty on education quality; an image of a poor school student compared by luxurious school student merely ended the discussion about the equal education around the world. And remember, you can always get help from professional essay writing services.
How to write a rhetorical analysis essay
If you do not have the sufficient experience in how to write rhetorical analysis essay you probably should look for some online assistance about how to write rhetorical analysis essay and also you can find a rhetorical analysis essay example. However, mainly it is very important to construct the rhetorical analysis essay upon multiple strong appeals between ethical, logical and emotional appeals. You have to demonstrate and control the emotions of your audience whether you agree with the speaker or not. You have to order your rhetorical analysis essay in order to target your credibility at the audience as an example of many; use the speaker's statements and quote from his words and start analyzing over his quotes in order to look at an expert to enhance your credibility. Gathering knowledge about the text or the subject you are about to analyze is not enough to write a good rhetorical analysis essay. The tone and the language you use have a great deal in making your point clear. You have to choose the best style to use that will serve your essay. It is a very important choice whether to choose the firm tongue or the persuasive one. You could use the sarcastic way in the analysis, which is way different from the scientific one. However, depending on the situation each tone could be effective. In addition, one of the best tricks is a good introduction, as most people do not know the value of introductions. you have to give a quick but an attractive summary in order to leave the details to the paragraphs.
Rhetorical analysis essay sample
The first article is always the hardest one. Therefore, as you managed to find some online assistance you should start reading and taking notes of the guide. Do not waste your time reading articles just start writing your first essay. You should find essays prepared and written by high school students and other essays, which are written about student's attitudes and behaviors. Mainly reading essay sample is considered as the best way to understand how to do rhetorical analysis essay. Each paragraph in the rhetorical analysis essay should lead to the next one in a way that keeps up the suspense of your audience. As you should put in your mind that the speaker or the writer of the original text or document has managed to order his original words in order to serve his purpose. Likewise, you have to do the exact same thing and order your words starting from the introduction passing by each and every paragraph till the ending paragraph to present your point of view carefully and purposefully. one more trick is to summarize your analysis with a final paragraph that concludes your opinion either you agree or disagree with the original speaker. It is important to exploit every evidence through your rhetorical analysis essay and lay the spot over each claim supporting your point of view either you agree with the speaker or you do not; because hard evidence often has a great effect on your credibility at your audience. One of the most important rhetorical analysis essay outlines is to avoid criticizing the personnel of the original speaker and never refer to your opinion with MY opinion, I see, or we thought. You have to stick with third-party involvement.
State your sources and basis
As finishing your rhetorical analysis essay by following how to do rhetorical analysis essay. You have to state whether your research is complete or the audience needs to continue their journey among a handful of available online sources that could be outreached anytime by any personnel. You have to indicate and identify the sources, which led and helped you to do the rhetorical analysis essay. Remember that good rhetorical essay sample writing is like tea. Takes time to steep and process. Open your analysis of judgment and criticism. it will only make it better; start taking notes on things that were not clear in your first analysis in order to avoid them in your next analysis.
Feeling inspired? Check out this guide on how to write an essay on Donald Trump.