If you're looking for information about how to write a personal statement, there is a high chance that you or your loved one is trying to submit a university or job application. Going through as many personal statement examples as possible will help you know what to include in your personal statement. First, you need to ask yourself this question – what is a personal statement?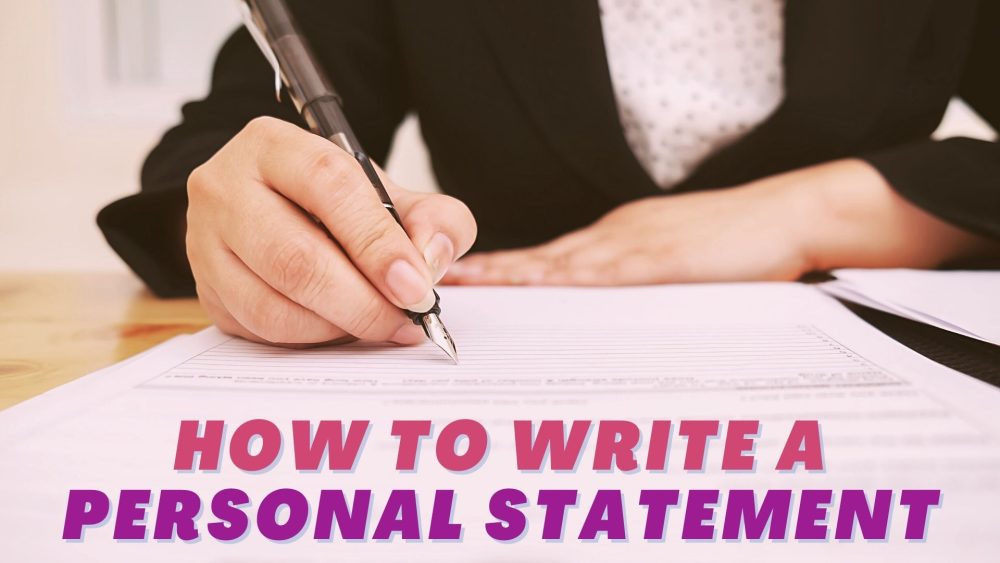 Writing A Personal Statement – What Should It Look Like?
A personal statement is a short description, usually 4,000 characters, of your interests and achievements that are aimed at telling your reader why you should be given a certain opportunity.
It could either be a personal statement in a resume or a personal statement for colleges application. It gives you the perfect opportunity to tell your reader what makes you different from every other applicant interested in that position. Note that a personal statement is different from an essay as you can see in good personal statement examples. So, not every rule that applies when you're writing an essay applies to writing a personal statement. There are many aspects to how to write a good personal statement, but with the tips below, you should be able to write a CV personal statement or a university personal statement like a professional:
Mind Your Opening Sentence
The opening sentence determines the first impression of you from your audience. The first few words you use should make the audience interested in reading to the end. Even if you want to be formal, there is nothing wrong with starting with something funny, unusual, or interesting.
Forget About The Characters
Typically, a personal statement is made up of about 4000 characters. However, if you keep obsessing about the character count, you may not get the best content. So, write down everything that you want to say. When you're done, reduce the characters and stick to the most compelling parts of your content. You can either delete some points or compress them to avoid exceeding the 4,000 characters limit.
Don't Be Negative
Being honest about your weaknesses is good, but there is no need to talk about negative things. You will never find a good personal statement example for jobs that is full of weaknesses instead of strengths. What are your strengths? Are you bilingual? Do you have an award in something related to the position you're trying to get? Do you have a positive outlook? Focus on these strengths, not on any weaknesses. No one wants to add liability to their workforce or school.
Don't Copy Anyone
If you copy content for your personal statement, it's no longer personal. So, make sure you use your words, ideas, and voice. While there is nothing wrong with going through several examples to have an idea of what a personal statement should look like, you should not let these examples shape your content. Stick to the truth and nothing but the truth. Honesty is the key to providing great content. If you copy the statement of another person, you may end up telling that person's truth rather than yours.
Use The Right Words
To make your personal statement look professional, you need to use the right words. After you've completed your statement, use an online dictionary to look for more professional synonyms for certain words. For example, you can substitute the words "think" with "presume," "do" with "accomplish," etc. A phrase like "I want to" can be replaced with "I am determined to." Make sure that you use words that show conviction. Let the reader know that you're fully capable of doing what needs to be done. Keep in mind that using the right words doesn't translate to using big words that make your content difficult to read. You need to make sure that everyone can read and understand what you've written without looking for a dictionary. Also, make sure that you don't use words out of context.
Edit The Content
None of the positive experiences you add to your content will matter if it is full of grammatical and typographical errors. That is why you need to edit thoroughly. Proofread the content as many times as possible. When you're proofreading, consider reading it out loud. Hearing what you've written will help you know if the statement flows well. When you're done, use an online grammar checking tool to confirm that there are no errors you missed. Apart from showing you possible errors, these tools also post suggestions on the best way to write some sentences. Some are free, while others have free and premium versions.
Get The Opinion Of Others
Grammar checking tools can indeed make suggestions concerning your writing style. However, you still need to get the opinion of a human if you want to submit your best content. Talk to family members and friends that can read your personal statement and tell you what they think. You can also pay a professional writer to read it and make comments on it. When others give you their opinion, try not to get offended. Ask them to give you an honest, unbiased opinion of your content. Use the feedback to improve your content
Don't Rush
You might think that the personal statement is something you can quickly finish a few minutes or an hour before the deadline. While that is true, it's not ideal. You should put a lot of thought into your personal statement. Rushing to complete the content isn't the best way to produce quality. Take your time, write several drafts, and pick out the best. If you're having difficulty deciding what to write, take a break, and continue later.
Now that you have some tips about the best way to write a personal statement, it's time to consider some of the mistakes you need to avoid when you're writing a personal statement.
Personal Statement Example
So, how to write personal statement? Looking at personal statement examples can help you greatly in forming an idea for yourself of what to expect and what to do, be it a job application or personal statement for college. Here's one from our writers:
Time flies so fast. I have been running across nations for years, methinks! It is true that I have been running for around ten years to reach my dream to study in America. The United States has the best education system in the world that adequately prepares students to be global leaders in many fields. Through solving difficulties that I have been facing while chasing my dream, I am now stronger and more confident in facing the challenges in daily life.
I might not have been the smartest kid in class, but I had the will and effort to study in the United States, as I do now. My family knows that I want to pursue my education in computer related field. I love dealing with many kinds of technology. I am also the "technician" in my house. I handle most of the technology issues, such network problem, internet connections, and computer hardware and software malfunctions.
At nine was the first time I got my very first laptop, and I was eager to know much about it. At first, when I was around 14 or 15, I thought that I would be working with the programming side of computer related field. After studying for one year in the United States, I found out that my interest was not in the full programming course, but in business computing, which focuses on commercial and computer issues. Thus, that is why I am majoring in Management Information Systems (MIS).
It is critical to state that my dream would be accomplished by attaining the best form of training that would expose me to the interplay issues of business and information technology. Thus, I am aware that it might take quite some years for me to achieve my personal and career goals. Nevertheless, while studying at the University of Washington (Bothell), I would be in the best academic and professional environment that would expose and prepare me for the very competitive job market. For example, I am quite confident that my lecturers would equip me with the right technical and business-related knowledge that would be critical in achieving my career goal.
I have a vision to become a refined professional by analyzing and designing business information systems that would be unique in the market. In addition, I will develop essential skills in business information systems design and execution. Another important aspect that I will develop in the institution of learning is related to the management customers on the internet, which will go a long way in attaining excellent outcomes.
In conclusion, I would wish to state that I am a committed to achieving excellence and being innovative. If given a chance to study in the university, I will work with my seniors, peers, and juniors with the goal of improving educational standards of the institution. Since I have always been focused on being attentive and learning new things at a relatively high pace, I hope that I will be a unique student, who will emerge as one of the best professionals in the applications of computer concepts in the world of business.
Mistakes To Avoid When Writing A Personal Statement
It's sometimes easy to make mistakes when writing a personal statement. According to homework writers, here are a few common mistakes to keep in mind and avoid.
Ignoring The Question
What application are you trying to fill? Is it a job application? Is it a college application, or are you trying to apply for a slot in a competition? Depending on the purpose of the personal statement, the question you are to answer will vary. If you don't have a clear picture of the question you're expected to answer, you're going to derail from the point quickly. It's also easy to write out of context when you're not paying attention to the question you're expected to answer.
Making Excuses
No one is perfect. Not you, not the other applicants, and certainly not the person you're addressing in the statement. That is why you shouldn't feel sorry for your imperfections, make excuses or apologize. If you've never had a job in the field you're applying to, don't start writing an apology, or giving an excuse for your lack of experience.
Appealing To Emotions Or At Least Trying
The last thing you want to do when you're writing a personal statement is to appeal to emotions. No matter how terrible your past was or how hard life has been for you, don't use that to appeal to emotions in your statement. Keep in mind that everyone has a sob story, and if you capitalize on that, you're going to irritate your reader. Trying to manipulate the reader into giving you the position by telling a sob story will only get your application kicked out. It shows that you don't want to earn the position.
Submitting The Same Application Multiple Times
When you have to submit multiple applications, you may be tempted to submit the same personal statement in every application. This move is unacceptable as there is no one size fits all approach to writing personal statements. Indeed, the different committees going through your application across industries may not know you submitted one application many times. However, they can tell when the content is too generic. They may think you just took an example from the Internet or copied from a friend. Either way, repeating personal statements across applications shows that you are not creative enough to come up with application-specific statements. It also means you're insulting the intelligence of your readers.
Overhyping Yourself
It's good to speak with confidence and conviction. However, the last thing you want to do is overhype yourself. State only what you've accomplished and nothing else. There is no need to start exaggerating or trying to prove that you know everything when, in reality, you don't. The reader might be disappointed and throw out your application. Use words that show conviction and not arrogance.
Personal Statement – Let Professionals Write It
Writing, like every other skill, is a gift. Not everyone can write compelling content. However, with the right tips, you can write a personal statement like a professional without spending a dime. You may not get the right one until after a few trials. When you do, it would be worth it. Also, do not be discouraged if your application isn't accepted even after you put in a lot of effort to creating a compelling personal statement. Forget about it and try again. However, if you're not comfortable writing the personal statement when you want to try again, feel free to pay for the professional writing assistance. We'll have the best college homework helper right on your case, and they will write the most high quality personal statement.