Has a colleague, employee, former student, or mentee asked you to write them a recommendation letter? Maybe that's why you want to know how to write recommendation letter. First of all, be proud of yourself because it means you've made a significant impact in their lives. If somebody asks you to write a recommendation or reference letter for them, they trust that you can help them progress in their education, career, or otherwise.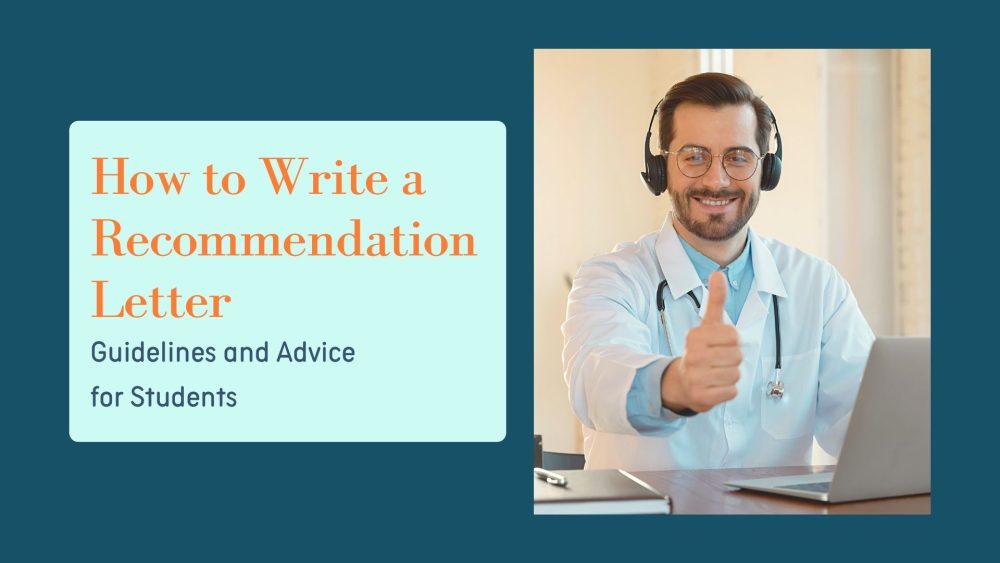 Perhaps, the question on your mind is, "What is this letter about, and what should it contain? Also, you want to know how to write a letter that will make the person stand out among the candidates they're competing with for the same position. Expressing that somebody is a great person isn't enough. The key is to demonstrate that the candidate will be an excellent asset to the program, school, college, university, or company that will choose them. But, let's start by understanding what this letter is.
What is a Letter of Recommendation?
A recommendation letter is a formal, honest testimonial validating an individual's skills, work, or academic performance. It's a document that recommends a person for acceptance into a specific program, grant, or a particular role. While a letter of recommendation aims to present the subject positively, the writer should give factual information.
Somebody needs a recommendation letter when applying for university, college, internship, job, volunteer opportunity, or a leadership position. Essentially, this letter aims to demonstrate or express what you've learned about the person while providing positive details about their habits and performance.
A recommendation letter rounds out the application by providing insights into the candidate's qualities like intellectual curiosity, leadership potential, and integrity. A strong recommendation from a counselor, teacher, co-worker, or manager can give the applicant a competitive edge over the others.
When Do You Need a Recommendation Letter?
As hinted, you may need a recommendation letter in various situations.
Here are some of them:
When applying for a graduate school, university, or scholarship: Most scholarship and university programs require students to submit recommendation letters alongside other application documents.
When applying for a job: Maybe you want to apply for a job that requires strong references to qualify. In that case, a recommendation letter becomes part of the application, alongside the cover letter and resume.
In most cases, applicants add a recommendation letter even if it's not part of the requirements to enhance their applications. For instance, you may feel that your cover letter and resume are not particularly strong. In that case, you can give your application a boost by adding a recommendation letter. This letter can be beneficial when you have little or no work experience. In such a case, a recommendation letter serves as a character reference and can make a significant difference when hunting for a job.
However, it's wise to wait for the employer to request a reference to provide a recommendation letter. Generally, most employers are not interested in seeing the recommendation until the last bit of the hiring process. Therefore, please don't include this letter until the employer asks you to do it.
How to Write a Letter of Recommendation
When somebody asks you to write a recommendation letter, ask them why they need it first. Ideally, you should draft this letter with a particular position's requirements to match the applicant's qualifications with the job's responsibilities. If the person needs a general note, focus on the jobs' category or types the person might apply for in the future. Here's a guide for writing a good letter of recommendation.
Collect Information
Ask for the subject's resume and a copy of the position they're applying for before composing the letter. Also, review the cover letter to understand how the applicant intends to pitch for the job or program. If they need a general recommendation, request them to outline their employment target and marketable assets.
What to Write in Recommendation Letter
In most cases, the subject needs a custom letter. Therefore, start by explaining your relationship with the person. Reference your position and the subject's job title during your interaction with them. Also, explain whether you supervised or taught them. Additionally, indicate the duration you've known the person. Here's a breakdown of a letter of recommendation format.

Introduction: Start by stating who you're and how you relate with the applicant. Also, communicate your expertise or personal experience.
Body: Provide an overview of the subject's strengths based on your experience. Reference their qualities, skills, knowledge, and other assets. For instance, you can list the person's strengths to ensure you don't leave out anything. Compose sentences that prove your assertions to make the letter credible. Also, include instances when you observed the subject use the specific skills you highlight in your letter. And this can be a role or a project where the person applied the skills. You can also cite the subject's accomplishments that added value to your organization. For example, you can quantify the applicant's specific contributions with numbers, sales, dollar figures, or percentages.
Conclusion: The conclusion should summarize your reasons for believing or thinking the subject is a good fit for the position or opportunity. Perhaps, you can also say that you can hire the applicant again given a chance. Also, tell the reader that the individual will be an outstanding addition to their organization.
Signature: In the signature, share your email address, telephone number, and name. Also, express your eagerness to provide additional information or perspective on the applicant so that any potential employer will feel at ease contacting you with follow-up questions.

Remember that this is a general format for writing a recommendation letter. Therefore, you can tweak it by injecting personality and creativity. Nevertheless, that's what you should include in a reference letter.

Letter of Recommendation Template
Organizations have varying requirements for recommendation letters. Therefore, request the person that wants you to recommend them whether they have specific guidelines for this letter. Here is a general template for a recommendation letter.

Date
Recipient name
Recipient title
Recipient address
Greetings: Use the recipient's name if possible
Introduction: Start by introducing yourself and your relationship with the applicant
Recommendation: Explain why the applicant is a good fit for the position with specific examples of qualifications or skills.
Example or anecdote: Add personal accounts or stories about your experience working with the applicant. For instance, you can add people or workplace skills that you observed.
Closing: Express why you would recommend the person.
Contact information: Provide a phone number and email address to help the recipient follow up if necessary.
Signature

Your letter should have this structure, whether you're recommending a working professional or a student.
Recommendation Letter Sample
A recommendation letter can take different formats. Here's a letter of recommendation example showing how your complete letter might appear:
To whom it may concern,I write this letter in full support of Claire Thompson's application for general surgery residency. Claire has a wealth of experience and has completed several residencies to which I will testify here. I will start by saying that I speak on behalf of all of Claire's colleagues during work which included a month with our TICU service, a month with the colorectal surgery team, a sub-internship in trauma surgery at the Willis Trauma Centre as well as projected work on the orthopaedic, oral and maxillofacial trauma service early next year. I speak both for myself and my colleagues at the hospital when I say that Claire has our dull support in her desire to pursue a career as a surgeon.
Claire has developed a reputation at the hospital for diligence, hard work and enthusiasm. Upon speaking to those who work within the trauma service, where Claire worked additional weekends during her third year of med school, I found her described as helpful, focused and clearly dedicated to her future career. Her participation in this service, although it was gratefully received, was conducted solely according to Claire's desire to learn and was part of no course requirement or university statute.
Claire has worked frequent rotations in the hospital's TICU service. Here she manifested a willingness to learn and attending physicians described her as particularly interested and helpful with regard to bedtime procedures and general patient care. Her experience in these areas also enabled Claire to present excellent work on items such as burn care and parenteral nutrition. Although these presentations were given primarily to her peers, I know that several fully qualified hospital staff were impressed, and considered her presentations an opportunity to learn, both from her enthusiasm and her rigour.
Upon further investigation into Claire's character, I have consistently found reports detailing her reliability and professional nature. Colleagues on the Colorectal surgery rotation testified to the fact that she would often arrive early for shifts and would help to prepare rounds in the hospital. Her value to the place as whole is shown by the fact that, in times of short-staffing, Claire was often trusted to be the primary intern on the floor of the hospital, despite her young age.
Upon speaking to Claire she has informed me that she is close to finishing her MPH degree in trauma protocols and that she undertook this degree out of a desire to work in streamlining field-to-hospital care. I know that she plans to continue to combine academic and practical work throughout her career and she has expressed an interest to me in evaluating biograms in order to improve the potential care for our most severely ill residents. I find this combination of all-round enthusiasm with an intense focus on the particulars of her work to be hugely impressive in a person of Claire's age and experience. My belief in the sincerity of her commitment to surgery is only increased by her plans to incorporate non-profit surgery into her work. This is a commitment which I do not doubt.
Claire has been described by many who have worked with her as a person with a passion for surgery. These reports are matched only by reports of her commitment to patient care and well-being. I believe that both of these factors combined make Claire an excellent surgeon in the making, and I give my full support to her career choice.
Tips on How to Write Letter of Recommendation
When writing a recommendation letter, the goal is to ensure that the candidate has the highest chance of getting excellent results. To achieve this, follow this advice from an expert homework writer, and your candidate will stand out to potential employers, admission officers, or anybody else that will review the letter.
Research first: Start by understanding what the person wants to apply for using the recommendation letter that you write for them. For instance, ask them to provide a job description copy, requirements for an academic program, a resume, and specific skills, qualifications, or achievements they want you to highlight.
Be positive: Confirm that the applicant is the strongest contender for the position. Avoid any comment that the readers might construe in a negative light. Instead, depict honest enthusiasm. If possible, compare the applicant with others superlatively.
Be specific: Make your recommendation letter personal by using specific details and examples to demonstrate why the candidate is the best fit. Select accurate and strong adjectives instead of clichés and general terms. Also, think about what the reader may want to know about the person. Therefore, include insights or details that may not appear in an application or resume. The recipient should know the individual you're recommending better by reading your letter.
Keep it concise and formal: Your letter should have a business letter format with 12 point font in Times New Roman or Arial. Also, use your organization or business letterhead. Don't forget that the recipient might read hundreds of recommendation letters. Therefore, keep it concise and straight to the point. Write at least one page without exceeding two.
Adhere to the guidelines: Remember that you're vouching for the subject. Therefore, follow the submission guidelines and ensure that your letter is ready on time or earlier. If you make a good impression on the candidate in the letter, it will endorse them.
Use a friendly, positive, and professional tone: A recommendation letter should be professional but approachable. Therefore, include friendly and positive expressions to ensure that your relationship with and regard for the candidate is evident in your letter.
If you don't feel or think you can write an honest and effective recommendation letter, tell the person you can't and provide reasons. For instance, you can say to the person that you are unfamiliar with their experience or work.
Get Professional Assistance
Some teachers ask students to write recommendation letters as part of coursework assignments. However, not every learner can write a unique, high-quality letter. And that's where our college homework help comes in. We offer fast, reliable, and professional assistance with different writing assignments. Our English native writers deliver top-notch write-ups in various academic fields. What's more, we adhere to the highest privacy and security standards when offering our assistance. Contact us now for high-quality, secure, and affordable help with any academic assignment!