When it comes to writing a laboratory report abstract, it's not all smooth and easy-going. College students will have to fumble here and there, putting together pieces that will culminate in such an abstract. However, we have compiled a list of professionally handpicked expert ideas to help you sail smoothly.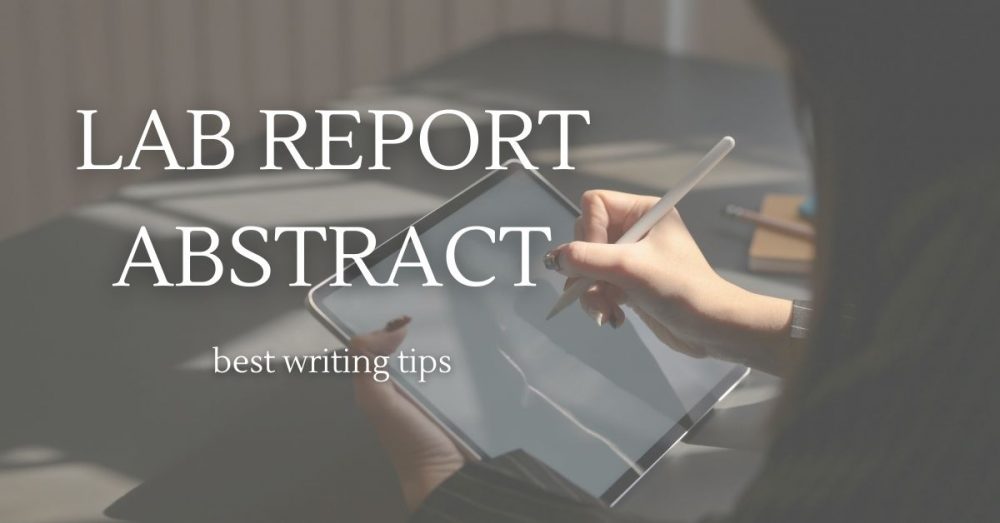 Are you ready for a peculiar abstract lab report? Scroll down.
Lab Report Definition
A lab report is written to describe and analyze a lab experiment that explores a scientific concept. Such reports' primary purpose is to help students conduct in-depth scientific research and develop findings that can be proven.
What is an Abstract of a Lab Report?
It is a summary of your lab report intended to help your readers quickly ascertain your paper's purpose. A lab report abstract will summarize four essential parts of the article, which include:
Purpose of the experiment,
Key findings,
Significance, and
Major conclusions.
Since this is a brief section, it should communicate all these essential parts clearly and concisely. The abstract will determine whether the reader will need to report the whole report or trash it ASAP. Therefore, you cannot afford to gamble with it.
After handling all the nitty-gritty of our subject, let us now delve into the meat of the matter.
How To Write a Lab Report Abstract: Outline
Can now you define what is the abstract of a lab report? Nevertheless, knowing to describe it is not enough. The real deal comes in understanding how to write a lab report abstract while following the structure.
First, we need to know what a typical abstract looks like:
It is brief, preferably one page with a maximum of 200 words
It summarizes the whole lab report
It is located just before the introduction
You also need to bear at the back of your mind that there are two commonly used forms for lab report abstracts:
Informational Abstract: It contains the purpose of the lab report, methodology, materials, findings, discussion, and conclusion.
Descriptive Abstract: It is brief (100 words at most) and contains information on the background, the purpose of the experiment, and the procedure followed. Unlike the informational one, this does not have information on the report's discussion, findings, and conclusion.
Depending on your lecturer's instructions, you will be able to apply the required form. However, the informational abstract for a lab report is common.
So what should you write in each of the sections?
The lab report's motivation or purpose: Show the research's significance and why people should be concerned about it.
Problem: Make known your hypothesis, which brings out the problem that your research intents to solve.
Method or procedure: Which steps or strategies did you use to solve your problem and arrive at your findings?
Results and findings: State the outcome of your study and show whether they met your hypothesis or not. Remember to includes statistics and indicate whether you solved the problem.
Conclusion: State what your research achieved and whether it has contributed to new knowledge or a possible solution to the problem at hand.
How To Start Off an Abstract
The gist of knowing how to write a lab abstract lies in how to start it off. Most college students will take hours, if not, days, to compile this brief section because they do not know where or how to start. The most important thing to remember is the form you are going to use.
Look at the following abstract biology lab report example:
"This experiment was performed to find out the factors that will make enzymes more effective and less effective. Tests were carried out on different specimens of enzymes in a spectrophotometer. The results for their different absorption rates were recorded as the experiment proceeded."
From the example above, you can see how we started our lab report abstract example. You can use the following phrases to begin a lab report abstract:
This experiment will determine
This experiment was performed to determine
The purpose of this study was to determine
It was determined
This paper provides
The investigators found
Such phrases will alert the reader on what the lab report is all about. However, these are not cast on stone; you can always creatively come up with yours too.
How To Write Abstract For Lab Report: How Long Should It Be?
Length is a crucial consideration when it comes to any abstract. The number of words may vary to the size and scope of your lab report. A longer document will attract a more extended abstract and vice versa.
Nevertheless, the maximum number of words should be 200. The best way to beat this mark would be laying out an outline and determining the number of words for each element. You can use professional lab report writing help to crack this thick and fast!
Laboratory Report Abstract: Top Expert Tips And Tricks
A tricky task such as this requires writing guidelines to help keep you on track. Here are some of the latest writing guidelines that you should use in 2022 for a top tier lab report abstract:
Tense and point of view: Use the third person point of view. Therefore, you should not use words such as "I," "our," and "we." It should also be in the past tense.
Choice of words: Settle on specific terms that your lecturer will approve. You can find possible keywords from online sources.
Write the paper first: Avoid the temptation of starting with the abstract. It is much easier summarizing a report once you've written all the sections.
Be keen on the number of words: Strictly adhere to the word limit, or your paper may be at risk of being rejected for publication.
Cover every aspect of your abstract in the paper: Ensure that every information you mention in the abstract has backing in the rest of the report. Failure to follow this may cause you to miss your target grade.
Do not be scanty: Since this is a brief part, some students may opt to 'throw' ideas here and there to achieve the word count. It is wrong and can lead to automatic rejection.
It should be self-contained: Any person reading your abstract chemistry lab report or any other should find all the information he/she needs immediately.
If you still experience difficulties with how to write an abstract for a lab report, you need not get all worked up. Our writing experts, with decades of experience in the science field, can help you.
Give it a try and experience cheap professional services!