Contrary to common opinions held among students, Math is not the most challenging subject or field of study in college. In fact, it is one of the most straightforward courses. Studies show that people who hate math lack an engagement with mathematical concepts. But do we blame them? Not at all.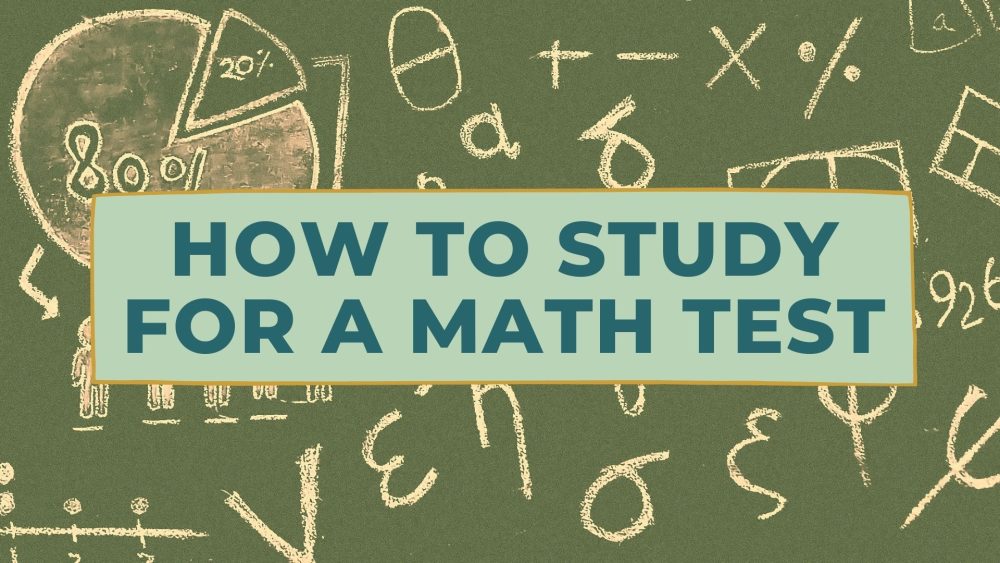 Disengagement in Math could be caused by the school authority, the math teacher, or the student's dislike for numbers and formulas. Eventually, this student finds it challenging to study for math tests and come out with high grades. If this is you, we say, "hang on, stay tight; you can count on us now."
In this article, we shall explain the different math test procedures that you can use to succeed at the different levels of your math test. Whether you are sitting for grade-level math tests, A-level maths, SAT math tests, or any math placement tests, this guide shows you how to study for math tests and come out great.
How to Prepare for a Math Test Effectively
Do you study for a Math test? We bet this is where you have been doing it wrong. Math tests do not require studying but practicing. When you start practicing for your math tests instead of learning, you'll find that math is as fun as reciting the alphabet. But how do you practice or prepare for a Math Test? Here are some options for the best way to study for a math test:
Begin early: If you must succeed at your Math tests, regardless of the level, you should prepare early. Early preparation includes taking classes seriously, paying attention to math lessons, and asking relevant questions about math concepts you do not understand.
Do your homework: Homeworks go beyond taking work home to solve; they are like mini-tests. When you're given assignments, you should take them seriously and see to their solutions without dishonesty to yourself.
Try the 3-2-1 approach: The 3-2-1 approach proves to be very effective for Math tests. The approach works with time limits. Use the first three days before your test to challenge your math problems and vocabularies, two days before reviewing them usually, and a day before it to briefly go through them again.
Solve past questions: Chances are your Math tests might be based on old practice tests and exams. If that is the case, you should not leave room for any unexpected issues. Solve your Math problems by attempting past questions and looking up answers to see how far you still need to go.
Practice online and study groups: There are tons of Math problems you can solve online. Most of these problems can be fun to solve. Also, you can form a study group with friends who share your commitment and success goal.
Set rewards and sleep: It's not every time you practice; sometimes, enjoy the moment. Reward yourself whenever you smash a Math goal, and always remember eating good diets and sleeping when needed.
Math Tips and Study Techniques for Math Tests
Are you looking for study techniques and math study tips for math tests? Here are some that would come in handy. Before, during, and after a test, you need plans to keep going. Below are tips and techniques for learning how to study math effectively.
Design your study plan: The first step is to design your study plan. How do you want it directed? How much time would it take to get there? What are the costs and benefits of the plan? Are you going solo or with friends? This decision should be the primary decision.
Find out the best time to study: Timing is vital to your study. Proper timing considers the time and events of your lesson guide and the study goal for each day. Your study plan should reflect your comfort and convenience.
Decide how long you want to practice: Some students practice for only 30 minutes while others practice more or less. Your study duration depends on your flexibility. Study for as long as you want; as long as you are making progress, whatever period is acceptable.
Make math problems fun: How about you internalize and socialize your fondness for Math? You can tweet about it, practice online for fun, talk to friends, and even play games. We suggest you don't just practice but have fun while studying.
Always ask questions: Do not keep your confusion to yourself. Instead, spread its tentacles by asking people questions. Questions not only make you look attentive but also keep you confident and well prepared for the test.
Establish relationships: We cannot stress this enough. No student is ever an island of knowledge. You should keep friends close to your heart. But ensure these are friends that share your spirits of commitment and purpose.
How to Study for a Math Test the Night Before
Even after planning and preparing well for the tests, we still can't rule out the possibility of a late-night study. Such is the case when lesson notes are immense, and there is a lot to take in at a time. In that case, here are guides to follow for how to prepare for a Math test the night before.
Be prepared for the range: You should gather every tool, material, and resource you have left uncovered. If you can, get notes from nerdy folks who have gone through the process of the tests. Since the nerdy ones read mostly with illustrations, that way, you are left with some parts already covered. While you do all these, ensure you have minimum interaction with your phone.
Cover the range: Go through the notes and glance through them. Pay more attention to questions that regularly pop up in the exams by noting past questions. Read as much as you can. Read again. When you're sure that you've covered a considerable portion of it, take a break and get some snacks to keep your body warm for the following range.
Ask friends for ranges: Once you're done with what you consider the essential aspects of the tests, ask your friends — the nerdy ones — what they feel are the most critical parts of theirs. Read their suggestions and internalize as much as possible. While you are at it, don't forget to keep a summary note.
Sleep: Sleep is one of the essential parts of your study, so you must ensure you do not deny yourself a good sleep. Rest for a brief period, then wake up to focus on formulas, tables, and figures. After that, you can do other things if the time permits.
Get it done: Before moving to the exam hall, bathe and then eat. Only use your phone if there are vital details about the test you don't want to miss. Otherwise, leave your phone unbothered. From there, proceed to the exam hall, do whatever you are familiar with, skip the rest you are not, and leave the exam hall like a true winner.
How to Study for Math Finals in Last Minutes
If you find yourself in tight situations before your math finals, relax and take some deep breaths. Maths exams can be unprecedented. Console yourself with the fact that you are not the first person to come unprepared for a Math exam, and you are never going to be the last. In such a tight-lipped situation, below are things to do to salvage whatever remains of the problem.
Find a relaxing space: A space where it is you against the wind with minimal human distraction. Get a chair and a study table. Keep all notes aside except your math notes and other notes containing the necessary information for your math finals.
Solve related math problems: If you have past questions preferably related to the finals, start solving them and keep a low profile. Look out for frequent questions and tricky math problems. Attend those first before moving to others. Don't leave out your homework.
List concepts and formulas: At that needy point, it is impossible to study; what you'd instead do is skim through a list of essential concepts and procedures. This should come in handy for your exams. Ensure you are familiar with the ideas, at the very least.
Cram your way out: There is a limit to the number of things you can cover within a short period. Rather than study what won't stick, you can as well cram your way out: Cram the knotty and the complicated.
Find friends with summary notes: If you look closely or are the social type, there are always those nerdy friends with summary notes. Find them and copy their letters. If you can readjust the messages alongside your study techniques and tips, that should be enough.
Ask questions: You can't be the only one confused about a maths exam. There are always other people. Ask them questions if you have one. Request for tips and notes dropped by the professor. Gather everything you need for your math finals. And please, keep to time.
Get it Complete: When you are sure you have given your best in such a short time, you should enter the exam hall and get the job done. The worst is to miss the exam because you are unprepared for it. Instead, face it like a champion, answer what is within your means, and skip what you have no substantial knowledge about.
Still Having A Hard Time With Math Test?

Conclusively, we have to recognize the fact that everyone is different. So, if you are ever looking for study tips, tricks, and advice to learn the best way to study math test, you might eventually not get techniques that uniquely work for you. It is therefore vital to find what works for you and stick to it. Whether these are techniques or tips, they are only helpful when you apply them uniquely to your study.
However, we offer helpful writing services if you are looking for A plus homework help regarding your math problems. Our math experts are professional teachers and have proven to be reliable and trustworthy. We believe studying does not have to be difficult. We can jump on your "take my test" train and provide easy and correct math solutions that guarantee you the best high grades.