Students are always advised to be truthful when dealing with their homework. This means that you have to be cautious not to pass off someone else's work as your own without acknowledging them. While this can be achieved when dealing with hard copy content, the case is different when it comes to online platforms. With the growth of the internet, there came along new ways of handing in assignments.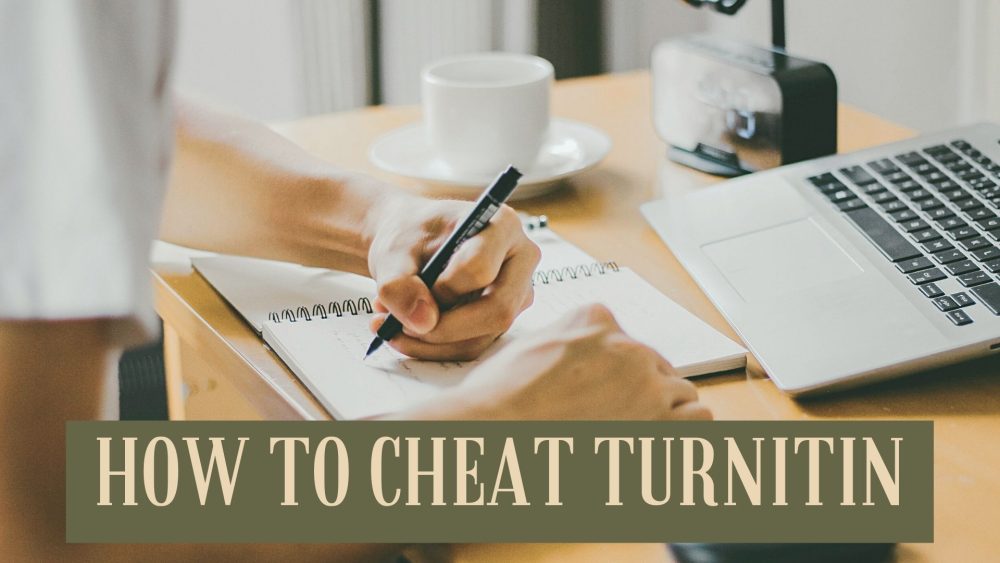 Consequently, scholars came up with new ways to detect plagiarism to avoid wasting time looking at essays that are not original. Software like Turnitin provides assistance to lecturers by scanning the internet for a text that matches what is in your paper. In case a match appears, the content you will have produced will be declared plagiarized. Take a look at how to beat Turnitin and ace your homework.
How To Cheat On Turnitin: Paraphrase
Paraphrasing means reading the text, then interpreting it in your words.
For instance, you can read a book that says, "This dog is big." Instead of using the sentence as it is, you can opt to say, "Wow. What a big dog this is, or this canine is huge or massive."
You keep the idea but lose the original state of the text. While the information may have been taken from a particular place, the software will not detect this considering that the words you use do not match those of the online journal, book, or magazine that you used as a source. Make use of a thesaurus to find synonyms that you can use to replace certain words to change the sentence from its original state. As such, your task on how to trick Turnitin becomes effortless. However, you should know that merely changing the words will not be useful considering that Turnitin can detect if you change the words rather than paraphrase the text that you have identified.
Bypass Turnitin And Write From Scratch
If you are looking for the easiest way on how to bypass Turnitin, then writing an essay from scratch on your own is the way to go. This is because you use your information, and employ deductions your way. Considering that each person is unique, it is difficult to come up with ideas that will resemble those of the next writer. This means that when you submit your paper, and it is run through Turnitin, the percentage level of plagiarism will be less than 10%, which is acceptable. Using more than one reference for your paper gives you adequate information, which you can then paraphrase then pass off as your own. When you use a single source, it becomes easy to trace your tracks to the specific place where you copied the information from. How to cheat Turnitin becomes unachievable if this is the case. While at it, ensure that you replace words to change the text from its original state.
Ensure that Your Plagiarism Level Does Not Exceed 15%
Another way of how to fool Turnitin is to ensure that your plagiarism level does not exceed 15%. The software takes into consideration that once in a while, writers may come up with phrases or sentences that resemble one another. However, it provides a limit to this. Additionally, the phrases should be spaced widely. In case you come across sentences that may lose their meaning if they are paraphrased, you can use them as they are as long as you consider the limits provided by the software.
Anything surprising this will deter you from getting a good grade. How to not get caught plagiarizing on Turnit in can also be achieved if you do not copy massive texts from a single source, then place them in your paper as they are. Rather than risk being caught cheating, use an ellipsis before or after the text you want to include in your writing if the text you want to use is in the middle of a sentence. You avoid lifting huge blocks of texts that can raise the alarm, causing your tactics to be discovered.
Cite Your Sources
How to get around Turnitin can be avoided if you cite the references you used in the paper. There are several citation formats you can employ including APA, Chicago, MLA, and Havard among others. Using any of the recognized forms will loosen the reigns of the software, allowing you a free pass to victory. In case you have not fully grasped the concept of how to cheat Turnitin, consult the experts who have used it severally for help. Older students are some of those who can guide you on how to handle such a matter. However, if you do not get a schoolmate who can explain to you how the application works, search the internet for people who are willing to help you know how to cheat Turnitin at a fee. They can even help you to "take my online class." Once you learn how to beat Turnitin, incorporate all the tips to avoid plagiarism and get the best results.
Get Assignment Help Today!
So now that you have an idea on how to bypass Turnitin you can do your assignments stress free and without fear of getting caught for cheating or plagiarizing. But you might still have tight deadlines or are struggling with challenges related to your essays or papers, and frantically googling "pay someone to do homework". If you are you can always get reliable help from us, right here! Get in touch with our friendly customer support agents and they will lead you through to how you can receive top notch assignments in no time!