Gun violence; you hear about it every week on TV and on the radio. This is a problem that is all around us here in the United States. However, the debate is still going on. Gun control is a hot potato, so writing a gun violence essay is a pretty difficult task. It is not difficult because you can't find reliable information online; it's difficult because you need to tread carefully so as to not offend your readers. Think about your essay on gun violence as a political essay. People have different opinions and they really don't appreciate someone forcing their own personal views upon them.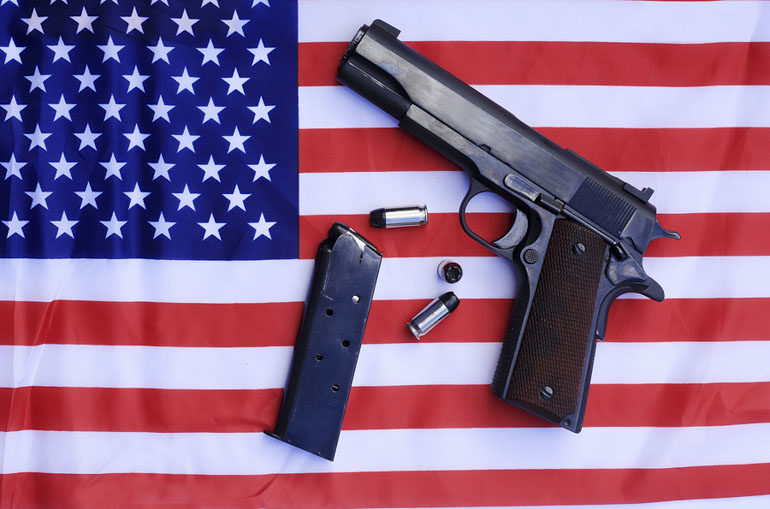 Why Write a Gun Violence Essay?
That being said, writing a gun violence essay is an interesting idea for most college students. After all, it is a very real problem that society is facing right now – and has faced for decades. There doesn't seem to be an end to gun violence in sight, so your research has the potential to be very helpful. In addition, an essay about gun violence is very interesting because most of the information one can find if he or she knows where to look can be quite intriguing. In other words, your teacher will almost definitely appreciate your topic if you manage to stay away from some of the dangers of writing an essay on gun violence.
Be Careful When Writing an Essay on Gun Violence
We can't stress this enough: be careful how you express your ideas when writing a gun violence essay. Here are just 3 of the things you must be careful about:
Realize that because gun violence is so common, some of your readers may have suffered because of it. They might have even lost loved ones. This is why you need to support your statements with evidence from reliable sources and avoid language that may offend.
Realize that different people have different views. After all, the right to bear arms is protected by the Constitution. Should guns be banned? Maybe, but you need serious arguments to support this claim.
Realize that many people can't stand guns. If you defend the right to carry firearms, keep these people in mind as well. Make sure you cover some of the talking points that are against the right to carry guns in public.
Yes, guns in America is a very hot topic. This is why you need to think about everybody that may read your work and then use a balanced approach. Whatever you do, avoid sounding biased!
The Five Paragraph Essay Structure for a Gun Laws Essay
There is one structure that works for most essays, and this is the five paragraph essay structure. All you need to do if you want to write a gun laws essay is compose an excellent introduction, write three paragraphs (each covering an important idea), and then wrap everything up with a conclusion. Don't forget to introduce the topic in the introduction and present your thesis statement. Also, in the conclusion, include a call to action (for example, call for more control on gun sales).
Where to Find Good Topics About Guns in America?
When attempting to write a how to stop gun violence essay, students generally go online and search for topics. This is not a bad idea. The problem is that most students simply pick up a topic they find on the first page of Google search results and write a paper on it. This approach is wrong. If you think about it, there is a good chance that other classmates of yours may pick that exact same topic. You want to be original! To achieve this, you can either compose a topic based on the latest developments in the gun control area, or ask a professional writer for assistance. To do the latter, you just need to find a professional writing agency and ask them to help you with a list of topics.
Why Not Get Some Help With Your Gun Violence Essay?
For example, a paper about how to prevent gun violence is very difficult to write without offending anyone. But it can be done. The good news is that you manage to pull it off, you are almost guaranteed a top grade. This is a pretty tricky topic, after all. To make sure you write the best essay possible on this subject, we recommend you to get in touch with an academic writer. A writer who has experience in this field can write an exemplary paper for you in no time. And your gun violence essay has a very good chance to get the maximum points from your teacher. Just make sure you read the paper so that you don't get ambushed when your teacher asks you something about it.